Considering it is less expensive for companies to keep a current customer than to acquire a new one, it is essential for businesses to deliver exceptional support at the moment people need it. While providing help is not a novel concept, many brands fail to do it effectively causing shoppers unnecessary frustration and dissatisfaction. I recently encountered a situation that demonstrates this point.
When my blog partner and I first created our CX website, we needed assistance in setting up pages and adding features. We searched everywhere on WordPress for an 800# to call, but never found a contact number. Eventually, we figured out that there is a Customer Support Chat option, but could only access it if we upgraded to a premium account. While we did not want an additional expense, we ended up paying for support to address our technical challenges.
Chatting with an online representative has been helpful when our questions are not of urgent nature. On the contrary, when we needed a fast solution, such as when our contact us form was missing and the registration button was not working, calling a live agent was all we wanted to do. It was not an option! After MANY hours of chatting with online support, we resolved our issues. Yet, because of the frustrating experience, we started to explore switching to a competitor's platform. We decided to stay a paying customer, but other people dealing with similar circumstances would choose to leave for another brand.
Key Takeaways in DoingCXRight:
1. Make it effortless for customers to get support. If calling an 800# is an option, do not hide the contact information on the company website. Display the number in an intuitive location. If, for example, there is a billing support team, include the number on the Pay Bill page where customer questions typically arise.
2. Do not allow internal business processes to affect customer experiences. If there are no representatives in place to handle calls, figure out a way to get resources. Customers do not care about company costs. They are only concerned about getting quality help quickly in the method that they want help.
3. Understand customer preferences and test options. Some people want to call an 800# for support, while others prefer not to talk to anyone and find answers in an FAQ section or community forum. My favorite is a "call me" option or sometimes shown as "schedule a call" like Apple offers in the example below. It's especially effective when a timeframe is included ("Chat with us in 2 minutes or less") so people can plan accordingly. The key is to test and apply learnings.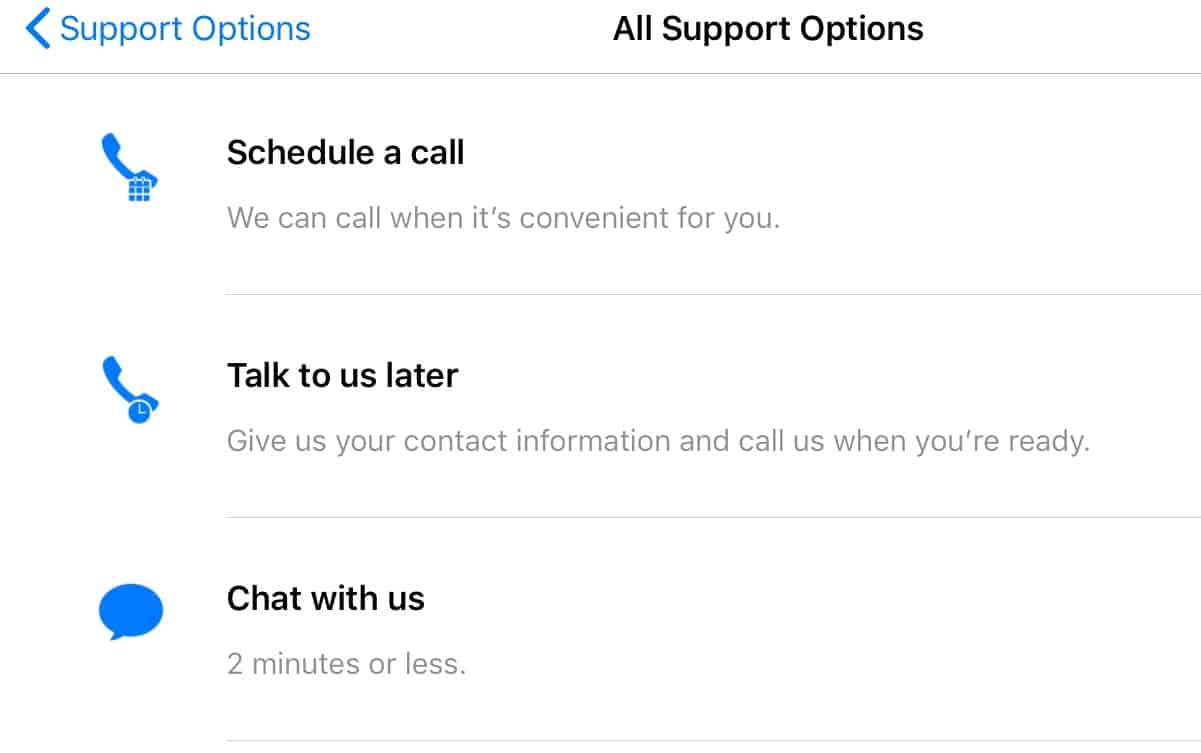 4. Get Customer Feedback And Leverage Insights. Ask individuals to rate their support experience and allow for open comments (verbatims) to uncover pain points. Be sure to share learning with cross-teams and "close the loop" to drive improvements.
It is obvious why various companies do not offer easy access to customer support, as rep talk time can be expensive. However, brands that focus on creating satisfying experiences at EVERY POINT OF THE JOURNEY, not just the "get help" phase, achieve loyal customers and brand advocates.