How to Market a Printing Business – 10 Excellent Ideas, Tips, and Strategies
The printing industry has been disrupted by a lot of factors recently. With digital transformation trends and increasing demand for customized products and solutions, the industry has been growing but there also has been a lot of change in the way marketers and printers are promoting online printing businesses. Whether the nature of your printing business is B2C or B2B, to ensure that you get optimum sales and profitability, you must either choose an omnichannel marketing strategy or you must tap into maximum marketing channels that you can.
If you are a medium or small-scale organization, you must plan your marketing strategies smartly as big enterprises will have marketing omnipresence and they will also have a higher budget compared to yours. But, if you choose the right channels and the correct strategy that aligns with your target audience and your business offerings, you can compete with the giants and gain optimum sales and profitability.
3 ways to optimize sales- market reach, word of mouth and retargeting:
Every organization must have a personalized marketing strategy to ensure success. But, when it comes to increasing sales and profitability of a printing business, there are usually 3 ways to do so! The first is to increase the reach of your platform, the second is to promote your customers to spread positive word of mouth and the third is by prompting customers to revisit and place an order on your platform.
To help you make an informed decision, our team of seasoned marketers has compiled a list of 10 marketing channels and tips to help you tap the above-mentioned 3 ways. If you could successfully allocate your budget based on your past experience and your target audience, you can easily optimize your sales and increase printing business profitability.
10 marketing channels and tips that will help you optimize sales and increase profitability:
Marketing channels to increase market reach:
SEO:
Search engines are still one of the biggest ways for businesses to reach new customers. While creating a SEO strategy, make sure that the keywords that you target have more searches and fewer results. Also, create a list of off-page activities such as business listing, bookmarking, directory submissions, link baiting and other such activities for optimum reach.
Social Media Marketing:
Social Media is one of the most successful ways to target new customers. With organic marketing strategies such as prompting customers to share their designs with your attractive background templates, challenges and threads, supporting causes, one can easily gain long-term success in the least possible budget and efforts. And for quick and short-term success, paid marketing and influencer targeting are the best ways. Create a good mix of organic and paid marketing to ensure that you gain an optimum return on your investment from social media platforms.
Pro tip:
Along with Facebook and Instagram, also target Pinterest for B2C model and LinkedIn for B2B printing business!
Multi-vendor partnership/platform:
One of the best ways to increase the reach of your platform is by creating a multi-vendor printing eCommerce platform and collaborating with local printers from different geographical areas. You can also allow freelance graphic designers to create virtual designs using your product design tool and get printing orders with the help of a print-on-demand business model.
Video promotions:
Whether you use digital banners for marketing or social media platforms, videos are much more effective in engaging and attracting your target audience. Create videos for product offerings, business understanding and new arrivals and promote them on multiple channels including your online website or web app platforms.
Marketing channels to encourage positive word of mouth:
Web to print software: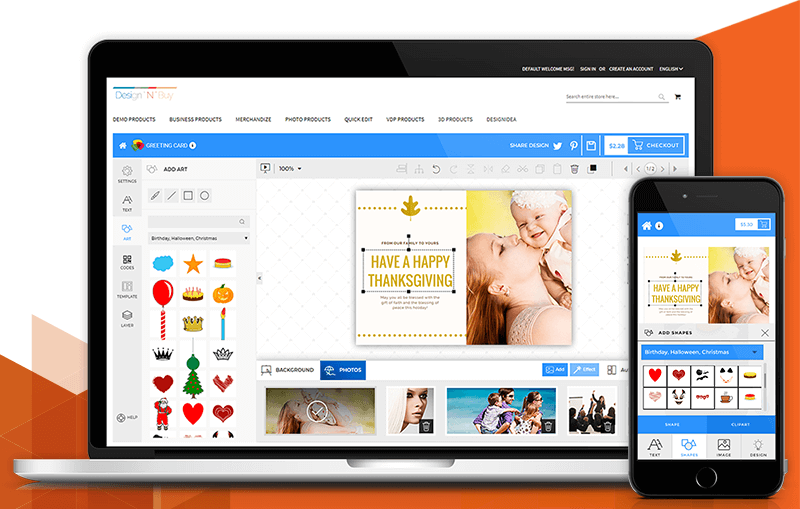 Customized and personalized products are in high demand amongst printing customers and this is not a temporary trend but a market revolution in the printing industry. With a web-to-print solution on your corner, you can offer personalized and customized product offerings and that too with a self-service perspective. Not only can your customers get their desired designs, but they also get it without the hassle of manual designing and that too in the least possible time and effort! Also, with the help of web to print software, you can personalize customer experiences and ensure that you deliver delightful customer experiences. As far as positive word of mouth is concerned, web-to-print software is one of the best ways to gain them in the printing industry.
Personalized customer experience:
Apart from product design tool, you can also employ personalized marketing techniques with the help of automated marketing and ensure that your customers get delightful user experiences. Right from personalized product offerings to personalized promotions to cross and up-selling techniques, create a personalized experience for your customers on the micro-level for optimum lead conversion rate.
Print automation:
One of the biggest reasons customers prefer print process automation is the elongated manual designing and execution process. Employ digital printing methods for print on demand business model and an ideal web to print solution that helps you create design templates for quick designing along with ready to print output file for quick executions.
Marketing channels for effective retargeting:
Email marketing:
Emails are one of the best ways to promote your printing business. Whether the emails are to prompt customers to resume their order and curb shopping cart abandonment or you send newsletters to promote your new product offerings and business statistics, emails are one of the best ways to retarget your customers.
Promotions and discounts on repeat orders:
One of the best ways to bring old customers back to your platforms is to give them an incentive with promotions and discounts. Send restock emails and notifications along with discounts for repeat orders to ensure that your past customers keep your platform on top of their minds when they seek printing services.
Push notifications:
Push Notifications are one of the most effective ways to retarget your customers. But, instead of spamming your customers with generic notifications, strategize your notifications and ensure that they serve you as clickbait.
Pro Tip:
Those who do not have mobile applications can also use Progressive Web Apps (PWA) for their websites.
Choose your stones wisely:
It is said that leave no stone unturned when it comes to marketing. But if you are a person with a limited budget and resources, you have to strategize your marketing efforts and choose your channel stones based on what your customer and market demands.