Moving from existing systems to UCaaS (Unified Communications as a Service) can be a big challenge. Consider what a functional Unified Communications platform entails – it must connect multiple endpoints seamlessly. There are dozens of moving parts in the process of cloud migration, one wrong move can prove costly.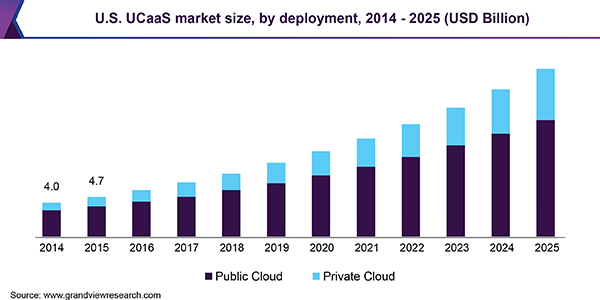 Image Source: Grandview Research
Today, we're seeing more and more ways technology has improved communication on all fronts. Some of which don't even come with costs like video chat platforms that rank among the best free conference call services and businesses have taken note, with 56% of companies looking to migrate to UCaaS for smoother user experiences in the next few years.
Information and services which were once divided have come together through the Internet of things (IOT). The "internet of things" refers to the collective experience, bridging technology and information, to create seamless workspaces and user experiences.
This means that effective user experience is essential in today's world. Which is understandable given that technology has become a part of virtually everything, from improving business workflow to convenient grocery shopping.
When adopting any kind of new system, proper planning is absolutely essential. You have to ask questions like "what is the best business phone service for small business?" or "What conference call features should external meetings have?" The same goes for hosted PBX systems or any type of cloud based communications. It does not have to be a daunting process. Here are some tips on how to successfully deploy UCaaS:
Choose a deployment architecture and network requirements that fit you
Selecting the network services and type of architecture and you need for UCaaS deployment are crucial first steps. The functionality of networks and hardware is essential to the success of your platform in the long term.
Starting with the networks, there are three main networks to think about for a UCaaS platform. The first is the UC provider's public cloud. Second, your own local network. This means the phones, laptops, or mobile devices which you'll use and how they will sync with the UCaaS software. Third, is the internet connection which will connect your network and the public cloud.
The UCaaS provider will take a look into the networks when creating the deployment assessment. Examining the network beforehand gives insight into potential issues such as latency and jitter. Latency is the delay that sounds like an echo in a voice call. Jitter is the lag that can lead to choppy audio and video during conferences. These delays often occur when the meeting collaboration software is installed in a network that isn't properly equipped for it. Prevent these issues by properly assessing the network requirements of your business.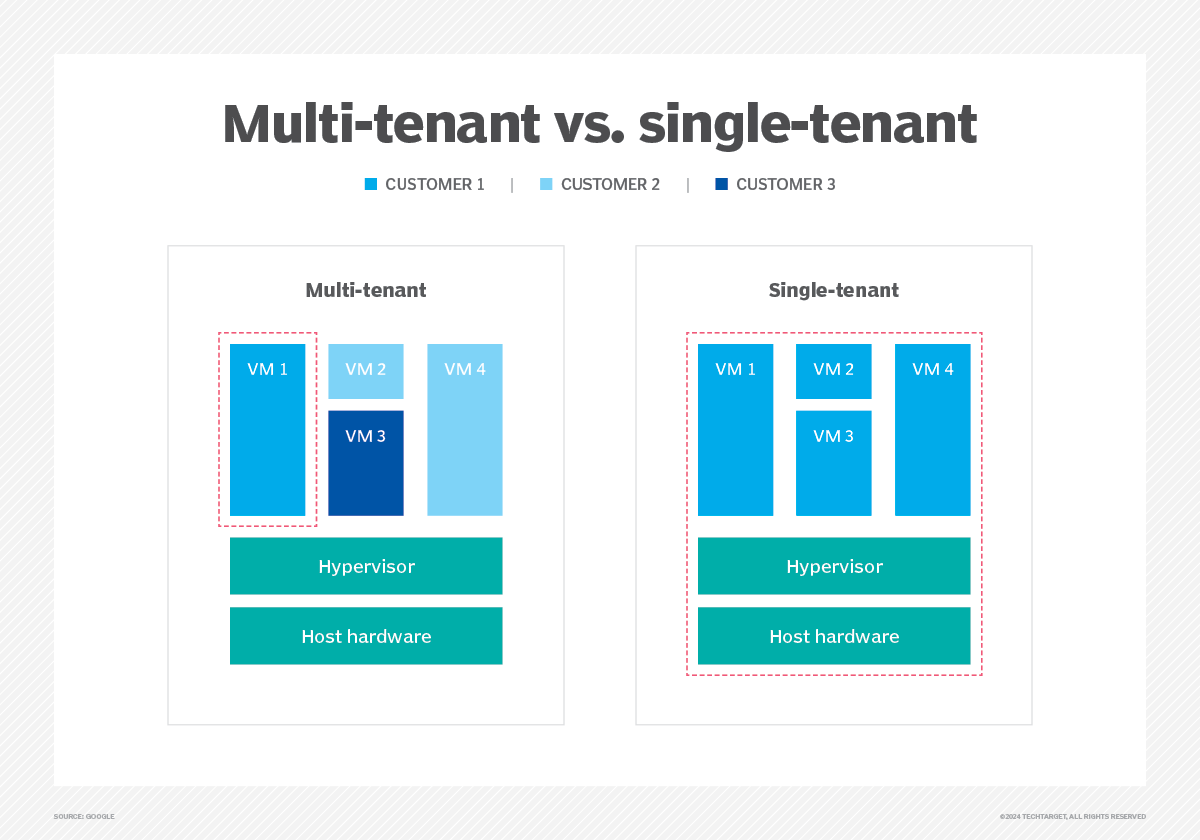 Source: Techtarget
When it comes to architecture, the choices are between a public, multi-tenant architecture and a private architecture. Each one has a different purpose and distinct function. A multi-tenant architecture has several customers who share a server. Because the server is managed by the UCaaS provider, there is no maintenance and upkeep stress. However, this also takes things like security and personalized access out of business's hands. This option is cheaper, but comes with less organizational control.
Private architecture allows for more control and personalization. With private architecture in place, customers can personally manage the data flow and security measures. However, this also means that any security or software problems become the sole responsibility of the client. Due to the personalization, private architecture generally costs much more to host and maintain.
Before deploying UCaaS, take the time to analyze the needs and budget of your business. Every company functions differently and a UCaaS provider can only do so much when providing their services.
Considering which network services to hand off to the cloud provider is also important. It's all about managing scope. Understanding the architecture is the baseline as it will be the framework for successful deployment.
Pre-test MOS
Pre-tests score your network and give you the confidence to move from evaluation to execution. When pre-testing, focus on the MOS or mean opinion score. This score measures the success of human speech as it arrives at its output.
The testing methods can differ, but what happens is that subjects either communicate with each other or listen to pre-recorded messages while in a soundproof room. They then rate the clarity from one (lowest quality) to five (highest quality).
By utilizing this test, businesses have a better idea of possible jitter, latency and packet loss. The MOS is key to rolling out successful unified communications and VoIP. This is because it has become a standard in the industry, and provides a rating which will inform any firm's next steps.
Think of how essential VoIP has become to today's businesses. This is due to the constant improvement of the technology around it. The last thing you would want is for your VoIP system to fail upon deployment. So, make sure to test it against these factors – hardware, bandwidth, jitter, latency, packet loss and codec version.
Involve end-users and lines of business
Including a wide range of users early in the migration process can help an organization find pitfalls it may not otherwise be aware of. It works on the same principle as deploying a time series database. You're looking to tap and analyze as much data as possible.
You should talk to users to make sure the features they need are included in the new UCaaS platform. Do they need to share desktop view during meetings, or maybe a breakout session platform? Don't assume that what they need is automatically included in a cloud offering. Keeping end-users and businesses in the loop from the outset makes it easier to detect any possible friction between the technology and the users.
At the end of the day, it's the staff who will need to use the UC platform as part of their job. Many can be intimidated by the new tech, so it's best to allow them to personally assess the programs. Introduce staff to the technology early to avoid bumpy transitions. You can then provide any materials that can make the transition easier.
These materials can be anything from PDF files in shared drives to tutorial type seminars in the workspace. Video tutorials which can be easily accessed may also help in the roll-out. Some businesses also adopt wiki pages which can be updated throughout the process to keep all users on the same page.
Training end-users is a crucial component of cloud migration and other tech deployments. Users know what they need and how to maximize the training offered by the UC provider.
Perform end-to-end testing
There's a huge difference between making test calls and actually using the system to run the business and perform a sales engagement.
Isolation testing isn't an effective way of measuring network preparedness. End-to-end testing fully examines the experience as a whole. By the time UCaaS is deployed there should be a functioning and effective journey from the call, to LAN, to the cloud.

Source: TestBytes
End-to-end testing is done by running multiple communication scenarios through controlled agents or organizers. The deployment makes use of a wide network range and is meant to tackle various scenarios and network conditions. The results are then collated and used to make improvements to the technology or to help user engagement.
This is your trial-run of the system. It's important to get the basics down, as well as to anticipate any potential threats in security or connectivity friction.
An end-to-end assessment gives full transparency to each network. As most providers invest heavily in optimizing their network, there shouldn't be an issue with the provider's clouds. This means that issues with jitter or latency are more likely to occur if your own network isn't fully prepared for heavy use.
Evaluating contracts and service-level agreements
Challenges in a UCaaS migration aren't always technical. You should also look at the contracts and service-level agreements (SLAs). Sometimes, these can make or break the success of any deployment.
Carefully review the language in service provider contracts. Ensure information such as cost structure, phone number ownership, and billing schedules are correct. Look at what it takes to get out of a contract, such as paying termination fees.

Source: Sap.com
SLAs lacking in metrics and penalties can also affect the success of your new arrangement. Most SLAs limit damages to whatever an organization pays monthly. If an organization suffers from an outage that keeps the business offline for a long period of time, then there should be deductions from the fees. Disaster recovery, after all, isn't cheap for any organization.
Organizations should make sure their SLAs have hard metrics such as key performance indicators. Paperwork should be in place to protect you upfront.
Overall, SLAs are meant to protect business before, during, and after the UCaaS deployment. They offer clearly defined promises and terms that are meant to keep accountability. Successful UCaaS deployment can happen only when there is constant and clear communication from both parties. This not only sets-up new practices but also ensures a healthy working relationship in the future.
Go forth and deploy
Don't be discouraged by all the steps. While this list is exhaustive, it is important to remember that this is just the starting point. Taking the time to meticulously plan the foundations of a successful roll-out is well worth it. Planning, figuring out your goals and drivers, and assessing potential technology fit is the first and most important step of any new tech deployment.
The challenges of unified communication deployment are considerable. The right guidance, planning, and tools, though, can lead you to communication strategies and solutions that will work wonders for your business and your integrated business phone system. Remember that when deploying UCaaS there needs to be open communication on all fronts. From service providers, to end users, to contracts.
So don't delay: Take that first step to helping your business reap the potential advantages and benefits of UCaaS. Get on with deployment.