From reserving a physical dine-out to home delivery, smartphone apps have brought about a massive shift in how people procure their favorite cuisines. At a time when the world is grappling with COVID-19 and people are following social distancing norms, food delivery businesses are observing the high inflow of orders.
A food delivery application allows food businesses – restaurants, food chain owners and aggregators to reach a wider customer base and add an additional revenue stream. Before getting started with food delivery app development, food businesses should lay emphasis on adding suitable features in the application that enhances customer experience.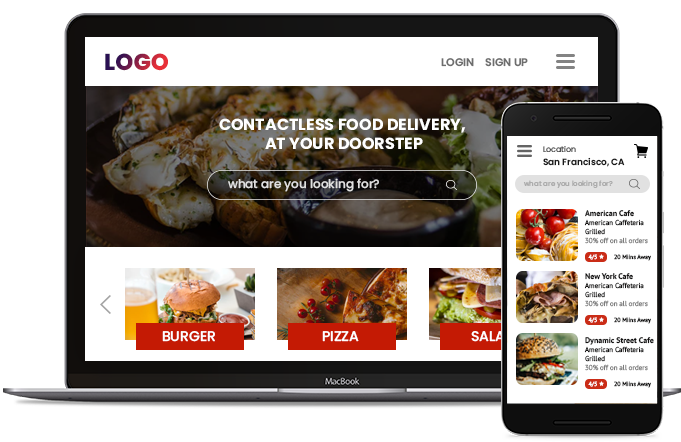 While keeping the standard design and development considerations in check, it is necessary to add functionalities that proffer both safe and convenient food delivery. To excel at food delivery app development, below are a few key considerations for food businesses and related stakeholders:
1. Easy Registration and Social Media Sign-In
To enhance the user experience, ensure an easy one-step registration and login feature for customers. This helps in decreasing the cart abandonment rate which is seen in most eCommerce applications that have a multi-step registration process. To improve the customer's ease in signing in to the application, a food delivery app developer should add social media sign-in features. It eliminates the need to create separate accounts for order as customers use their existing social accounts for ordering.
2. Simple user interface with easy navigation
A food delivery application should be simple and easy to use. Food businesses should look for a UI that is easily navigable and allows users to check out nearby restaurants, food items, place an order, check order status, delivery status, etc in a convenient manner. Thus with smooth navigation and easy to use features, businesses would be able to manage routine activities in a much quicker manner.
3. Adding filter and sorting preferences
The search bar should be able to list the restaurants where customers can search for their favourite cuisines, view ratings and reviews, select food items based on veg/non-veg and various other preferences. Food delivery app developers must use sorting algorithms to filter out the relevant results based on available listings. Thus with the right filters, users find it easy to search for nearby restaurants and order their favourite cuisines.
4. Real-time delivery tracking
Real-time order placement and delivery tracking are vital features for a food application. Users have the information about order status at various stages including order acceptance, order preparation, order dispatching, and live monitoring of driver's whereabouts with a delivery tracking feature. Monitor delivery insights, review customer's feedbacks on order delivery and more.
5. Broad and Secure Payment Options
A food delivery application should allow multiple payment options for customers including net banking, card payment, wallet payment, cash on delivery, etc. Also, restaurants must consider adding a POS feature that will allow customers to pay in real-time by simply swiping their cards. Furthermore, while going for on-demand food delivery app development, food businesses should look to incorporate encryption mechanisms thus facilitating secure digital payments to customers.
6. Offers, Discounts, Push Notifications and more
To keep the customers informed about order status, food businesses should surely incorporate push notifications. This helps in establishing successful marketing strategies where businesses are able to send in-app messages and marketing advertisements. Businesses can put offers and discounts on selected products with Shopify or Magento platforms which allows manual offer/discount listings for specified products.
7. Cross-Sale and Product Recommendations
There are various eCommerce platforms that offer up-sell and cross-sell features. These features allow a business to manually promote some of its listed products so that they garner higher profits. While going with food delivery app development, check if your partner offers AI development support or not. With AI-powered product recommendations and user behaviour analysis, food app owners find it easy to know which food item or restaurant needs to be promoted.
8. Chatbot Integration is a Must
A chatbot is an important feature in a food delivery application that is used for customer interaction. Food delivery businesses also assign dedicated employees to handle customer queries, resolve complaints and enhance user information about available offers, food combos, vouchers, etc. Thus with chatbot integration, customers enjoy hassle-free ordering besides quick resolution.
9. Easy Checkout and Billing
The prime reason for the low sales rate in many food applications is the complex checkout/billing process. To minimize customer cart abandonment, a food delivery app developer must look to simplify the checkout and billing process. So instead of a 7-8 step billing process, developers can either use the auto-capture method (which generates previous billing information) to quickly fill information or eliminate/merge some steps in between thus minimizing the time of order placement.
10. Mobile responsive application
Understand that the customers of your food delivery application would come from various platforms including search engines, social media platforms, app stores, etc. Thus, consider supplementing your food delivery website with a mobile responsive web application/native application. With a mobile-friendly digital solution, food businesses will be able to reach out to a wide customer base and register an increase in sales.
Bottomline
Considering the public reliance on food delivery applications in the past few months, it is a good time for food businesses to supplement their physical food chains with an on-demand food delivery app development. However, while developing a food delivery application ensure that the functionalities, elements integrated into the application are easy to be used and offer good user experience. A food application that has smooth navigation, interactive elements, simplified process, and easy order management will surely go well with customers.