The number of digital buyers continues to rise every year. "In 2017, an estimated 1.66 billion people worldwide purchased goods online. During the same year, global e-retail sales amounted to 2.3 trillion U.S. dollars, and projections show growth of up to 4.48 trillion U.S. dollars by 2021." The statistics are not that surprising. Shopping online offers so many advantages including time savings, fast access to a wide variety of products and services, easy access to cost-saving promotions and much more. While E-Commerce provides a way for companies to exponentially increase revenue, if the user experience is not easy in any step of the shopping process, people will abandon their cart and sometimes never return. That is precisely what happened to me.
Examples of user experience mistakes
I received a promotional email from Macy's indicating that I can "save 30% now with a Friends and Family promotion." It sounded enticing so I clicked on the "shop now" button in the email and arrived at Macy's home page. Where user experience went all wrong is when I filtered down in the side navigation and clicked on "petite tops." I expected to see a variety of shirts that may fit my body size, but instead, I arrived at a page that displayed an error with no other content. I tried again and continued to get the same annoying message. "Sorry, this page is no longer available." At that point, I left the website and bought from a different online store instead. I lost patience given user experience issues.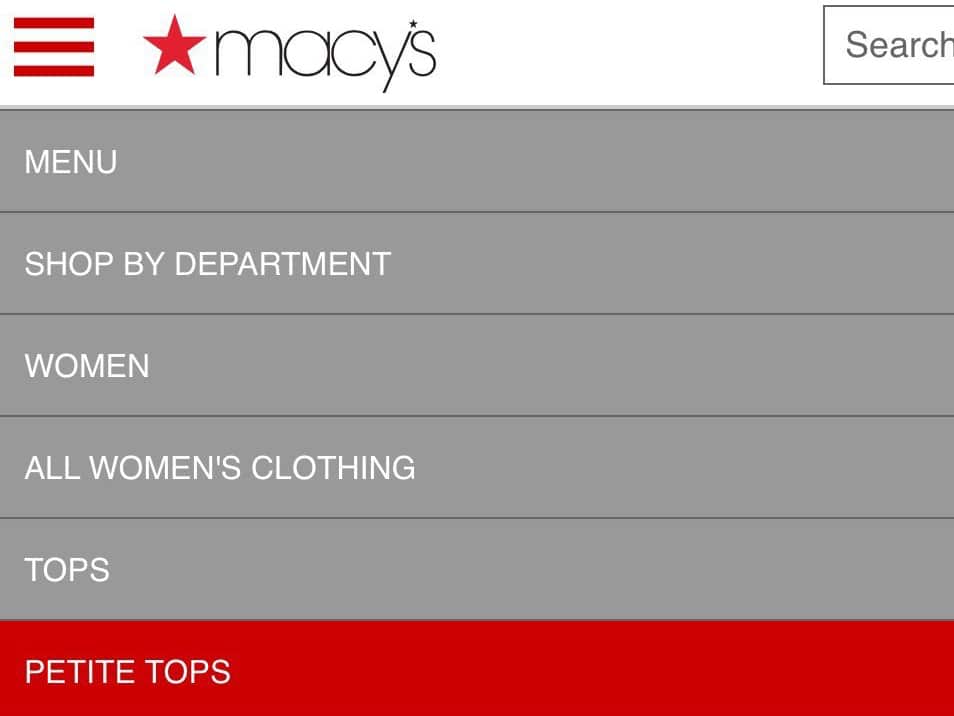 Macy's is not the only retailer that needs website optimization. Bloomingdales is filled with user experience challenges too especially when using an iPad device. While site navigation was simple, the product detail page would not permit me to "add to brown bag" and move ahead in my buying journey. I attempted to choose my shoe size, but the website would not accept my selection. I tried again and again but kept getting an annoying error message asking me to "Please select a size."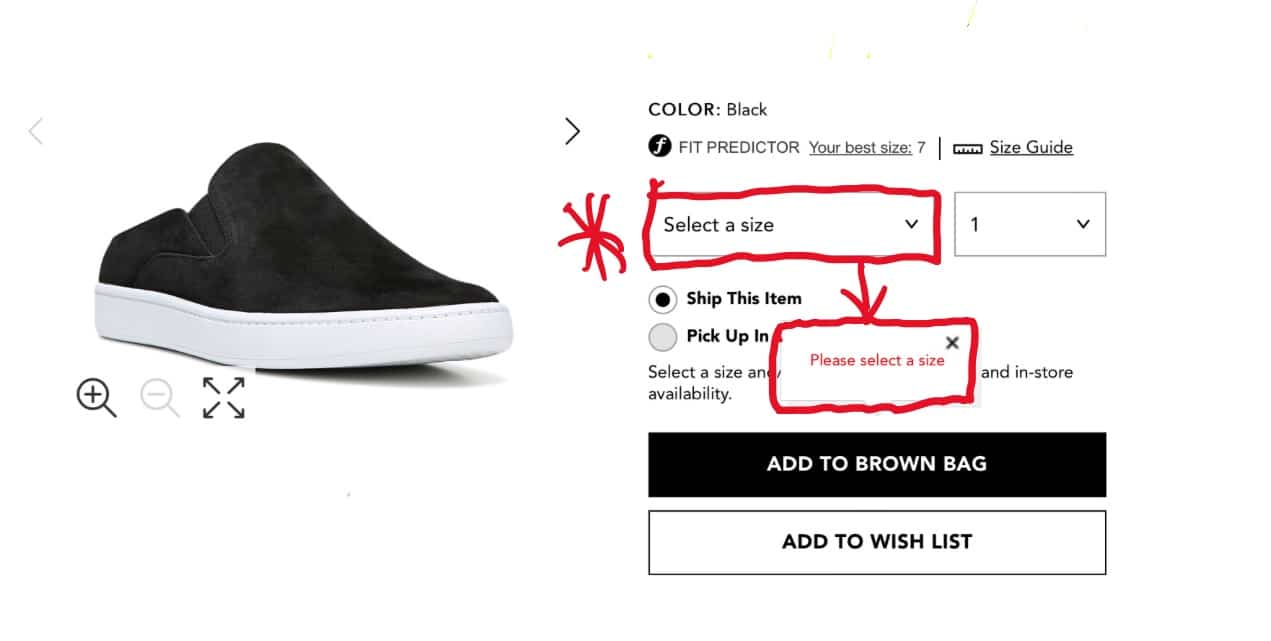 Since I really wanted the shoe, I decided to turn off my iPad and start over using my desktop computer. Fortunately, I had success in choosing the size, but then, I had an issue with picking the color. The website said "Black," but the image of the shoe displayed a brown color. I decided to proceed with my transaction knowing Bloomingdales has a great return policy and felt no risk in purchasing. Yet, I was not 100% sure which shoe color would be delivered to me. The experience caused me to second guess my purchase decision. While I did not abandon my shopping cart, I bet others leave the website due to confusion. 

Key Takeaways:
Message Continuity Matters.
Macy's did a good job in showing the same promotional content in the email (pre-click) and on the landing page (post-click). This helps avoid shopper confusion early on in the customer journey (learn stage).
Make It Simple To Shop and Buy From ALL Devices. Websites must be designed with mobility in mind.  I should not have had to switch from my Ipad to a Desktop computer to complete my transaction.   
Design based on UX and CX best practices. It is not guesswork. There are clear guidelines for creating and optimizing websites, especially with E-Commerce capabilities. Be sure your team includes experts to ensure business success.
Make It Easy To Get Help. While both companies fail to create flawless user experiences, they do effectively provide online shoppers with an easy way to get support. Best practices include offering users different options to get help (i.e. calling an 800# and chatting online) at the moment "pain points" occur.

Read more about E-Commerce and DoingCXRight. 
Sign up for my newsletter to continue learning how to increase your skills and transform your organization! When you register now, you will get access to my whitepaper on how to go from CX Novice to CX Expert.
*All opinions expressed are mine alone and do not reflect the opinions of or imply the endorsement of employers or other organizations.