Are you considering entering the field of marketing and want to know if you can forgo a digital marketing degree?
There are many people who cannot or are simply not interested in attending higher education right now. Not having formal training doesn't mean you can't become a meaningful contributor or leader in today's digital marketing landscape.
One of the nice things about marketing is that it reaches so many lives and needs a variety of perspectives to keep us all fresh. It needs people from all kinds of backgrounds to contribute to a growing and developing industry.
This article will give you strategies if you are embarking on entering the field without a post secondary degree. First, we'll discuss the sub-categories the digital marketing industry falls into and what it means to choose a type of marketing and find your niche. Following that, we will explore ways to create a "starter pack" and grow as a digital marketer.
Find the Type of Marketing That Interests You
The digital marketing industry has thrived in the past decade because it follows a very straight forward principle: present solutions to everyday problems people face.
The type of marketing you consider should relate back to the way you want to help out on a larger scale. Base this on what you feel strongly about, and what skills you enjoy doing most and you have a winning combination. Here are a few ways different kinds of marketing helps out and what skills it may require.
SEO/SEM
Do you enjoy reading questions on reddit or other forums? Do you tend to vet the link you're about the share before you post it to make sure all of the information is correct?
This means you're invested in improving your peer's search results the same way that a search engine is. In the field of SEO and SEM you'll be researching keywords to better understand the journey that the user goes on as they navigate the web. You'll need to have a critical eye for spotting emerging trends and keeping the traffic and link outs flowing back to landing pages.
Content Marketing
Do you like to post on your social media channels with stories, tips, or reviews? Do you absorb information like a sponge? If storytelling and putting together helpful lists is something you often do, then content marketing is likely a good fit for you.
While content marketers spend a lot of time writing lengthy engaging content, they also have to optimize it for SEO.
Previous experience with customer service is a great foundation for content marketers. Having that background will show in your words as you strive to provide unique solutions. You also need customer service to carry your guest post pitches along, because you must approach people politely and be receptive to constructive feedback.
Social Media Marketing
Are you the type to keep a journal? Do you catch on to habits easily? Social Media marketers are responsible for creating engaging short form content as well as monitoring its success.
You'll be following a format you designed via your daily content calendar and analyzing its success through the social media analytics tools. Another important role in social media marketing is the community manager. This individual can navigate the community the brand has developed and help maintain guidelines to ensure users to feel like they belong.
Email Marketing
If you are a person who tends to be committed to developing strong relationships, then email should be right up your alley.
Email marketers work hard to move people through the "sales funnel" with engaging and actionable dialogues with their customers.
This role requires a lot of experimentation and an eye for detail. They work hard to find the perfect subject line to drive conversions all while delicately bypassing the dreaded spam filter.
Equally beneficial to a sales background would be a knack for design, to help your emails stand out from the rest.
Affiliate or Influencer Marketing
Do your peers go to you for trusted advice? Perhaps you're always the first to adopt the latest iPhone and your family likes to get your advice on their tech purchases. Affiliate or Influencer marketing could be a great place for you to expand on your passions.
Influencers work with teams of experts to build their personal brand and lasting relationships where trust is paramount.
You'll need to be comfortable creating video content, vetting and presenting products for ecommerce, monitoring and maintaining a following, and running contests or giveaways.
Find Your Niche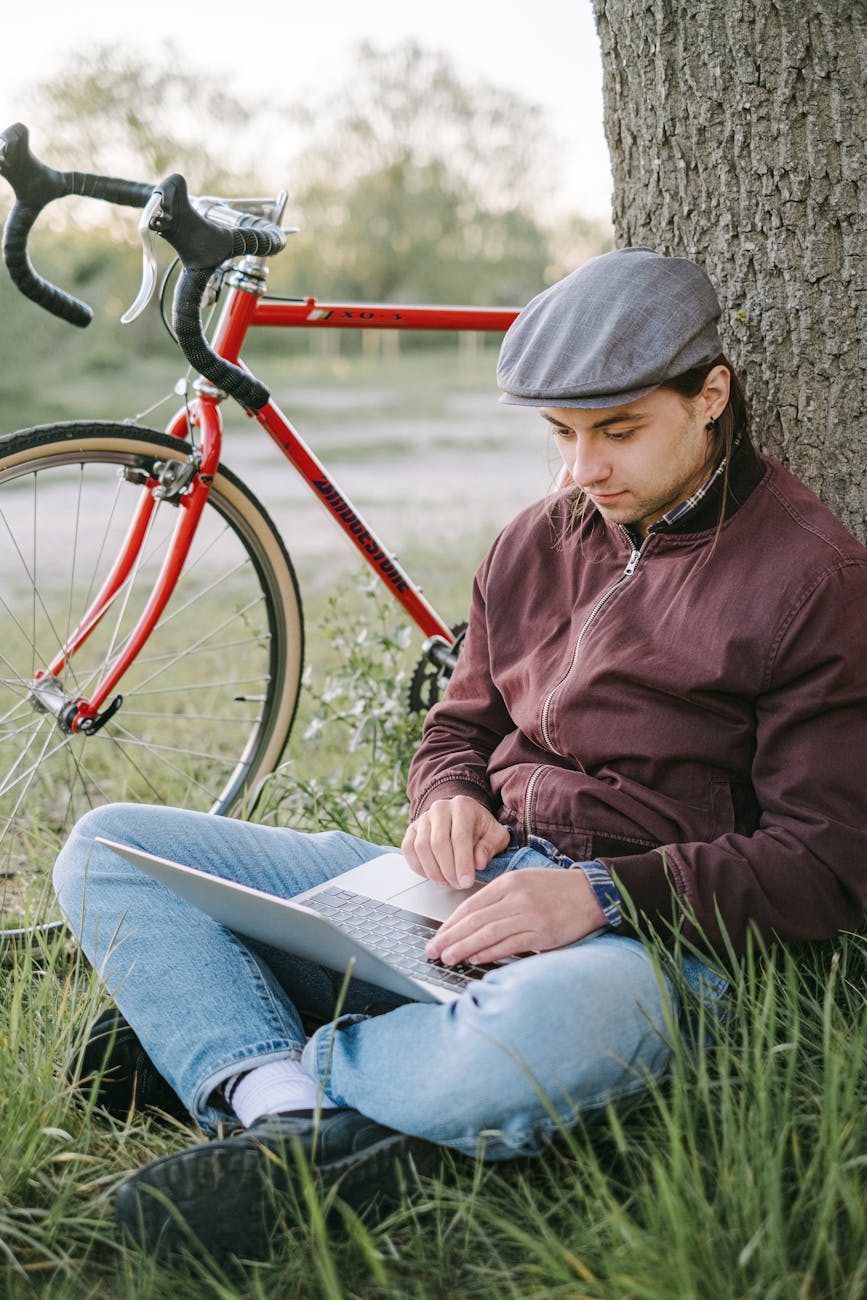 Marketing involves a lot of research and close attention to detail. It also involves a lot of networking and at times when you're on the lookout for subject matter experts, a bit of flattery.
It cannot be stressed enough that your research is what keeps you engaged and the people you interact with must be people you can relate to. This adds up to finding your niche.
Not every niche that you want to work in is super lucrative, but if it keeps you informed about topics you care about it is still a valuable way to spend your time. If your niche is not making the big bucks, perhaps tie your knowledge to a bigger category that you can get on board with.
For example, if your passion is all things Tour De France, perhaps all things cycling can be your niche. If you want to take it one step further, find out how you can be of value to sports marketing efforts overall.
Invest in a Starter Pack of Tools
To be fully invested means you are adopting the necessary tools to get started. One can argue that you'll need a small nest egg of about $500 to get started with an adequate website and a few subscriptions to popular tools, don't worry you'll pay yourself back after you've mastered how to use them.
Here are a few things to foster your learning and eventually help you create a steady income.
Learn How to Create a Website
Do some research on web hosting, buy yourself a web domain and get started on building a website. Even if it's a super simple blog, you'll be glad you have it to play around with. You'll want to learn how to create different landing pages and understand how to post in WordPress.
You'll also need a website to learn how to use a lot of third party tools that help marketers, like to review web traffic in traffic in Google Analytics and the Google Search Console.
If you want to continue to study the search rankings, a subscription to Moz or Ahrefs would help you to develop strategy surrounding keywords and your internal and external links.
Productivity
You'll want to consider tools that help you keep organized. It goes without saying, there are millions of tools to help you out here. To name a few of the bare basics:
Dropbox
The stress of a file or attachment that is too large is easily solved with a place you can quickly store big data. This is also a great place to house all of your assets like logos and lists you've built to be able to easily share with others.
Slack
For digital marketers, a lot gets done on Slack. You can easily join a niche-relevant chat room and meet lots of great fellow marketers. It's a great place to celebrate small wins when you're normally working on your own. Definitely consider at least the free version, because you need a popular and professional method to communicate to avoid invading personal social media channels.
Better Email
Many people not tied to a large company tend to adopt a web-browser based email provider like Gmail and never look back. What makes life so much easier is getting a Gmail desktop app on your computer that will enable you to work offline and combine all of your email addresses into one unified inbox.
Education Doesn't Have to Happen in College
There are certain concepts that are so popular and so vast. For example ecommerce is absolutely booming and changing all of the time. How can anybody keep up?
Luckily now that this field has been going for over twenty years, there's a ton of resources available. There are digital marketing apprenticeships that are totally free that you can sign up for to make sure you're on the right track.
While it can be hard not to go down a rabbit hole with YouTube, there are still a lot of incredible resources that have come out of the platform. Search for the top influencers in your niche and go from there. Linkedin Learning is another great way to get ahead. They have very digestible courses, taught and designed by industry leaders.
If you have the time build your own podcast or blog where you can moderate discussions of your own, inviting others to join you for discussions is imperative. Don't be a blogger who only likes the sound of their own voice, your followers will appreciate different perspectives. Plus, if you are supporting others, they will want to support you back.
Schedule Experiments
A/B Testing is essential as a digital marketer. This is the act of having a hypothesis and exploring what can or cannot create positive results. If you're in email marketing it might be accounting for the time of day that you reach out to your audience. If you're a community manager, it might be learning what kind of polls and questions to ask on behalf of the brand's quality research team.
It's a good idea to keep a record of what you have learned. Without a huge team around you, there's a lot more trial and error. This is another reason to lean on that Slack or online community of digital marketers.
Along with what you've learned about your experiments, keep a record of all of the experts you have networked with and what they do. Having a data visualist or a graphic designer you trust on hand is really beneficial.
Keeping your best content or ad strategies written down and saved in that Dropbox where you can give exclusive access to those you are working with is going to save you a lot of time down the road.
Ultimately, keeping track is one side, but wanting to continuously test is the other. If you're truly excited about your clients, then you will have no trouble networking and testing out the best tools to help them move forward.
Key Takeaways
Discover your "why" by narrowing down your niche and what type of marketing best reflects your skills.
Invest in the right assets to kickstart your career, whether it be some money into software or your time as you network with others.
Don't forget to keep an inventory of your hard work so it can get easier day by day.
As you continue to build your career, remember to pay it forward to people starting out. You can help others discover what they love about the niche you have become so passionate about.