I'm constantly focussed on new ways to maximize customer satisfaction (beyond price factors) and increase employee engagement. Whether I am at my day job or on vacation, my CX hat is on. I pay attention to everything, including how employees communicate with customers as well as how employees interact with one another. My recent trip was no different when visiting The Lodge At Woodloch with my family. I could write a book about my Woodloch experience, however, there's a specific CX example that impressed me the most.
Yes, the place is beautiful and well designed. Likewise, the food is magnificent. And, there is never a moment of boredom, as Woodloch offers tons of indoor and outdoor activities. There are convenient amenities too, including a bathing suit dryer within the pool area. My list of customer experience Wow Moments is long, but let's discuss the one big takeaway that all companies can easily do.
The #1 CX WOW MOMENT that's easy to replicate:
Are you ready for the answer? It is not a complicated technical solution. In fact, it costs $0 to implement. My Wow Moment was…. meeting and conversing with the owner of Woodloch, John Kiesendahl. Welcoming guests is not a one-time occurrence. He is known for greeting his customers throughout their visits. Not only does he ENGAGE in conversations with customers, but he also actively LISTENS to what people say about their Woodloch experience and genuinely cares. This is what I call Doing CX Right!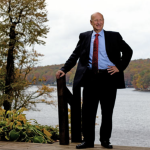 John has an extraordinary way of humanizing experiences and making people feel important. When I met him, I sensed that he is the type of owner who would personally take action on anything that does not meet customer expectations. He explains the importance of customers and his company culture in an interview. "We operate from the top down: we start with the guest. What's going to make them happy? What's going to bring them back." I believe it. He is truly walking the CX talk!
CX success is not just about being customer-centric, but also employee focussed too.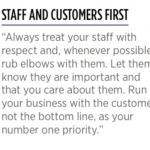 I couldn't agree more with John's statement: "Always treat your staff with respect and rub elbows with all employees." He clearly means what he says, as I recognized many employees from my prior visits. Retention and loyalty do not happen automatically. It takes commitment and intentional focus to maximize employee satisfaction.
In conclusion: My Woodloch experience serves as a great reminder of the importance of building and maintaining a CX culture, and that it starts at the top. I believe that not only should company owners meet with employees and customers, but also managers AT ALL LEVELS too. Working behind closed doors does not produce an engaged workforce. In fact, it causes the exact opposite.
There's a lot more to share about my trip. Stay tuned for my upcoming article about how to create an exceptional customer onboarding program using Woodloch as an example that has customers, like me, talking and recommending the place. Every business can apply the same best practices, not just the hospitality industry, leading to customer referrals and repeat purchases.
Sign up for my newsletter to receive notifications when my new articles are posted. Please share and join the conversations on Twitter, Instagram, and other social channels. Contact Stacy any time for CX support and mentorship.
Keep focussing on customers. #YouMatter!
*All opinions expressed on the DoingCXRight Blog and site pages are the authors' alone and do not reflect the opinions of or imply the endorsement of employers or other organizations.