The Internet of Things (IoT) is a popular buzzword that is proliferating at an exponential pace. It is referred to as an internet-connected network of physical and technological devices. In many ways, the Internet of Things is ready to disrupt various industries and businesses.
Did you know? The global Internet of Things market is all set to reach $2.5 trillion per year by 2027, with over 41 billion devices connected to the internet.
The Internet of Things can benefit businesses in various ways, including cheaper operating costs, new consumer insights, and opportunities to improve business operations. It isn't always a great situation, though.
Some businesses may only notice the drawbacks of IoT devices and be hesitant to implement them. Innovative consumer goods are developing as the Internet of Things expands, and corporations are paying notice.
Businesses must proceed with caution as devices are frequently constructed keeping in mind the cost and speed-to-market. Before integrating these network-connected goods into your organization, be sure you understand the benefits and drawbacks, as well as how to protect devices adequately.
So, through this article, I will shed light on the advantages and disadvantages of IoT in business and how it might affect your daily life.
Here we go…
Pros of Implementing IoT in Business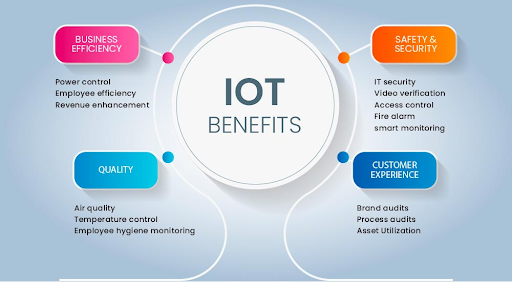 The IoT has a lot to offer in practically every area we can think of. The Internet of Things creates a lot of data. The more data evaluated, the easier it becomes to make sound decisions. We can predict consumer trends using cognitive data insights, which significantly impact present and future marketing tactics and customer experience.
This high degree of precision will make it easier to automate regular and repetitive processes that would otherwise take a long time. The Internet of Things is also expected to increase business potential by lowering costs and simplifying operations.
According to a report, by 2025, connecting the physical and digital worlds might generate $11.1 trillion in economic value. Some of its advantages are currently available through Google Home, Amazon Echo, Fitbit, and others.
Here are some of the benefits of the internet of things. Take an in-depth look.
#1 Lower operating costs
A fleet of IoT devices can help businesses optimize operations and lower operational costs as they give real-time data. Devices can give out proactive alerts regarding their status, allowing staff to schedule maintenance before it becomes a problem.
It can be integrated into larger systems to boost operating efficiency and reduce costs. IoT makes it easier to communicate amongst electronic devices.
Data packets are transferred over a connected network, which saves time and money. It aids people in their regular activities. Thanks to the Internet of Things, data that would otherwise take a long time to move may now be transferred considerably more quickly.
#2 Increase Business Profitability
Aside from direct revenue, one of the most valuable assets of modern businesses is data and the company's ability to use it. As you may be aware, information is our most valuable resource. As a result, the data created by smart devices is precious to businesses.
This is the same business asset crucial for the company's accounting and audits, such as authorized capital, human resources, or inventory.
#3 Efficiency and Increased Productivity
Efficiency is the basis for improved productivity in the way that drives revenue for companies. 78% say that the introduction of IoT in the workplace has improved the effectiveness of their IT team, and 75% found it increased profitability.
One method to use the Internet of Things to boost organizational efficiency is to automate repetitive or time-consuming processes.
An example IoT function for this strategy can be an automated PDF conversion and creation tool that reduces PDF editing and archiving barriers, enhancing communication and documentation speeds.
These IoT tools improve inter/intra-office communication, which leads to increased productivity. As per the Harvard Business Review poll, 58% of organizations are witnessing more collaboration due to the adoption of IoT devices.
Using big data analytics via IoT can give you an overview of employee productivity and help you figure out which duties are improving and hindering your company's operation.
According to research, 46% of organizations that implemented IoT strategies saw efficiency advantages, even though 29% expected that gain.
#4 Mobility And Agility
Because of the increased effectiveness, a company using IoT solutions can offer a broader range of services or products or improve their quality compared to its competitors, but at the exact cost.
Alternatively, such a company may undertake a more challenging task in terms of production difficulty, time or quantity. Overall, intelligent solutions make an enterprise more competitive and attractive as a potential business partner.
Due to the increase in business agility, an estimated 43% of businesses that incorporate IoT policies into their organizations see a boost in business agility by enhancing operational procedures.
Hence, you can hire app developers who are versed with the technology to develop native, web, or hybrid of your choice.
Remote workers will become an increasingly important part of modern workforces, and this trend appears to be here to stay. The usage of IoT technology across all of your devices for communication reasons, as well as a good plan for protecting those endpoints, will be the top priorities for any projects using the Internet of Things' benefits.
#5 Better Business Opportunities
Because of the increased effectiveness, a company using IoT solutions is able to offer a wider range of services or products, or increase their quality compared to its competitors, but at the same cost.
Alternatively, such a company may undertake a more challenging task in terms of production difficulty, time or quantity. Overall, the use of smart solutions makes an enterprise more competitive and attractive as a potential business partner.
While many organizations want to tap into the revenue-generating potential of digital services, most don't have a well-thought-out strategy for doing so.
In this regard, the Internet of Things (IoT) is a game-changer since advanced analytics, artificial intelligence, and smart utility grids make it simple for businesses to acquire the actionable data they need to give the value their customers need.
These analytics bring new insights that are being used to establish new business models and reshape traditional industries.
For example, Automobiles with IoT sensors that track speed and driving patterns help insurers optimize insurance prices. Retailers may utilize IoT to track in-store foot traffic and optimize displays depending on customer preferences.
IoT has such a significant impact on business processes that 36% of organizations evaluate new business orientations, all thanks to their IoT initiatives.
Cons of Internet of Things
#1 Privacy and Security
With the development of IoT devices, security has become a significant concern. IoT security necessitates the safety of devices and the protection of software applications and network interactions.
Microsoft and the University of Michigan researchers recently discovered various security flaws in Samsung's SmartThings platform. And it wasn't tough at all. You can bet that hackers will be able to do it if they can do it as well. Isn't it scary?
Consumer perception regarding security in the IoT industry needs to be addressed. The 2015 iControl State of Smart Home report found that 44% of all Americans were "very concerned" about the possibility of their information being stolen from their smart home, and 27% were "somewhat concerned."
For enterprises, the concern is even more significant. According to the 2016 AT&T Cybersecurity Insight Report, which polled 5,000 large firms worldwide, 85 percent plan to deploy IoT devices, but only 10% feel they can safeguard them from hackers.
If security concerns are not addressed, consumer and company trust may be harmed, preventing IoT from reaching its full potential.
#2 Costly and Time-consuming Implementation
Deploying IoT devices frequently come with a high time and financial investment. There are the devices to buy and set up, people to install them, others to integrate them into the network, and the support calls to the manufacturer.
Businesses can swiftly make up their investment if they're all going to the same place. Expect the cost to climb enormously if the company spreads them out.
Organizations can avoid numerous possible barriers by establishing the deployment budget and strategy before purchasing.
#3 Complexity
The Internet of Things (IoT) is a diversified network that connects various gadgets. A single flaw can have a significant impact on the entire system. This is the most challenging component of the internet of things, yet it has enormous potential.
Because the Internet of Things is such a large and diverse network, a single software or hardware failure can have severe consequences. It adds to the complexity of the process. To help this process go more smoothly, you should register or link only one of your phone numbers to the IoT-equipped device.
#4 Device Compatibility
As more devices and components from many manufacturers become connected, the challenge of identifying and monitoring compatibility develops. Although this disadvantage may be mitigated if manufacturers agree to a common standard, technological challenges will continue to exist even after that.
To be effective, the Internet of Things requires the collaboration of a skilled and diverse set of technical partners. Connecting to intelligent thermostats, data centers, and other mobile networks for improved performance and return on investment may be difficult for buildings with legacy equipment that still has usable life.
Any software or hardware failures or defects could have significant ramifications and liabilities for the building's operation well-being.
#5 Lesser Employment
As the Internet of Things spreads worldwide, it may eventually replace tedious and unsafe employment, displacing unskilled workers. All of this could result in unemployment issues.
As we move towards the future of IoT, the hiring process of professionals will see a visible decline. Daily tasks are becoming more automated with IoT, and as a result, there will be fewer demands on human resources and less educated employees. This will have a direct impact on employment.
Bottom Lines
While the Internet of Things has made our lives easier and wiser since its inception, we cannot ignore its drawbacks. It's high time to consider how to mitigate its flaws and tap on the right points to make this technology perform best for you.
It's up to you to decide how intelligently you use the dominance of IoT-enabled innovative products to regulate your living and working environment.
IoT requires a sophisticated and broad range of technology partners to work together to be successful. Therefore, you can get in touch with one of the best IoT development companies in India to get your IoT app developed as per your specific requirements.