A lot of times people don't know what they want until you show it to them. -Steve Jobs
This statement has been requoted several times, yet many people misinterpret it. Some believe Jobs was building Apple's product based on his gut and intuition, disregarding customers' needs when actually, it's the complete opposite.
Your CX Weapons are Under your Nose
While the entire computer/hardware industry was still living in the Product Economy, piling on endless features, Jobs was already living in the CX Economy with an absolute focus on users' needs.
Let's analyze the market conditions when the iPhone launched. In 2007, Nokia had more than 50% of market share and the N95 cell phone was far superior to the first iPhone, when comparing the list of features.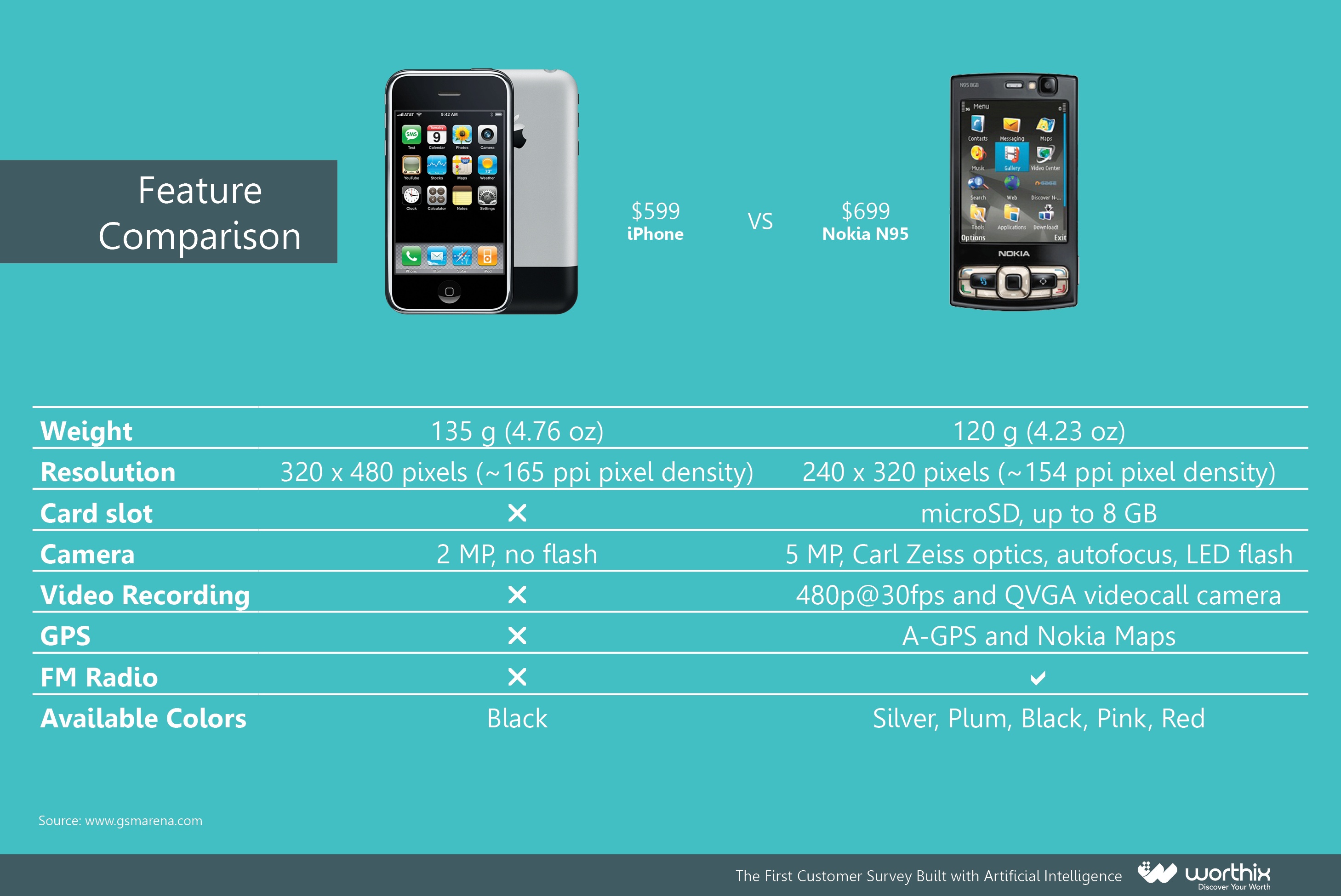 However, Jobs knew that he didn't have to compete with Nokia's list of features; he had to create a product that would make people's lives easier throughout their journey. Jobs created a product with customer experience as the ultimate goal.
Ten years ago, if I'd handed my Nokia phone to a friend, they wouldn't have been able to tell the difference between their phone and mine. Today, if I handed my iPhone to a friend, they would be lost because my phone is a part of my personal experience, suited for my lifestyle and daily needs.
Check out The Violence of the Customer Experience Economy (Pt. 1/3): Nobody is Safe in the Customer Experience Economy
Customer Centric Mindset VS. Product Centric Mindset
Unlike the old Nokia phones that were function oriented, the iPhone and the Apple iOS were both designed to deliver a personalized and helpful customer experience.
Although the Nokia possessed all of the standard phone features like camera, maps, and internet search, these same features on the personalized devices were designed to do much more. They connect people, suggest activities and venues, capture and share unique moments, and offer an amazing range of applications to support their daily challenges. Users' needs and desires are always top-of-mind.
All players had access to the same resources, but Nokia lacked the customer centric mindset. By the way, how does Nokia's market share look today?
Google and Apple are not Immune to the Violence of the Customer Experience Economy
Although Apple and Google are great examples of customer centricity, they are far from being on safe ground. If they don't keep up with the speed of change to meet their customers' needs, adapting their CX strategies and tools, they could very well end up like many of their predecessors. The first company to recognize and address the future needs will be the next market leader, and this could happen at any time.
If we consider that unique experiences and innovation constantly generate new expectations, the most important company goal must be to continually improve the customer experience. Is your company in place to transition with the customer experience era?
But My Customer Satisfaction Is Great! So What?!
Let's pause for a moment to make sure we're clear on what Customer Experience means. Customer Experience is everything perceived, felt, and remembered by a customer, empathetically related to both their social reality and personal needs before, during, and after a purchase.
Often times, Customer Experience (CX) is confused with user experience (UX), customer service (CS), or customer satisfaction (CSAT). They are all distinctly different, but each play a part in the Customer Experience Ecosystem.
If you deliver a great user experience and offer outstanding customer service, this could result in high customer satisfaction rates; however, if your customers' needs aren't central to your business, you're at risk to lose them. They will eventually seek a more "worth it" alternative.
As a former Blockbuster patron who left them for Netflix, I feel this is a relevant example for me to use. Blockbuster had an amazing in-store experience and their stores were stocked with the latest movies (well, at least most of the time). There was a drop box outside of the store to conveniently return movies before and after hours, customer service was helpful, and customer satisfaction scores were high in most stores, but the home movie industry was disrupted by a newcomer. Netflix came into the scene and introduced their home delivery model, causing customers' expectations to shift.
Leaving the house for an in-store experience to search for a movie, that may or may not be in stock, was suddenly viewed as an inconvenience. Those pesky late fees became a thing of the past for Netflix users. All the satisfaction in the world couldn't keep Blockbuster's customers from jumping ship, including me.
Sadly, Blockbuster's mindset never changed and they remained product driven (e.g. increasing the number of rental transactions per store). They lacked foresight and ultimately failed to adjust to the customers' new expectations. We all know how that story ended. The death of Blockbuster could have been avoided, but they were focused on the wrong thing.
On the other hand, Netflix never wavered from being customer centric and went on to innovate further with their streaming offer. The mindset was on the customer experience from its inception.
Your Customer Experience Tools are Under your Nose
Some may argue that it was the internet that made Netflix change their model to streaming, but the internet was already available for anyone to invade the space (ahem… Blockbuster).
Airbnb is another good example of being customer centric. Amazing hotels with great customer service, exceptional guest experiences, and high satisfaction rates, lost thousands of customers to Airbnb.
Why? Simply because Airbnb was able to understand the entire customer journey and the need to create a product that would deliver a more "worth it" experience. As a result, it became the choice of millions of travelers around the world.
Customer Experience is a much bigger concept than most may think. It is the key differentiator in today's CX Economy. Companies shouldn't feel comfortable when they register great Net Promoter Scores or Customer Satisfaction results. More important than having satisfied customers, is striving to be the most "worth it" alternative on the market.
Your best customer experience tools are under your nose, surrounding every opportunity available to best fulfill your customers' core needs. Remember, everything starts with your customers' needs!
Part 1: Nobody is Safe in the Customer Experience Economy
Part 3: Becoming More Customer Centric: Breaking down the Barriers of Silos