I like books that show you another perspective you weren't expecting. Yuval Noah Harari's Sapiens: A Brief History of Humankind is an example. Sapiens covers the critical points in history for homo sapiens. I admire how Harari was balanced in his assessments of these moments, looking at them from different perspectives. More organizations should take this tack and listen to both sides of an issue when looking for new ideas in the organization.
Not listening to other people is a human trait with psychological origins. We have a few behavioral sciences theories that apply, like Confirmation Bias, which is how we look for evidence that supports the view we already have rather than opposing viewpoints. On average, our opinions tend to strengthen over time because we're just looking to reinforce them. There's also Motivated Cognition, which describes a human tendency to think in a way that supports our predispositions. In other words, we have an opinion, and we are motivated to think in a way that keeps that opinion.
In both cases, humans seek out information that strengthens what they already think. Therefore, it is challenging to see things any other way.
The Emotions of Differences in Opinion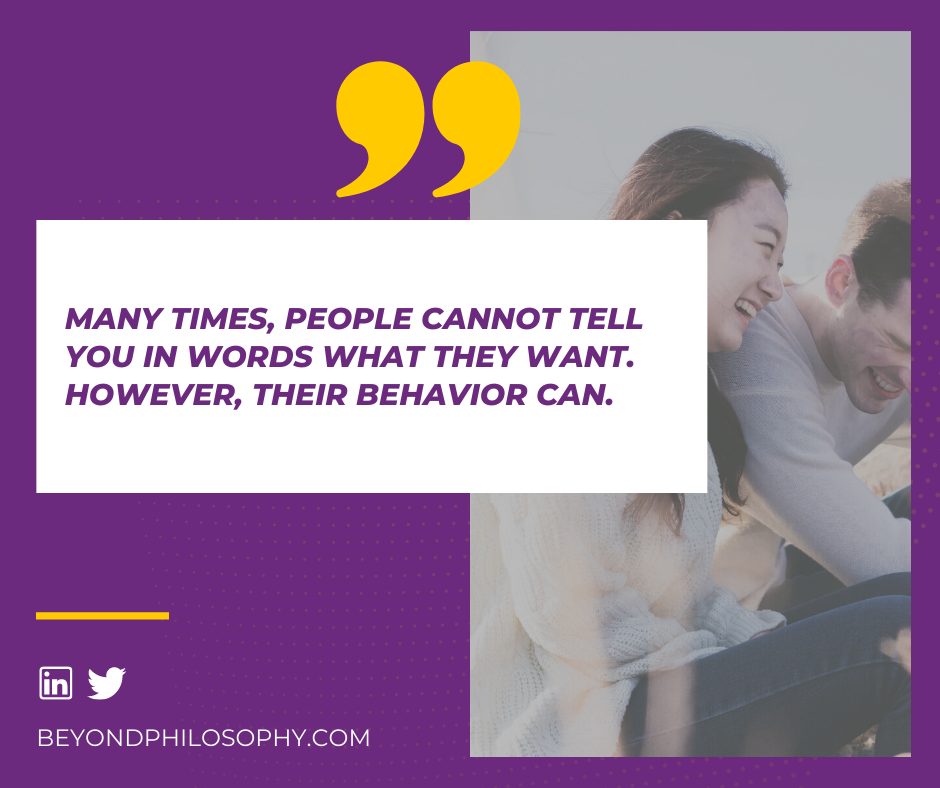 We do specialized research called an Emotional Signature®, where we determine what drives value for people as reflected in their behavior. Many times, people cannot tell you in words what they want. However, their behavior can. For example, Disney knows that even though people say they want the option of a salad at the theme park, they don't order them. Instead, they order junk food. So, this example shows that what people say and what people do can be two different things.
Whenever we undertake Emotional Signature research for an organization, someone there recognizes that the company can't carry on doing what they are doing today. However, when we present these results, somebody else who is present will question the validity of the results. They ask about the sample size, the methodology used, and the statistics underpinning it all. They're looking for holes in our findings because the results go against their belief.
What's interesting about this reaction is not that people are skeptical. Skepticism can be good. However, the selective nature of the doubt that people employ is. If the research came back telling them what they were doing already was right, they would have no concerns about sample size and research methodology. Selective skepticism applies when it's what we don't want to hear.
We are like this because thinking in a new way requires cognitive resources, something we are all reluctant to invoke. It's easier if you've already decided to confirm it rather than pondering a different decision. Moreover, if we were to question everything all the time, we wouldn't get anything done.
However, an emotional aspect to seeing another solution exists because there is a chance that yours might be wrong. Being wrong feels painful and embarrassing, which motivates us to want to be correct. When we decide in favor or against something, we don't want to admit we could be wrong, so we fight to prove we are right.
Science Embraces Changes in Direction; We Should, Too.
Scientific progress often means proving something wrong. First, the scientific community settles in on a theory or understanding of things. Then, someone else has an idea, and they begin gathering evidence. Finally, as the evidence piles up, the scientific community takes notice, peer-reviews it, and, if it holds up, toss the old theory out and welcome in the new one. Philosopher of science named Thomas Kuhn described this process of updating our ideas and scientific perspectives shifting paradigms.
One of my favorite phrases is, "the definition of madness is doing the same thing and expecting a different result." Consider soccer for a moment. The first thing that any football club does when they are losing is sacking the manager. Then, the next manager changes something about the club's strategy or lineup to get a new result.
It works, too. For the first time in fifty-five years, England got through to the final in the Euros (the European soccer championship) before losing to Italy. Gareth Southgate, the English team manager, tried a diversity approach to help motivate and understand the team. So, rather than fill the dressing room and the coaching staff full of footballing people that only ever think about football, he brought people in from other sports to get a different view.
Making changes can mean progress. However, failing to change can inhibit or halt progress. Remember Blockbuster, Circuit City, Kodak? These organizations have disappeared because they didn't adapt to a changing market.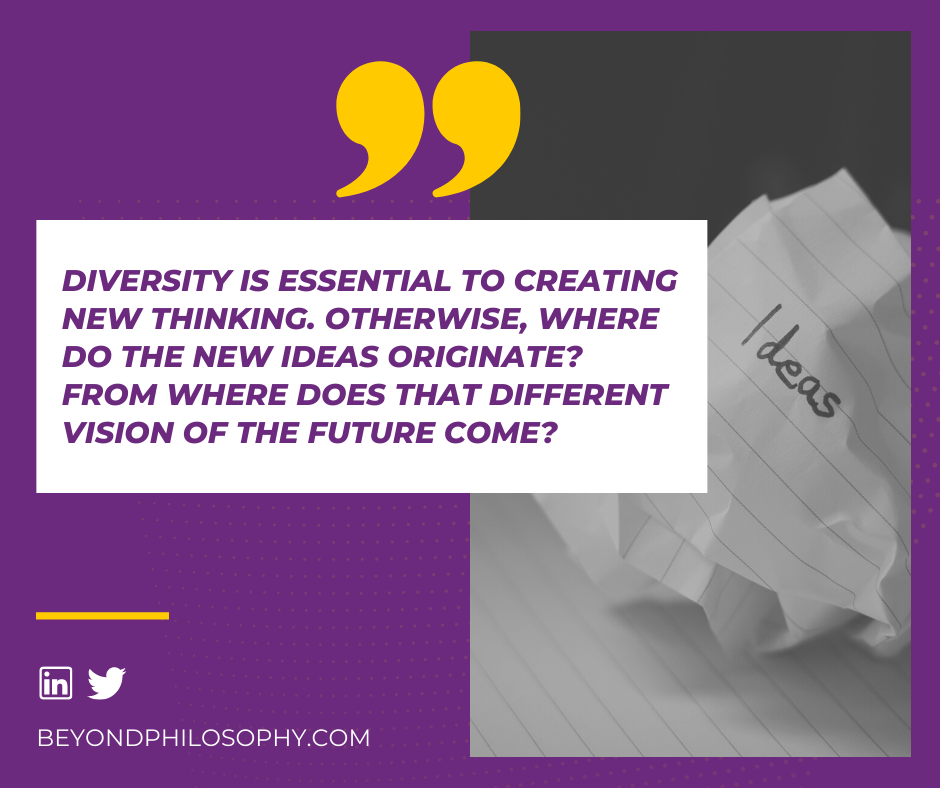 Diversity is essential to creating new thinking. Otherwise, where do the new ideas originate? From where does that different vision of the future come?
However, it would help if you also had someone to listen to and act upon it. It's easy to hear an excellent idea and acknowledge it but challenging to change. It is much easier to carry on doing what you're doing.
So, What Should You Do About This?
Sapiens shows that the world is complex, and your business is complicated, too. Humans have a natural desire to simplify things. Cognitive efficiency by simplifying concepts benefits us. However, oversimplifying is a problem. When it becomes too black and white, a caricature of the world, that doesn't help us move forward with new ideas.
There are a few ways you can apply what Harari's book teaches us about seeing an issue from both sides when developing new ideas, including:
Get a diverse group of people working together.

Diversity can be defined in many ways, but in this case, I mean different opinions and experiences within a group. At our global Customer Experience consultancy, we have a multinational team. Some of us are experts in analytics; others are big-picture thinkers. We have team members that are good at working with teams on the ground and others that do better behind the scenes. When we pull a group like this together, we end up with differences in opinions. Ultimately, you have to arrive at a single solution by forcing ideas to run the gauntlet of all these different perspectives. However, it is worth it because you end up with a better solution.

Create a culture that welcomes new ideas.

If you have a culture where the boss is right, and people cannot challenge you with new opinions, diverse opinions will be useless. The culture must welcome a collaborative process to allow for various ideas and visions for the organization. When we first started with Beyond Philosophy in 2002, we worked with a water utility in the UK. One thing I loved about this client and have used ever since is their culture of challenging things. So, when someone had an idea, and another person disagreed, the disagreeing party would say, "I'd like to challenge that." It was a way to collaborate without a hostile environment. Another phrase I love is, "None of us are as clever as all of us." This environment capitalizes on that.

Remember that there are always multiple causes for any effect.

You will likely have an idea that you settle on as the explanation for things. However, we recommend looking for alternatives to your answer. Almost everything involves a trade-off and has multiple causes. For example, in statistics, you run regression models that produce several outputs, and some are Main Effects, which means one factor that contributes to the impact. So, an example of a Main Effect is something like, "advertising increases sales." However, there are also Interactions where two or more factors work together to produce the impact. So, an example of this is "advertising increases sales,

but only during certain seasons of the year."

Businesses want to find Main Effects but get Interactions instead. Therefore, we recommend looking for multiple causes for any effect to account for Interactions when coming up with new ideas.

Test and measure your results.

I encourage you to give your ideas a go, to try something different. However, measure what is happening now and what the effects of your changes are. If the new idea doesn't work, great, it didn't work. I say "great" because now you know it doesn't work. Having a great attitude about failing goes back to the culture of your organization. You must have room to try things and fail. Without that culture, you could end up like Blockbuster or Circuit City, nowhere. Everyone is there, wearing their suits and ties, thinking the same thing and not trying new things.
We often want a simpler world. When it's not simple, we pretend there is an alternate reality of simple problems that require a non-complicated solution. Unfortunately, there is no alternative; the world is complex. You can accept it and accommodate and prepare for it, or stick your head in the sand and pout about the fact that things are not more straightforward than they are.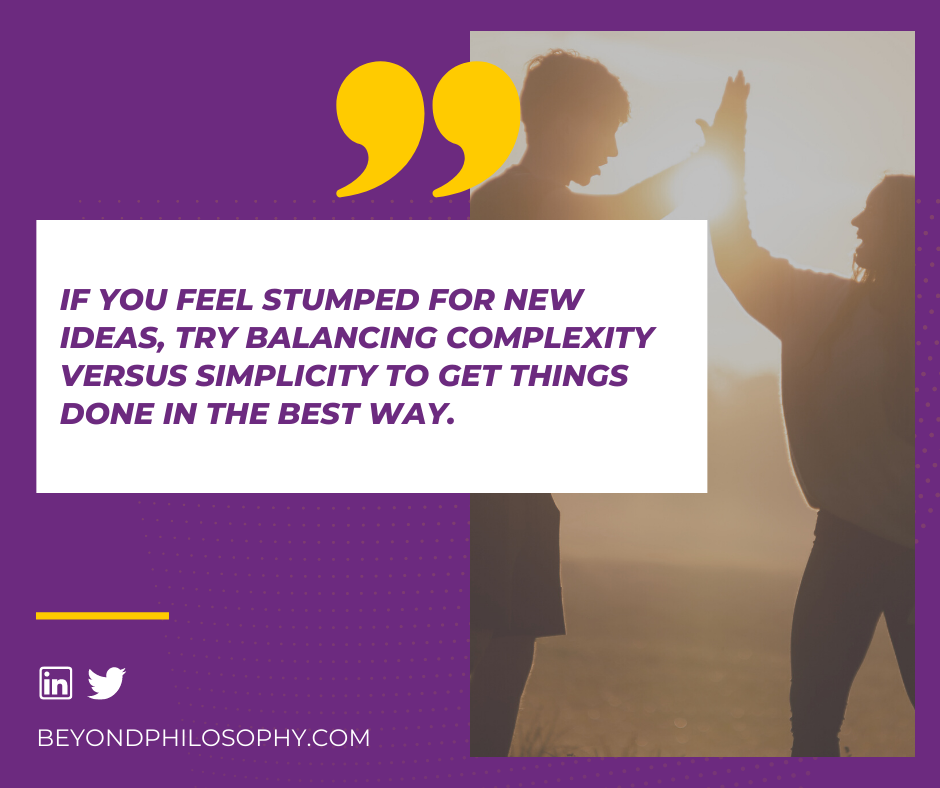 If you feel stumped for new ideas, try balancing complexity versus simplicity to get things done in the best way. Also, have a diverse group of people with a bunch of different perspectives contributing new ideas. If I'm simplifying in my way and someone else is simplifying their way, putting our two views together provides a more complex understanding of a situation than one person alone—and the best new ideas for moving forward.
There you have it. No promotions, no gimmicks, just good information.
Think reading is for chumps? Try my podcast, The Intuitive Customer instead. We explore the many reasons why customers do what they do—and what you should do about it. Subscribe today right here.