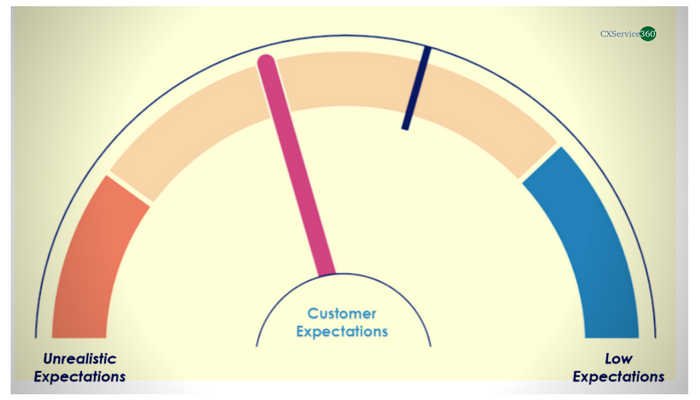 Lots of businesses today do not put much thought into setting realistic customer expectations, they focus on aggressively hyping marketing their products to draw in prospects. While this strategy might work in the short term, the business will eventually be unable to meet the unrealistic expectations customers have, and this would lead to disappointment and conflict between customers and employees. Setting customer expectations early-on is a good way to build trust and retain customers in the long term.
When a customer is dissatisfied or angry with a business, it is usually because something didn't happen the way the customer had expected. When expectations are not met, it leads to disappointment, this easily leads to conflict between employees and the customers. If employees have to deal with angry or complaining customers all the time, you can expect engagement and productivity to decline, none of them would be excited about showing up to work. 
In order for a business to enjoy the benefits of having truly loyal customers, their expectations have to be met a majority of the time. It is important that these expectations are aligned with product or service offerings which the business can consistently deliver.
Setting customer expectations at a level that is aligned with consistently deliverable levels of customer service requires that your whole staff, from product development to marketing, works in harmony with your brand image.
– Richard Brandson
Setting realistic customers' expectations early-on in the relationship will help a business achieve better results in meeting (or exceeding) them, and this has a number of benefits such as –
Improved Complaints Resolution – Customers expect you to do what you say you would do, how you say you would do it, and they expect it would be done as quickly as possible. When the customers' expectations have been set realistically, it becomes easier for the business to manage any situation where a service failure occurs.
Ability To Deliver Efficiently On Expectations – When a business sets realistic expectations, they become easier to meet and even exceed. When you're able to meet your customers' expectations on a consistent basis, you win their trust. Without this trust, customer loyalty cannot be achieved.
Setting and managing customer expectations is definitely not a walk in the park. There are a lot of stages in the customer lifecycle where the customer might get misinformed – it could be from deceptive marketing materials, sales staff sweet-talking the customer or even from the customer misunderstanding the information received.
To ensure you are better able to set and manage customer expectations, here are 4 tips to ensure your customers have the right expectations for the products and services you offer.
#1. Be Honest In Your Marketing
Avoid misinforming customers in any way through your marketing efforts. This means leadership should be aware of what the various marketing channels are communicating to the customers – from print to TV and social media ads.
Attention needs to be given to the salespeople, a lot of them are guilty of deliberately misinforming customers just to meet their sales quota. Salespeople should be trained on the dangers of setting unrealistic expectations and encouraged to say exactly what the products or services can offer instead of bending reality to make them seem more appealing.
#2. Eliminate Unpleasant Surprises
The fine print (barely noticeable print smaller than the more obvious larger print that advertises or partially describes a commercial product or service) is inevitable sometimes. There might be certain terms and conditions or disclaimers which have to be communicated in fine print. In order to not give customers unpleasant surprises, ensure that your fine print does not negate the core message of your advertising. 

Fine print should NEVER negate the basic premise of your offer or the basic premise of your marketing campaign or the basic premise of your business model.
– Adam Toporek 
The last thing you want is for customers to get the impression that; your ads are dishonest or that they should be wary of what your brand says before making a purchase or signing up for a service.
#3. Proactively Educate Your Customers
Proactively educating customers on the capabilities and limitations is a great strategy to set & manage their expectations. When customers know and understand your products, it's features, capabilities & limitations the more realistic their expectations will be.
It is best practice to ensure customers can easily find information about various products and services on offer. This can easily be achieved by providing useful content such as video guides, infographics or blog write-ups on your website.
#4. When A Service Failure Occurs Apologize & Make Amends
In reality, even after you've set and managed the customers' expectations effectively, there will be times when you'll be unable to meet them, this could be due to reasons beyond your control. However, the important thing whenever it occurs is to win back the customers' trust and reassure them that they made the right decision to do business with the brand.
Apologize to the customer and carry out service recovery to make things right again. If the service recovery is effective, the business might be able to restore the customers' confidence to point where it becomes higher than it was before the service failure occurred, this phenomenon is known as the service recovery paradox.
---
Setting realistic customer expectations helps a business win the customers' trust, If you can successfully manage these expectations, you can better meet and even exceed them, and as a result you get to have a long relationship with customers, some of whom will become advocates.
This article was originally published here