The average time that a company spends in the S&P 500 is 15 years, continuously trending downward over the past 80 years. In fact, as recent as 10 years ago, the average lifespan was 25 years. Perhaps a decade from now, the average lifespan could be as short as 10 or maybe even 5 years. Change is swift. Cycle times are shortening. We are seeing this play out across industries and institutions.
These realities highlight an entirely new landscape which requires new methods of operation and engagement.
How are global CEO's attempting to respond to this emerging reality?
In the recently published IBM Global Chief Executive Officer Study "Leading Through Connections", some key insights emerged about where 1,700+ leaders from the worlds largest organizations intend to lead their organizations over the next few years.
Organizations of all sizes would benefit from taking note of these insights, primarily because the new era of connectedness enables any individual or organization in the global network to sense, analyze, and respond to create value, and exploit untapped opportunities.
Perhaps one of the most interesting findings of the study is that of all of the external forces that could impact their organization over the next 3 to 5 years, CEOs now see technology change as the most critical.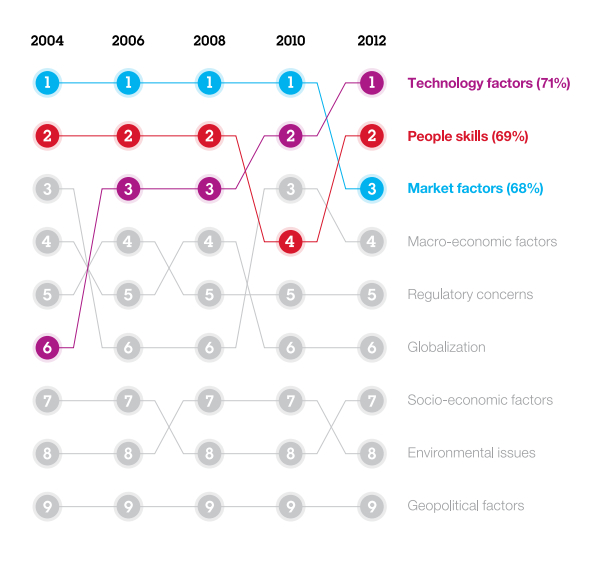 But the technology is simply an enabler and disruptor of the status quo. How CEOs envision leveraging and responding to emerging technology is where things get interesting.
Enabling and Extending Collaboration
In a fast moving world, fraught with uncertainty, four key traits stand out as critical for employee's future success. Collaboration is the number-one trait CEOs are seeking in their employees, with 75 percent of CEOs calling it critical. People who are communicative, creative, and flexible will also find their skills in demand.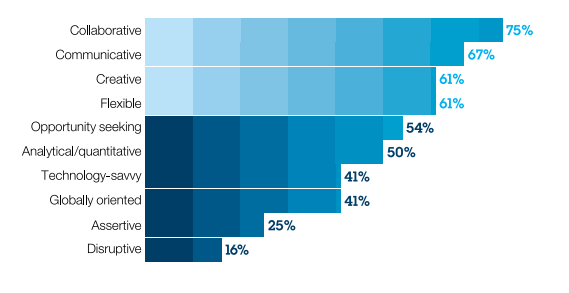 However placing these collaborative and creative folks into a rigid environment will likely lead to impeded growth and frustration. While hiring those with the key traits described above, CEO's are simultaneously focused on building core organizational attributes. Placing a focus on ethics and values, and establishing a clear purpose and mission while evolving to a more collaborative environment are the primary hallmarks of the next generation enterprise, according to the survey.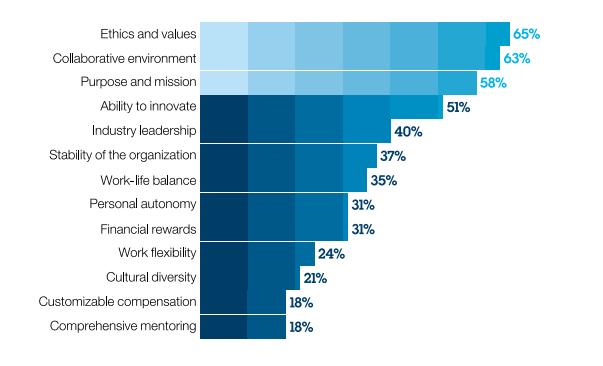 The emphasis on openness and collaboration is even higher among outperforming organizations, and according to the study, they also have the change-management capabilities to make things happen.
Extending collaboration beyond traditional boundaries is a fast growing trend with more and more companies adopting the model that AG Lafley and Proctor & Gamble pioneered about a decade ago, leveraging the intelligence of a partnership community for innovation. Outperformers are more adept at leveraging the skllis and talents of folks outside of the organization. This is lending itself to the creation of new value chains, new revenue models, and in some cases, new industries.
Organizations that are building a collaborative culture internally and extending collaboration beyond organizational boundaries find themselves more nimble and able to change in a more dynamic world.
Increased Focus on the Customer
Throughout the report, there were several data points highlighting an even greater focus on understanding the customer.
When asked about key sources of sustained economic value, 66% of CEO's highlighted customer relationships, finishing only to access to human capital.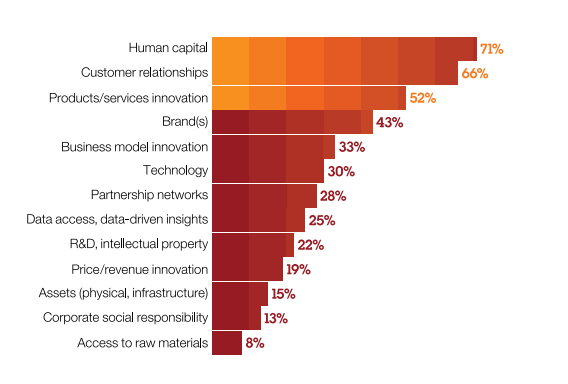 When rating their own critical capabilities to lead their organization, guess what CEOs ranked as the most critical trait? "Customer Obsession".
In addition, more than 7 out of 10 CEO's are driving change within their respective organizations to "deepen the understanding of individual customer needs."
Big Data, Analytics, and Insights
I recently highlighted the importance of the data in this short little riff titled "What do you mean you don't have the data?!?!?"
The data exhaust of digital interactions provides the framework to translate these growing mounds of raw data into meaningful insights, and ultimately translate those insights into action. This appears to be an increasingly important differentiator between organizations that thrive, and those that don't. According to the data in the survey, insight driven organizations are about twice as competent than their underperforming peers at leveraging data.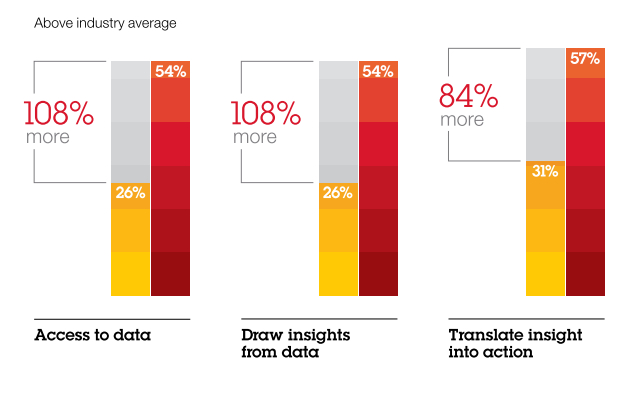 Analytics investments are finding a sweet spot tying the increased focus on customers to the ability to harness insights from data. Smart organizations are doubling down on both trends as customer focused insights lead the way by a dramatic margin.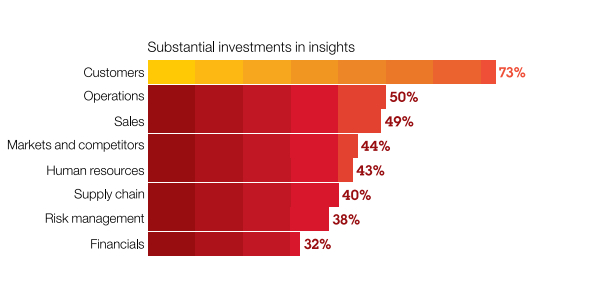 A recent study by McKinsey & Company had similar findings, heavily weighting the importance of customer insights.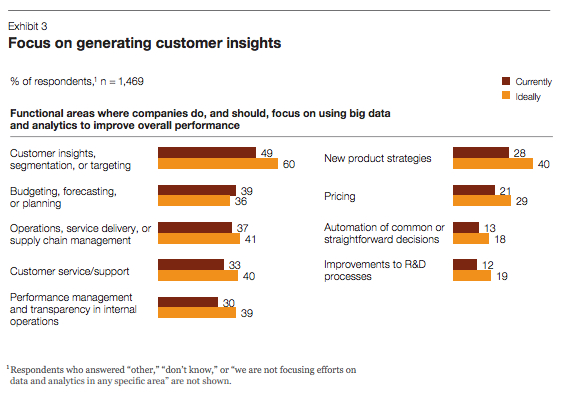 Do CEO's care about Social Media?
In what may have been the most surprising finding for me personally, when asked what they believe will be the top customer interaction methods within the next five years, CEO's believe that social media will be second only to Face to Face. You'll see in the chart below that digital interactions are the only customer interaction methods that are expected to grow. I wrote more about that topic here in a post titled "The Digitization of Human Interactions: From Long Tail to Mass Disruption"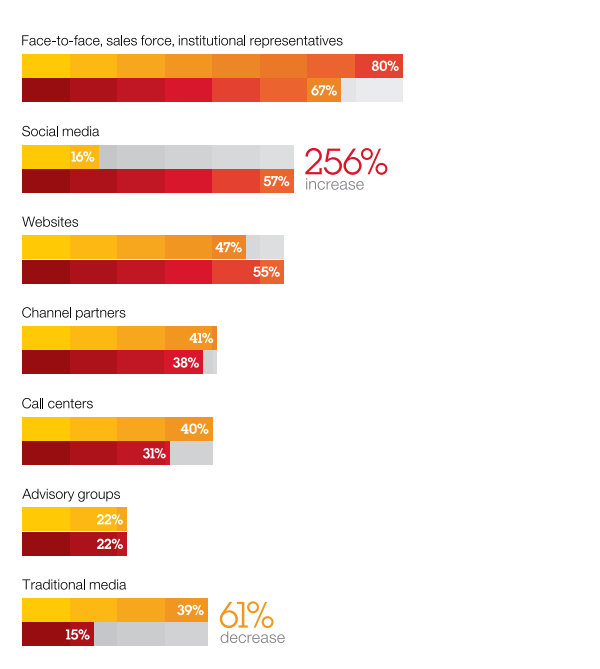 Key challenges moving forward
Reality prevails. While frameworks, ideas, vision, and potential is being more widely grasped and understood, the task of redirecting generations of inertia and existing structures is more easily said than done. Below are some quoted sections from the report.
Globalization and increased connectedness have fundamentally changed how the world works. Like the rest of society, organizations are moving into an era of openness, characterized by individual empowerment, operational transparency and decentralized communications. For CEOs, it's no longer a question of should the organization become more open and collaborative? But rather, it's how do I run an open organization?
A few years into this journey, we're collectively landing on similar whats. The most important question now is "How"?
As they do with most technology trends, CEOs are working to sift the social media hype from real opportunity. And skepticism is often intensified by fear. "We're not yet comfortable that social media has matured to the point we'll benefit more than we'll suffer," explained an industrial products industry CEO from the United States. In a social media world, CEOs realize their brands are in the hands of customers and employees. Control is shifting from institutions to individuals.
When we can confidently prove that social has actually matured to the point where benefit clearly outweighs costs and/or risks, I believe progress will be achieved much faster. This is a great point. I know some of my readers have strong opinions on either side of this fence. I'd love to discuss this more in the comments below.
Believers are even unsure where to start. In the words of one Australian healthcare industry CEO, "Social media has grown faster than industry knowledge on how to use it." And a life sciences industry CEO from Switzerland frankly admitted, "We are all scared to death about social media within our industry. We want to start with it. But we're all just looking at each other, and nothing material is happening."
This is consistent with my experience. How do we get from here to there with these resources, these systems, and these processes? The present and future states are still largely incongruent for many organizations.
The issue of change management takes a more primary role at this stage, not only to get from here to there, but actually in building a new and sustained core competency to constantly reinvent the organization in an environment that never stops changing, and likely will change at a more dramatic pace in the future.
In the IBM CEO study, 73% more outperformers demonstrated a successful track record of managing change.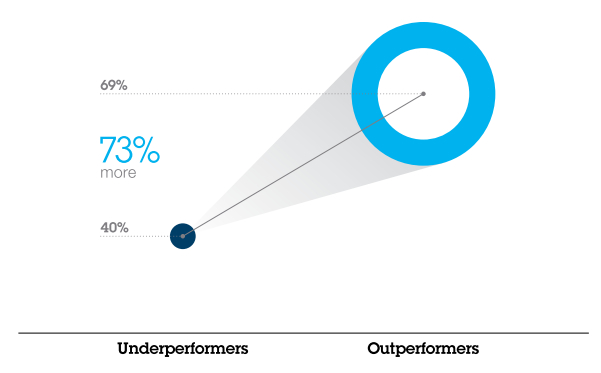 This reality is also highlighted by the aforementioned McKinsey & Company research.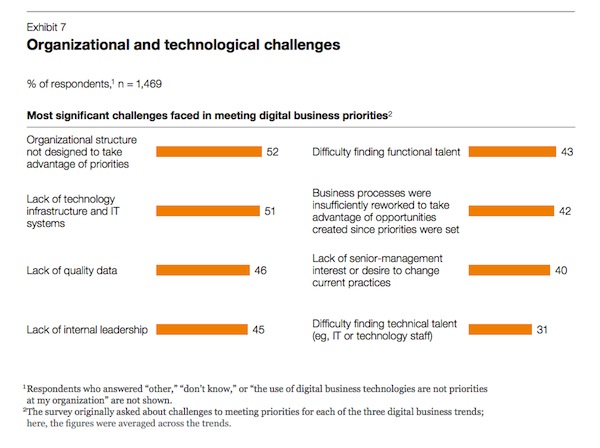 In summary, CEOs across the globe are both responding to and charting the course towards a more open and collaborative business environment.
The core competencies for individuals and organizations are the ability to sense, analyze, and respond in record time. Cultivating an open, dynamic and evolving culture, learning how to embrace change, an intense customer focus and a reliance on data driven insights are megathemes for the next several years. Survival of the fittest has never been more relevant.