Investing in eCommerce App Development can be a pathbreaking decision for online retailers and brick-mortar store owners. While websites are a good platform to build an audience base and get decent conversions, mobile apps provide much better results due to their convenience, portability, and in-app features.
As per eMarketer, mobile e-commerce sales in 2020 were 70.4 percent compared to desktop spendings which was a mere 29.6 percent. Moreover, the global eCommerce market is poised to hit the 4.5 trillion USD mark by the end of 2021, which is nearly double of the 2017 numbers which were 2.3 trillion USD.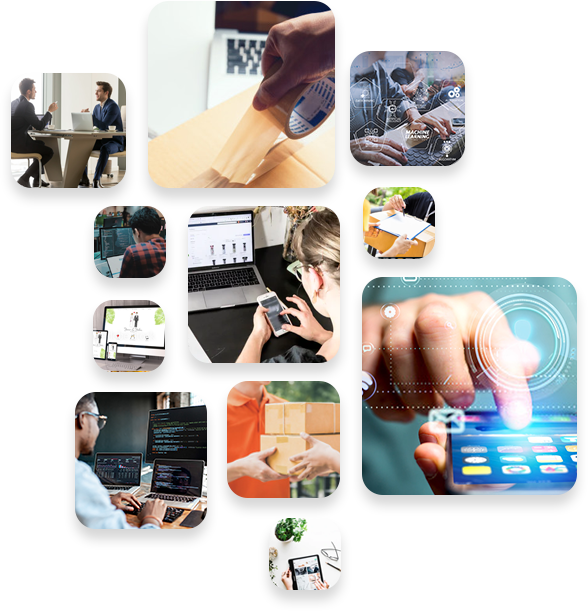 eCommerce App Development is a profitable investment for retailers, however, they must give thoughtful considerations into various aspects of it. Before getting started, a business should have clarity about an app idea, target audience, project scope, revenue model, features and various other factors that we have listed below.
Business Model
There are various eCommerce app development models that one can adopt for their business setup. It can be a B2B model like Alibaba, a B2C model like Amazon, a C2C model like eBay or a C2B one like Fiverr/Upwork. A business should check if its operating model requires an aggregator for managing delivery or it will directly ship the product to the customer.
Market Analysis
Determining the buyer persona is essential for any business that is getting started with eCommerce Web Application Development. Retailers should carry out proper research for understanding the target audience in a much better manner. Analyzing the behavior, likes, dislikes, and shopping patterns of the target audience will help in creating an app that relates to their needs.
Competitor Analysis
To build an app that has a unique value proposition, retailers can create a list of competitors and identify what makes them the first choice of buyers. App owners should try not to duplicate the app interface, features, coloring patterns or revenue model, rather do research, analyze project scope well and go ahead from there.
Choosing Technology
There are various eCommerce frameworks including Magento, Shopify, WooCommerce that an eCommerce App Development Company uses to develop business-centric websites. The same-store can be turned into an android or iOS app with little customization from a development partner. Businesses that want a faster time to market should go for hybrid app development. Based on target audience and goals, one can decide the need for android, iOS or hybrid app development.
UI/UX Considerations
To develop a great app UI/UX, one should focus on color schemes, appealing visuals and seamless transitions between screens. A user-friendly interface with easy navigation, quick check-ins and interactive design goes well with customers and prevents app abandonment. Thus by leveraging the right branding tactics, retailers can create a highly impactful app.
Features to Incorporate In An eCommerce Application
An eCommerce application consists of three components namely: Customer Application, Vendor Application and an Admin Panel. While the customer app is for eCommerce users or the end-users, the vendor application is for the manufacturer/retailer who can deliver directly at the customer's doorstep or choose to supply inventory to a logistics partner/eCommerce business.
Customer Application
One-Step Sign-in
Advanced Filters
Product Wishlist
Voice Search
Product Comparison Tool
Product Specifications
GPS Tracker
Vendor Application
Registration/Login
Payment Analysis
Subscription Plan
Auto Adjustment of Inventory
Managing Catalogue and Orders
Setup and Management of Multiple Stores
Admin Panel
Secured Login
User Management
Dashboard Management
Customer Management
Analytics Monitoring
Product Info Update
Promotion/Rewards
Some Advanced Features to Consider For An eCommerce Application
Below is a list of features that top eCommerce app businesses are leveraging to enhance customer experience and boost revenue generation:
Push Notifications
With push notification, e-commerce businesses are able to inform app users about pending products in the cart, new discount offers and the status of the order at various stages. This helps firms to cross-sell and personalize engagement with customers.
Chatbot Integration
Chatbot integration enables firms to boost customer service operations. It allows a person to connect with support agents in a quick time frame. Chatbot integration also helps in auto call logging and lead identification adding to organizational efficiency.
Payment Methods
An eCommerce app should support multiple payment methods including card payments, net banking and mobile wallet payments. Additionally, retailers can integrate a POS (point-of-sale) device which will allow physical payment acceptance with a single swipe on the POS machine.
Use of Artificial Intelligence
AI is a branch of machine learning where software learns from a user's previous actions and then self-adapts to provide suitable results. Integrating AI can help online retailers to leverage voice support, image search, product recommendation, behavior tracking, real-time reporting and advanced eCommerce analytics.
Social Media Integration
To tap the traffic of social networking websites for their advantage, businesses should integrate apps with social login features. Thus with a single click, a user will be able to navigate through apps or share the app discounts on their social accounts adding great word-for-mouth promotion.
Complete Synchronization
By synchronizing a website with an app, an e-commerce business would prevent the need to update details separately on both platforms. Ask your eCommerce Mobile App Development Company to write business-centric APIs so that the mobile app, CRM and website data can be synced effectively.
Analyzing eCommerce Mobile App Development Cost
The cost of mobile app development depends on various factors including the expertise of developers, complexity in development, features incorporated and the timeline for app development. Businesses usually pay on an hourly basis, however, can also choose to pay on a milestone basis.
Here is the per hour cost of developers in various geographies:
USA based developers: $100-$250 per hour
Europe developers: $80-$180 per hour
UK/Australia based developers: $50-$150 per hour
India based developers: $35-$100 per hour
If we take the average timeline of 3-6 months for app development, the overall project cost can range anywhere between $20,000 and $50,000. The exact cost estimation however can only be done after doing a detailed analysis of a project's scope.
Conclusion
eCommerce App Development enables retailers and brick and mortar stores to digitize services and expand delivery reach. With more customers, businesses will be able to generate more profits which will help in further expansion and service enhancement. However, before getting started online retailers should discuss project scope, budget, legal compliance, and other factors with an experienced development partner.