Click Here to Subscribe via iTunes
Click Here to Subscribe via RSS Feed (non-iTunes feed)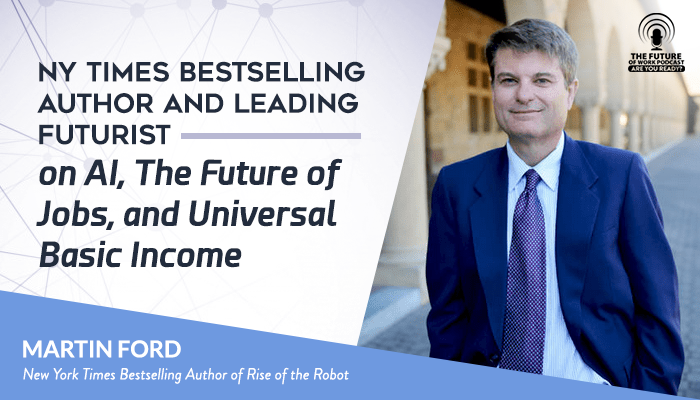 Martin Ford is a futurist and the author of the New York Times bestselling "Rise of the Robots: Technology and the Threat of a Jobless Future" (winner of the 2015 Financial Times/McKinsey Business Book of the Year Award) and "The Lights in the Tunnel: Automation, Accelerating Technology and the Economy of the Future," as well as the founder of a Silicon Valley-based software development firm. He has over 25 years experience in the fields of computer design and software development.
He has written about the implications of future technology for publications including The New York Times, Fortune, Forbes, Harvard Business Review, The Financial Times, The Atlantic, and The Washington Post. Ford is a frequent keynote speaker on the subject of accelerating progress in robotics and artificial intelligence—and what these advances mean for the economy, job market and society of the future. Check out his Ted Talk on the topic.
Ford's perspective on what is going on in the world of work:
He believes there will be impact from technology on jobs. Jobs that are repetitive may be replaced by AI. Even beyond those that are commonly discussed, such as traditional 'blue collar' jobs may be affected. For example, lawyers or doctors in radiology may be impacted by AI. Jobs that involve creativity will remain for the foreseeable future. About half of the jobs in the economy may be impacted by AI –it could be staggering. So, we need to discuss the possible outcomes.
Ford also believes that this time the transition will be different than it has been in the past, during the first three industrial revolutions. Why? First, because we have thinking machines – in a limited sense. This is different. Machines are beginning to encroach on human work
Second, it is very broad-based. It is difficult to think of what jobs won't be impacted by AI
3 scenarios of future of work with AI:
1. Mass unemployment – no one has any money to spend, the economy collapses.
2. It looks a lot like we have now – inequality, quality of jobs is declining, maybe a college grad needs to take minimum wage jobs
3. Things adapt and there is a significant growth of jobs that people can transition into as they lose their current job
Fords advice to executives:
● AI is going to be an enormous disruption and how business will compete
● AI is going to be another kind of capital that will require attention
● This will have a big impact on employees – so think about humane ways to downsize
● What is your responsibility as a citizen? Engage in the public debate on AI
His advice for employees:
● If you are doing repetitive work – the risk is that your job will be replaced. Try to transition to a more creative position or one which has a component of caring – such as nursing or healthcare.
What You Will Learn In This Episode:
● Cutting-edge technology to come
● The future of work with AI
● Viable guaranteed basic income
● Why this transition will be different than past industrial revolutions
● Possible future of Amazon employees
Links from the episode:
The post NY Times Bestselling Author And Leading Futurist On AI, The Future Of Jobs, And Universal Basic Income appeared first on Jacob Morgan.