Click Here to Subscribe via iTunes
Click Here to Subscribe via RSS Feed (non-iTunes feed)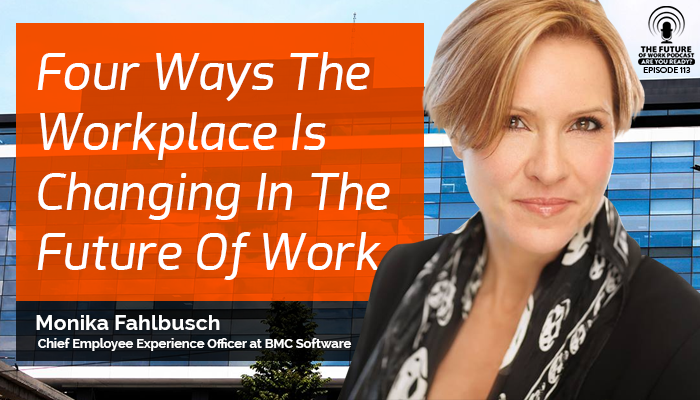 What is in this episode and why you should care:
Monika Fahlbusch is the Chief Employee Experience Officer at BMC Software, a company in the IT management space. BMC Software has over 6,000 employees around the world and the Experience Team has 450 people focused on employee experience. Fahlbusch has a background in both IT and HR in high tech companies for the last 30 years.
What is employee experience? According to Fahlbusch there isn't a cut and dry answer for what it is; the answer will be different from company to company. This is because it is dependent on the employees in the company and the culture of the company.  Fahlbusch says it is important for companies to listen to their employees to find out where the "pain points" are and to find out the breaking points that inhibit productivity and innovation. Listening to employees and asking for where they think the company could improve can seem daunting to executives because they may feel that they have to implement all the ideas or risk letting people down. Fahlbusch says "sometimes you listen and that's enough, sometimes you listen and learn, and other times you listen and have to make changes immediately". So listening to employees doesn't mean you have to implement every single idea, employees like to feel that they have a say and that they are being heard.
There is no doubt the workplace is changing and that the future of work will look different than work today or in the past. Fahlbusch talks about four main areas in which the workplace is changing. One area is the physical workspace. Recently companies have started to move away from a physical space where employees have to report for work all day every weekday. Now companies are allowing employees to have more freedom to work remotely for a majority of time and then have a space where employees can come together once in awhile when they have to collaborate on projects in person.
Another area the workplace is changing is how employees connect to the values of their company. Values are extremely important to the incoming generations such as the Millennials and it is important to them that their company reflects its values in real ways daily in the workplace. Its no longer good enough to say a company value is to "do the right thing", nowadays you have to be sure your company is showing how to do the right thing, maybe by getting involved in community outreach or by operating in an environmentally responsible way. Other areas where the workplace is changing include the blending of personal and work lives and thinking outside of the organization.
So what does the workplace of the future look like? Some things that Fahlbusch sees happening in the future is a move towards doing work while standing vs. sitting all of the time. She also thinks that physical work spaces will evolve from working in one big office building, to working remotely from any location. She believes companies will be more globally minded, closer to customers, and closer to communities. Fahlbusch hopes that the future of work will include a stronger collaboration between education and tech companies for mutual benefit and that there will be a real impact with information technology in the ways of AI and wellness/health.
When it comes to employee experience Fahlbusch says that while some companies will say they don't have the budget to impact employee experience, it is a choice. There is a cost, but there is also an opportunity cost for not doing it. It doesn't have to be expensive, but if you want to be satisfied with the employees you have and the employees you are attracting to your company you can't afford not to budget for employee experience.
What you will learn in this episode:  
4 key areas in which the workplace is changing
What the workplace of the future will look like 5-10 years from now
What Monika hopes the future of work will include
How much employee experience costs
How Monika defines employee experience
How Millennials view work and how they are shaping the future of work
Links From The Episode: 
Send to Kindle
The post Four Ways The Workplace Is Changing In The Future Of Work appeared first on .