In the early morning of September 11, 2001, I was driving through downtown Los Angeles, shocked at what I was hearing on the radio, and awestruck by the police and military helicopters circling and protectively watching over the City of Angels skyline.
Like many of you, as that day progressed, I watched the news intermittently, contemplating what these events might mean for the world, our country, friends and loved ones in New York City, and my new bride and me (We had just purchased our first house the night before).
What I didn't know until just a few days ago , is that while I was somberly working at a client site, comfortably detached from the horror of the collapsed skyscrapers, hundreds of thousands had fled away from the burning twin towers and found themselves trapped on the South side of Manhattan. In the chaos that ensued, bridges, tunnels, roads, and other public transportation were shut down. There was no way off one of the world's most densely populated islands.
It was in those circumstances that the largest maritime evacuation in all of history took place without any previous planning, infrastructure, or dedicated staff.
class="aligncenter size-full wp-image-2974″ />
Yes, this was larger than the Dunkirk evacuation (commonly known as the Miracle of Dunkirk) in WWII where 339,000 Allied soldiers (British, French, and Belgian) were rescued over the course of 9 days. In this case, over half a million people were evacuated in less than 9 hours – without any previous planning, processes, leadership, infrastructure, or dedicated staff. .
I've embedded the video at the bottom of this post. It is a remarkable story narrated by Tom Hanks and well worth the 11 minutes to watch it. It is a tremendous story of heroism, and the triumph of the human spirit.
I believe it also provides a powerful metaphor for the promise of social business in the context of an increasingly connected, complex, and intelligent world.
A Powerful Social Business Metaphor
While the daily triggers and challenges in most of our business lives aren't remotely as dramatic as what happened to the twin towers that day, we DO live in a business (government, education, NGO, Ministry) climate where cycle times are increasingly compressed, and never explored frontiers of opportunity are literally emerging every few years, instead of every few decades or centuries.
It will come as no surprise that global CEOs (in the 2010 IBM Global CEO study), say that the business environment is increasingly more volatile, more uncertain, more complex, and structurally different than it was before.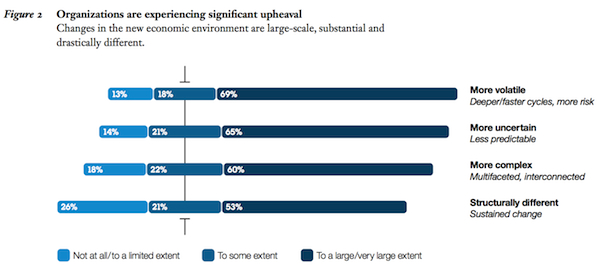 This is not a temporary phase, but the pace of change is accelerating.
We see the meteoric rise (and falls) of companies like Borders, MySpace, RIM (makers of Blackberry), and Nokia – companies that dominated and then were dominated their respective domains. We witness companies like Pinterest, Facebook, Groupon and Twitter emerge from nowhere to gain multi-billion dollar valuations nearly overnight.
We watch huge organizations like Proctor & Gamble and IBM morph and change much quicker than their competitors as they harness talent from within and outside organizational boundaries.
Describing the experience
The following quotes were taken from mariners who participated in the 9/11 boatlift. I can't help but draw the analogies between these quotes and what is increasingly the case in the corporate world.
"You couldn't have planned nuthin', to happen that fast, that quick"
"No training. This was just people doing what they had to do that day."
"You forget all about what you're supposed to do – what they teach you at school…"
"Average people. They stepped up when they needed to"
Quickly organizing around a "job to be done"
In the case of the boatlift story, someone recognized a "job to be done" , and they quickly expressed a need to an anonymous group of sailors. The initiators quickly and creatively came up with an idea, shared a need, and a brief and urgent "call to action". They had no idea who would respond, how they would respond, or what would happen next. There were probably dozens of unanswered questions.
How many can we take?
Where will they go?
How many need to leave the island?
Is there enough fuel?
How will traffic navigate the harbour?
What will happen after debarkation?
The list could go on and on with unknowns.
What was known was that there was a common need. That need was shared amongst those with a common interest (boating), in a common geography. Quickly, a critical mass of talent, passion and availability was assembled. Hundreds of available and previously unknown and disconnected resources worked together to solve a problem. And they did it with unprecedented speed.
The technology in this case was a Marine Radio. The emerging publicly available and enterprise class tools, applications and devices now allow common connections and information sharing with the whole world… or pre-defined, mutually agreed upon segments. Increasingly, these connections transcend our legacy institutional boundaries.
On a smaller scale, scenarios like what's described above are playing out daily across geographies and other institutional boundaries.
I wrote along this exact theme in a post two years ago titled "Circles" .
The speed at which this astounding feat was pulled off would have arguably taken years to organize if abiding by traditional planning means. Conflicting schedules, conflicting priorities, political factions, process inefficiencies, human and capital resource constraints, etc.
What if the rules/laws prevented it?
What if all of the logistics jurisdictions needed to coordinate and meet?
What if licenses needed to be checked and earned?
Hard enough to coordinate across departments within one organization, what about cross-departmental collaboration?
These are the same boundaries preventing progress in organizations today.

What this story illustrates is that the facilitation and alignment of motivation, ability, and passion in the context of a self organizing community around an emergent need can be VERY POWERFUL.
Key Takeaway
First movers who can construct, facilitate, and/or nurture environments where creative resources can work quickly to harness complexity will enjoy an early advantage in the next era.

Peering further into the future, these capabilities will be table stakes for institutions of all types and sizes, in order to succeed in their respective domain for any sustained period of time.