With the rise of digital technologies, the potential for associations to reach and engage more members has grown exponentially. But this reality leads to some burning questions: What should associations do to thrive in today's brave, new digital world? What are the key goals, success factors, and challenges associations face when they undergo digital transformation?
To get the answers, Leader Networks and Fusion Productions collaborated on a brand new research study: "The Future-Proofed Association." We reached out to nearly 90 leaders of associations to explore their strategic goals, where they're currently focused, and where they need to be.
Spoiler alert! The key finding from this study is that that most association leaders think that digital is strategic to their marketing efforts  – but the majority don't think they can successfully make the digital leap.
The good news? Taking a strategic approach to digital engagement is important to more than half of associations surveyed. Larger associations – those with more staff, budget, and members – are embracing the concept that digital marketing and communication is the future.  In fact, an overwhelming majority (71%) of big associations see digital engagement as critical.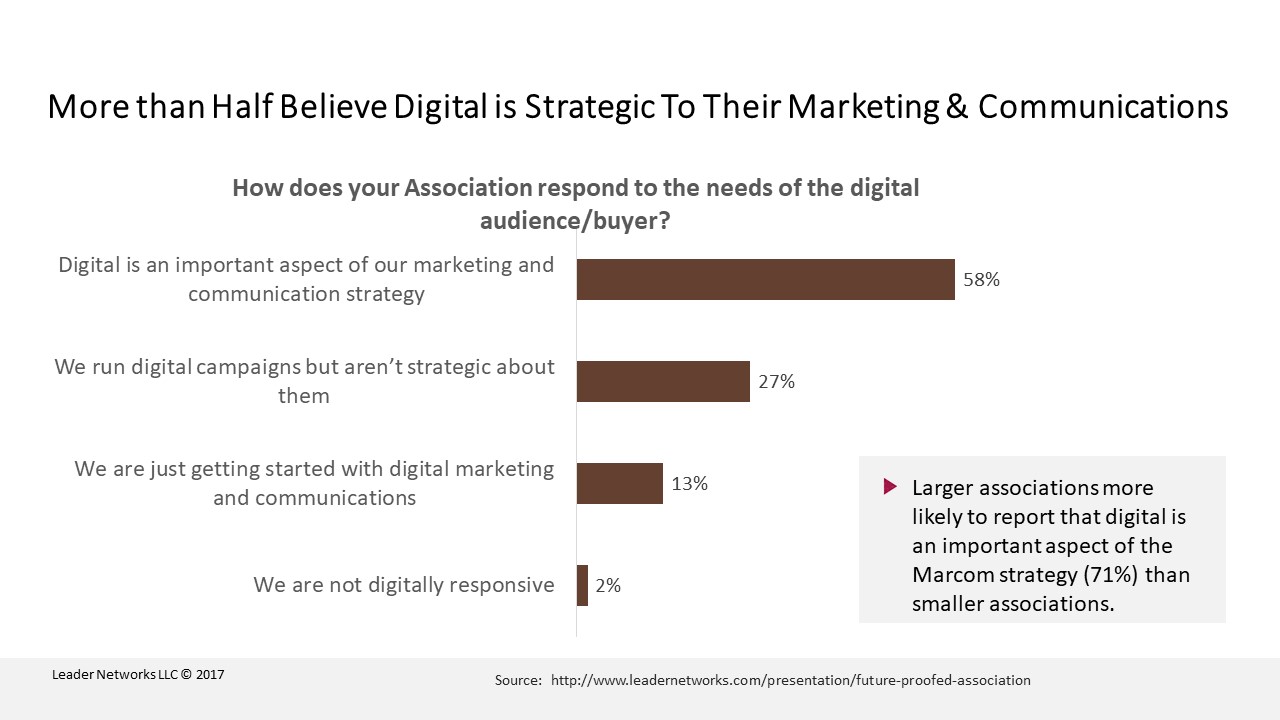 But here's the bad news:  despite association leaders' awareness of where they need to go, they don't believe that their digital efforts will be successful.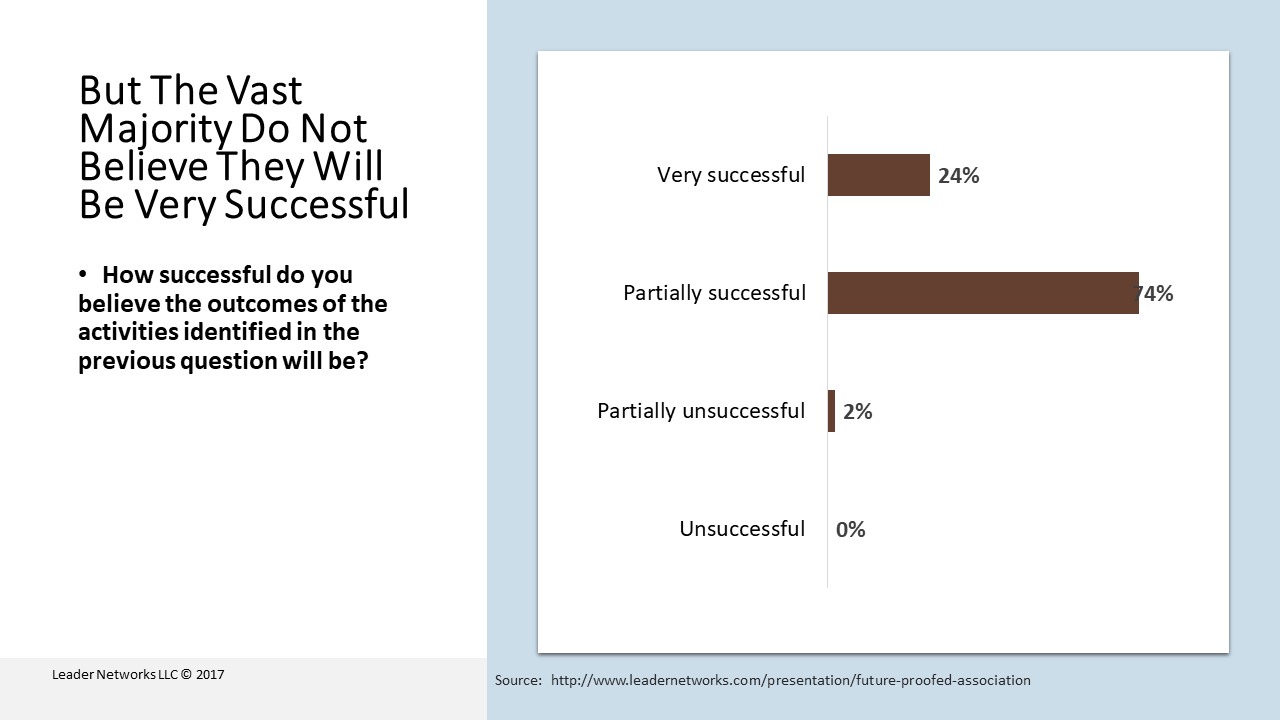 Why the disconnect?
The gap between strategy and reality seems to exist due to three key factors:
Members' current digital experience is underwhelming
Association revenue is mainly driven by member engagement and value. Catering to the needs of existing members, while attracting new members, is paramount to success. However, the vast majority of association leaders report that their digital experience leaves a lot to be desired.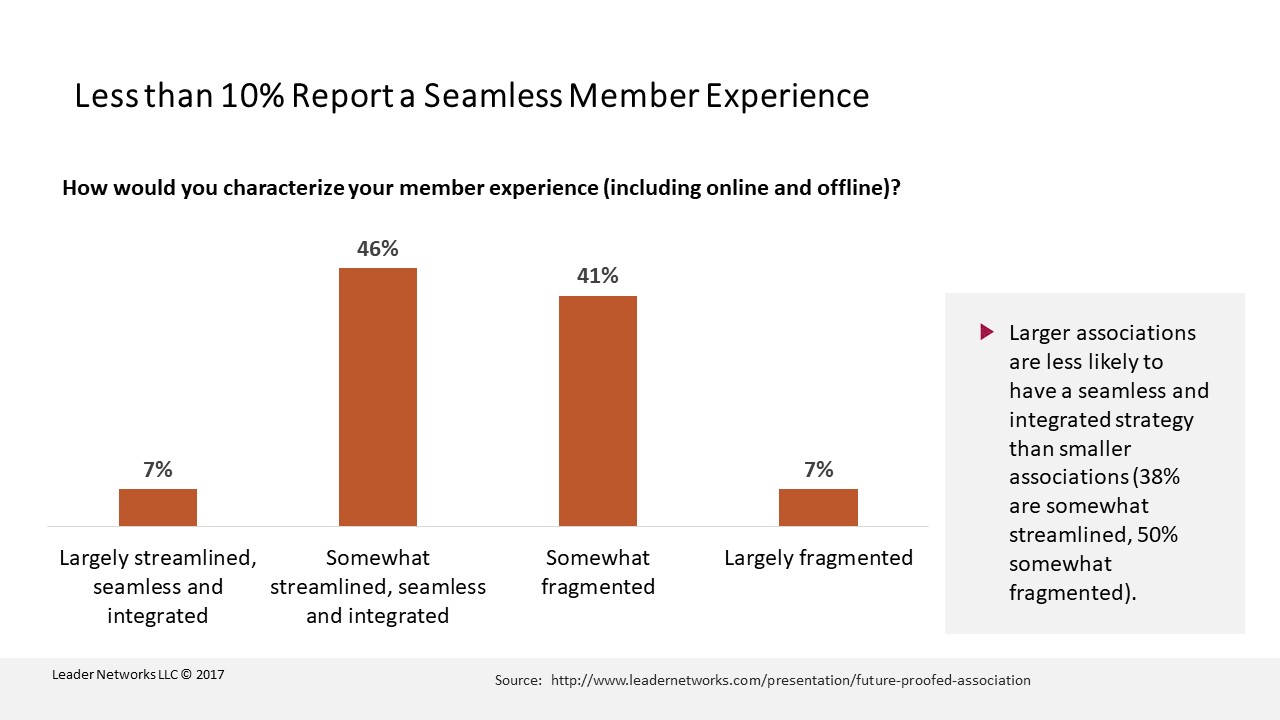 What's more, many associations are behind the eight-ball when it comes to adopting a digital approach.  Although more than half (58%) believe digital is strategic to their marketing and communications efforts, just 27% are running tactical digital campaigns, 13% are just getting started with a digital approach, and 2% acknowledge they are not digitally responsive at all.
IT isn't enabling digital agility.
What about the link between IT responsiveness and digital success? When we asked about IT's responsiveness, 70% of association leaders report that IT is not focused on their business needs.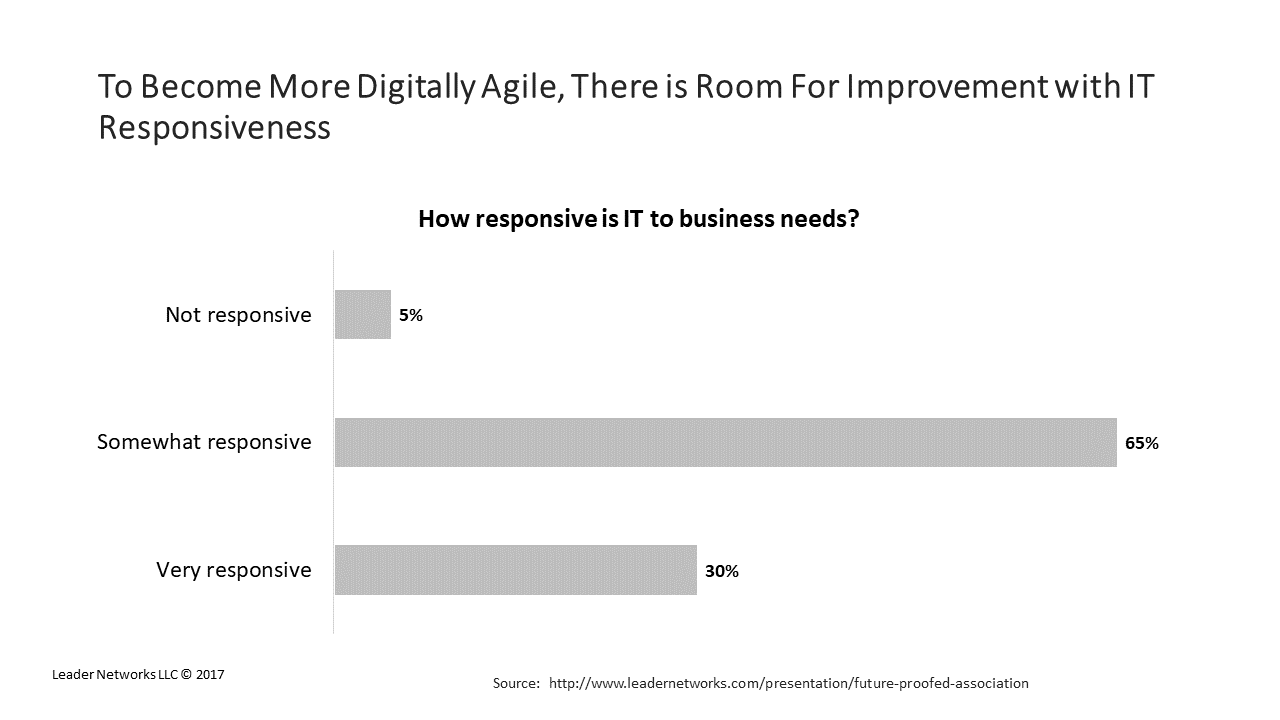 While this perception is a problem, there may be mitigating factors that prevent IT from being very responsive: namely, the business might not have a clear picture of what they need from digital operations. When asked "What are the top three ways your association learns about the needs of its market/audience?" traditional (the polite word for old-school) methods topped the list. 60% of associations rely on market research surveys, 54% conduct focus groups, and 46% analyze website traffic. Not exactly the most digitally agile methods available.
Associations collect data – but don't always apply it.
73% of associations collect member experience data. But do they apply this data to improve core operations, fuel R&D, and increase innovation? Only about half the time.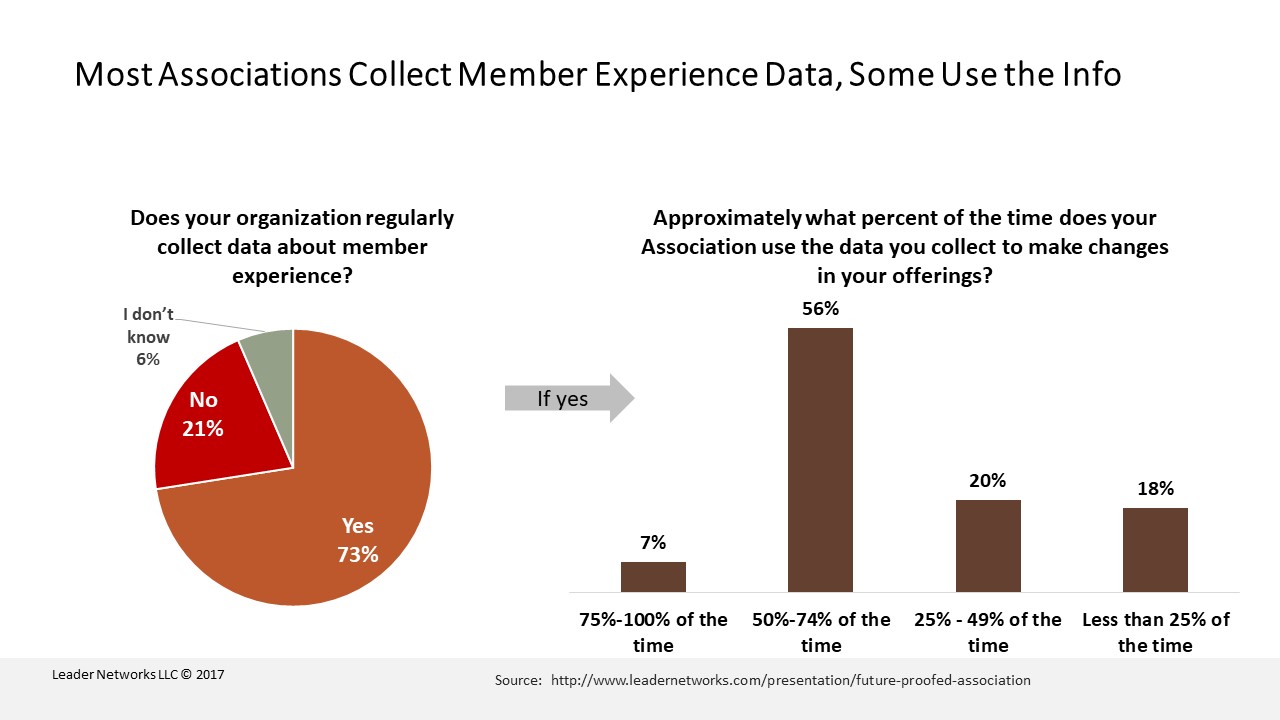 Is this a glass half empty, or half-full scenario? On one hand, associations are using the data they collect to make some changes in their offerings. On the other, they are missing a colossal opportunity to use member insight to drive new offerings, shape content, and guide product enhancements.
So what should associations do to ensure a bright, digital future?
It's time for association leaders to become digital change agents. They must find ways to "future-proof" their associations so that they continue to deliver value in the digital age. Future proofing ensures sustained competitive advantage. Here are some ways to get started:
Make improving the member experience and executing on a digital strategy your top priorities. If you don't have the resources to do this in-house, bring in a partner.
Use stronger R&D methods to more accurately align your products and services with member needs. Move away from old-school methods and start to experiment with digital R&D approaches – including social listening, crowd sourcing, and engaging with members in an ongoing way through an online community.
Don't overlook cultural change and staff responsiveness – these are important factors that can make or break your digital efforts. Be sure to develop an internal change management strategy in parallel with your member-focused initiatives.
Remember: give your members what they want and they will serve you well – now and for years to come!
Want to learn more?  Join me on a webinar on August 3rd. You can view the whole study here.