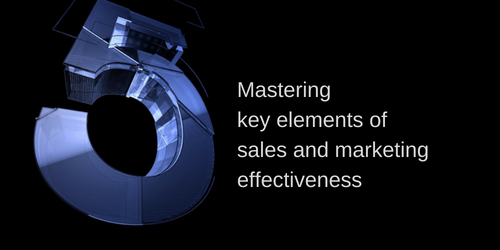 Increase the top line while reducing expense—it's what every CEO wants—and what their sales and marketing leaders are looking for as well. Many execs are realizing that meeting this goal involves increasing investment in sales and marketing with a renewed focus on gaining market share instead of just stabilizing it.
Companies that execute this strategy more effectively than the competition will grow faster, more profitably—and individuals responsible for these achievements will be rewarded.
What's it take? Mastery of the five key elements of sales and marketing effectiveness:
We'll take a deep dive into each in just a minute but first let me make a couple of observations:
Revenue is driven by coordinated and focused sales and marketing activities that can be measured and continuously improved. Lowering the cost of driving that revenue means finding new and better ways of getting the sales and marketing work needed done.
For companies to transition from where they've been to where they need to be, they must understand three truths:
A Closer Look
1. Market Focus
Let's say you've decided that the Fortune 500 is your target market … well, that puts you and your team in the position of confused competition with a bunch of other guys. And which industry within the Fortune 500: banking, telecommunications, automotive? The Fortune lists only include U.S.-based, public companies—what about large private companies? Are you really selling to the Fortune 500, or do you sell or desire to sell to the 3,000-plus companies that are large sub-headquarters, subsidiaries or large divisions of the Fortune 500?
Three problems plague companies today in market focus: Failure to accurately profile and define the target; the gap between the market identified and the whole market; and confusion surrounding the mission of CRM versus the mission of developing robust prospect databases and providing a steady pipeline of new business opportunities.
Of all the keys to revenue growth, the single most important one is rethinking the prospect database. A single, precisely defined prospect database is critical to the success of your sales and marketing efforts.
The ability to communicate your value proposition (in a meaningful way) to these potential prospects, measure their response and continue to incubate identified opportunities is equally important. Yet, companies waste thousands on poorly targeted activities they can neither track nor measure.
2. Defined Offer and Message Delivery Through Appropriate Media
Messages and offers are testable. Single media campaigns waste an enormous amount of money. Millions are squandered on marketing automation with no real way to engage prospects.
Integrated, multi-media campaigns directed toward focused audience groups work best. Multiple media (such as email, voice mail, even handwritten notes interspersed with a proper cadence of telephone calls) will, absolutely, produce the highest return as compared to any other method.
3. Marketing Measurement
If you're using a single prospect database, capturing touch and response metrics is relatively simple; however, it takes database marketing expertise, a centralized approach and discipline in planning, campaign development and lead handling to substantially increase visibility into results and ROI. For example, a pre-populated prospect database, including event information at the contact level, enhances result reporting, aids in segmentation and decreases time to market with successful programs.
Centralized inbound voice and email response handling pay off in two ways: First, careful response handling is a key to the success of any future business relationship. Prompt inquiry handling and fulfillment is considered "the first chance to make the best impression." Second, touch and response data can be captured and reported on immediately. This eliminates the inaccurate and time consuming hit-or-miss process of consolidating information and trying to guess at actual results from weeks- or months-old partial data.
4. Leverage the Sales Force's Strengths
There are three kinds of sales people: beaters, hunters and farmers. Beaters can't hunt. Hunters don't like to beat or farm. And farmers think they're hunters, making them the most dangerous sales people of all.
Carefully assess how you are deploying your team and make sure that you follow the number one rule of deployment: send your best rep to the best prospect in the best place at the best time. Notice, this does not say to deploy demographically, by vertical or by any other arbitrary assignment of territories.
Here are the tell-tale signs your hunters are actually farmers (which means you're not optimizing revenue generation):
5. Accountability From Pipeline Through Forecast
Let's say your forecast process includes 10 steps with "1" equal to a sales accepted lead and "10" equal to win/loss. Chances are your forecast looks more like a black diamond ski slope than a healthy pipeline—with lots of 1s and a handful of 10s but very little visibility into those prospects in stages 2 through 9.
There are psychological reasons for the "ski-slope" syndrome.
First and foremost, sales people don't like to lose deals. What they dislike even more is losing their jobs. By accepting leads and having to report on each step in the sales process, sales risks that as many as four out of five opportunities will be lost (based on a 20% close rate). This represents an unacceptable level of accountability and risk to a sales person.
There are ways to overcome this propensity sales has, and it's important that you do so. Management's philosophy regarding win percentages and the reward system for following procedure on leads are two important ways to overcome this pervasive and debilitating problem.
Second, sales people are driven by the three C's: control, credit and compensation. Having to report is not part of sales people's nature. They feel threatened on all three Cs. And, indeed, the three C's are responsible for most sales accountability ills.
There is a sales management rule to remember: sales people do what you pay them to do, not what you want them to do. If they close business that has been on the forecast as a 1 (accepted lead) for more than 30 days and there is no other movement noted in the forecast, they should not be paid full commission. Why? Because a sales person who does not forecast accurately does not allow your company to plan resources in support of new client needs. The rule is simple: Record progress, get full commission. Leave us guessing, get partial commission. You choose.
As contentious as this might seem, it is the only process that puts teeth into the pipeline and forecasting management.
An Easy Choice
Maintaining the status quo is an option, just not a good one. All companies benefit from substantially reducing soft spending (such as brand and image-oriented spend) and cutting unproductive sales staff. By doing so sooner rather than later, companies can more quickly shift investments to the marketing that delivers the personalized experiences buyers need, and which produce more substantially increased, predictable and measurable results.