Hefty interest in customization, expanding client expectations, the intricacy of the worldwide supply chain, and other numerous difficulties urge manufacturers to find reliable, new, and more creative approaches to endure in the race. While trying to acquire enrichment and reveal better manufacturing and supply chain operations approaches, businesses started focusing on adopting Internet of Things (IoT) technology.
The manufacturing industries using IoT can attain more incredible speed, scale, and uncomplicated operations and still have more to gain. Moreover, IoT in manufacturing can improve traceability, inventory turns, and cash flow seamlessly.
Well, you must be wondering why the Internet of Things (IoT)?
• Asia-Pacific (APAC) saw the most agile growth (17.0%), accompanied by North America (14.9%) and Europe (9.7%).
• In 2021, IoT spending for enterprises is predicted to grow by 24.0%.
• Beyond 2021, it is suspected that IoT spending will grow at 26.7% per year.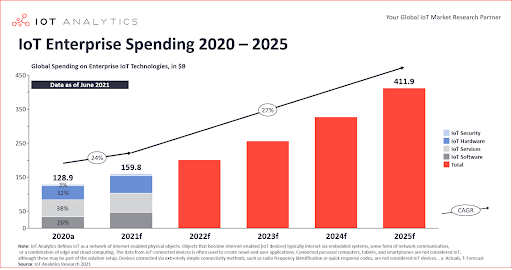 • By 2021, manufacturing is predicted to be the largest market for IoT platforms, with an anticipated value of $438 million.
• McKinsey predicts that IoT utilization in manufacturing is expected to produce $1.2 to $3.7 trillion of economic value yearly by 2025.
Seeing the insights, I can say that the future of IoT in manufacturing will be bright. Additionally, these insights must have given you why industries should adopt IoT to get a seamless business process. Now let's move further and talk about ten ways IoT helps the manufacturing industry.
Know-How IoT Helps Manufacturing Industry?
The manufacturing industry uses IoT and plant-floor information to foresee and forestall gear failure, enhance dependability and diminish downtime. Moreover, utilize the data insights to overhaul quality and lower investigation costs.
Here I have mentioned the 10 Ways describing the role of IoT in manufacturing monitoring and actionable analytics. Moreover, with the mentioned benefits of IoT in manufacturing, you can also grow your business in less time.
• Real-time Insights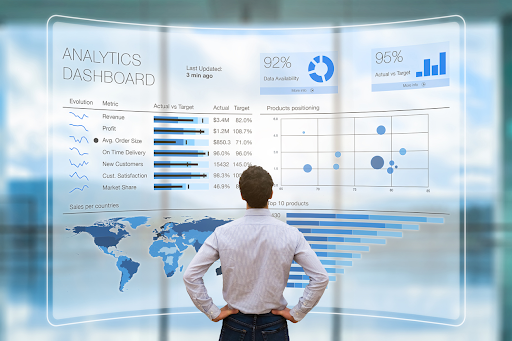 Source
Introducing the Internet of Things (IoT) into manufacturing operations helps you analyze and enhance the decision-making part. Moreover, manufacturers are getting support in the correct data capturing task and helping track the production activity in real-time. The manufacturing intelligence is also accommodating to optimize production scheduling and enhancing manufacturing execution.
McKinsey predicts that IoT utilization in manufacturing is expected to produce a minimum of $1.2 to a maximum of $3.7 trillion of economic value yearly by 2025.
As per PTC, real-time operational experiences bring about 5-8% of yield improvement. It has witnessed an enormous expansion in the number of information sources with a skillful manufacturing business, steadily updating insights about the client request data (request) and the production data (supply).
Additionally, outstanding data forecasting helps in better capacity preparation, decreases opportunity loss, limits excess wastage, forestalls overabundance production, and improves stockpiling cost.
• Trace, Track, and Control
Using an Internet of Things (IoT) system, you can trace, track and control activity and manufacturing processes in a simple and agile way. Moreover, it will support you throughout production to the customer's delivery process and save your time.
Well, we all know that manufacturers encounter various challenges in tracing day-to-day things, but with the Internet of Things (IoT), all these can be done in a short time. Having IoT-based systems, you will be able to trace workflows over plant floor operations in all production centers, granting real-time insights, saving precious time.
• Predictive Maintenance
In one to five years, predictive maintenance is supposed to be one of the most profitable IoT use cases for production. Adopting IoT, you can predict when production tools and machinery require preventative subsistence, manage OEE in real-time, and get insights into optimizing production stages.
Additionally, the Internet of Things (IoT) shifts critical data out of sources and grants access to new data intents with sensors, enabling access to managers; this ultimately helps the industry understand data. By doing so, the firm proactively resolves maintenance challenges.
• Inventory Management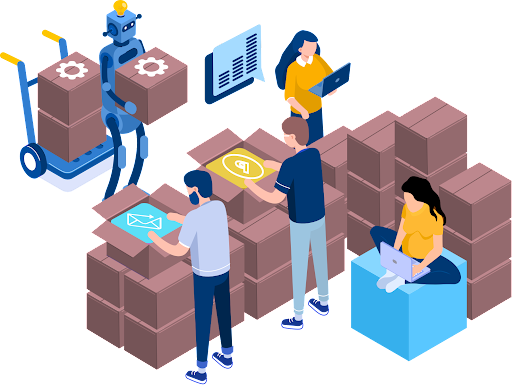 Source
With IoT systems, you can accelerate inventory crises, reduce carrying costs, out-of-stock inventory, and other crucial inventory management processes. Using IoT and Manufacturing Intelligence, you can capture inventory data in real-time and interpret patterns, ultimately benefiting you to deliver the best.
Moreover, intelligent inventory management employs IoT technology to render real-time visibility across warehouses, production, and distribution centers. With the quality and data of IoT sensors and systems, extending legacy inventory management systems can help reduce inventory costs and inventory management errors.
• Enhancing Production Yielding Rate
Over different production centers, IoT sensors and manufacturing intelligence help you improve production yield rate from machine to plant floor level. To get a seamless production process, you can prefer using the Internet of Things (IoT).
As per the recent Gartner study, the yield increases to 80% when there is a $192K improvement in gross margin.
Additionally, if you want to integrate IoT in business processes efficiently, get connected with India's best IoT development companies to hire app developers in India.
• Higher Product Quality
According to the IDC report, enhancing product quality is the main goal for manufacturers. Higher quality leads to numerous benefits, such as lower costs, improved customer satisfaction, and more significant sales. In this part, IoT can help you out.
The main culprit behind product-quality concerns is faulty appliances when the tools or machinery do not work properly or need maintenance. It usually provides a poor outcome, which affects the product quality. But with IoT, these faulty issues can be predicted and corrected before it starts affecting the product quality.
• Smart Manufacturing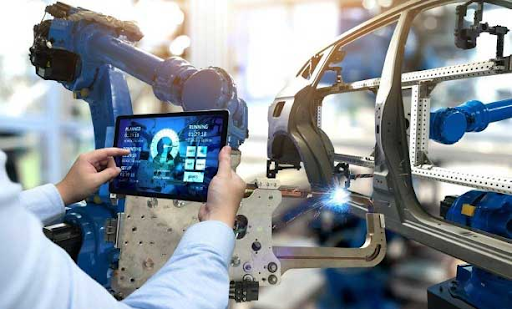 Source
You must have a question related to how IoT enables smart manufacturing? With IoT, you can gather more and more data and even analyze the risk factors previously. It is vital to find the gap to run the process better, which can be done using IoT technology. 94% of retailers admit that the benefits of implementing IoT reduce the risk.
Moreover, manufacturing equipment can be outfitted with sensors to gather data, and know-how machines are operating. With IoT, you can measure how frequently machinery will fail; in this way, IoT allows smart manufacturing.
• Secure Your Facilities
We all know that the number of evil acts is increasing day by day. It leads to malicious attacks on manufacturers globally; this is why manufacturing facility security is a significant concern. Moreover, with IoT, you can get secure and malicious attacks.
Leveraging IoT for manufacturers can support you to shield vital software hardware and cloud-stored data. You can even control devices and policies entirely in the industry from IoT connectivity.
• Reduced Downtime
Sometimes, machines stop working during product development, or it starts showing various heating-related or other issues. At that time, a considerable loss a manufacturing company can face to reduce such downtime, IoT is best.
With IoT, you can predict risk and analyze the things which can hamper the manufacturing process. Moreover, with IoT, you can quickly reduce downtime.
• Increased Energy Efficiency
Systems consuming too much power can show various malfunctions. But with IoT, such abnormalities can be corrected right away. It helps you in saving draining resources unnecessarily.
Do you know? Manufacturing industries are responsible for employing 54% of worldwide delivered electricity.
83% of businesses have upgraded their productivity by including IoT technology. (Dataprot)
The IoT connectivity can proffer you an energy profile of your entire facilities. The data can generate the most relevant and effective backup systems to keep running operations sleekly despite unfavorable environmental circumstances.
Big Brands Using IoT Technology
Nowadays, numerous IoT devices are released in the market. Consequently, the number of IoT-active devices, including smartphones, tablets, laptops, and others, is predicted to grow. In addition, by 2025, the number of Internet of Things (IoT) units in various industries will reach 29.7 million units.
Numerous small to big companies have adopted the IoT technology, and this ultimately helped them in growing. Here I have mentioned a few big companies' names that have been using IoT for many years.
• Siemens
• PTC
• Intel
• Texas Instruments
• Panasonic
• Hewlett Packard Enterprise (HPE)
• Dell Technologies
• NVIDIA
• Airtel
• Google
Wrapping Up
I hope reading this write-up helped you know the benefits of IoT in the manufacturing industry. If you also want to boost your manufacturing firm growth and ROI, think of adopting IoT technology.
Moreover, if you consider employing the Internet of Things (IoT) in business processes, get in touch with the topmost IoT development companies in India, and hire app developers to have a seamless insight into the end-to-end manufacturing monitoring.