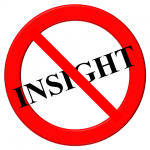 Even though insight is what buyers need, it may not be what they initially want. By the time buyers engage with a salesperson, they may already have an idea of their needs, the solution they believe they want, and what they are willing to pay. So how does the seller use insight to challenge the customer's thinking without challenging the customer? 
Why buyers push-back
When it comes to resistant problems, verbal persuasion rarely works. It can come across as an attack, and make the buyer feel badgered or manipulated. When the seller illuminates a challenge with insight, the buyer does not merely believe the seller is wrong; the buyer needs for the seller to be wrong to protect the status quo. The last thing an overwhelmed buyer needs is to invest time into a problem they do not fully understand, and then buy a complex solution that is not only expensive but could also end up getting them fired.
Stories trump verbal persuasion
But the instant the seller stops trying to impose their agenda on the buyer, the seller eliminates the fight for control, and the seller's insights are more likely to reach past the customer's defensive wall. For example, instead of trying to win a debate with a customer, insights are more likely to make it past the buyer's defensive wall if they are hidden inside an insight scenario (insight based customer story) that functions like a Trojan horse. Because insight scenarios transport the buyer out of the role of a critic, and into the role of a participant, they trump verbal persuasion. Insight scenarios do not merely trump verbal persuasion by disproving counterarguments; they keep the buyer from offering counter arguments in the first place. 
Sell more?
If your salespeople shared just one insight scenario per meeting, and did everything else the same, would customers relate more to what your salespeople are selling? Would you sell more? 
Executive Buyers agree
According to a recent Gartner survey of executive buyers, 68% feel that salespeople can't articulate value because they are too busy talking about their product. Without providing context, salespeople are leaving it up to the buyer to figure out why they should buy or even worse care. The solution is that 70% of these buyers felt the best way for salespeople to provide differentiation that they trust is by delivering customer stories (click for survey).
Next steps
So now's the time to show your customer facing employees how to create and deliver insight scenarios so that they are able to better articulate value (click for template/guide).
-Michael