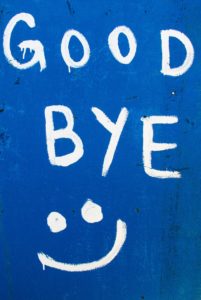 Pop quiz:
What is the single most impactful marketing message that you send every day? (source)
I'll give you a hint: it's NOT the body of your email.
If you guessed your email signature, you win! [insert applause here]
For those of us in customer service, we understand that the "goodbye" to our client is just as important, or if not more so, to the "hello". As Jeff Toister (@toister ), author of "Service Failure: The Real Reasons Employees Struggle with Customer Service and What You Can Do About It" writes in his article titled Three Critical Moments in Every Customer Experience:
"The last impression may also be the one that lasts the longest."
So, how exactly does a simple email signature make such a large impact?
Here's a personal example: In my job, I answer DMV related questions. In some cases, I can be found using the cheesy and friendly sign off of "Cheers". However, when responding to someone about their DUI case, ending the email with "Cheers" is beyond inappropriate.
I am reminded of the end of an awkward first date, where the guy slides in for a kiss and the girl, uninterested, quickly turns her head in the other direction, giving him her cheek. An improper closing is definitely going to leave its stamp of disapproval on this situation.
In a Washington Post article, Saying 'Goodbye' Is the Hardest Part of an E-mail, Will Schwalbe (@WillSch), co-author of "Send: Why People Email So Badly and How to Do It Better", warns,
"You can really do a lot of damage, even with a careless closing. And one of the terrifying things about e-mail is: You may never know."
And, after working with a customer via email and not hearing back, I wonder – was it something I said?
Let's get down to basics:
According to Barry Moltz (@barrymoltz), in Why Your Email Signature Matters, here's what us recommended for an effective email signature:
Name

Title

Company Name

Email Address

Website URL

Phone Number

Social Media Links
However, Stephanie Vozza (@StephanieVozza) writes, "The more choices you offer, the less likely any of them will be clicked."
5 Common Mistakes You're Making With Your Email Signature | Fast Company
And, Scott Tousley (@sjtousley) adds in his HubSpot post, "According to Evercontact, 39% of people are making a really silly mistake in their email signatures: They include their email address. Huh? That's like introducing yourself to a stranger when you first meet, and then introducing yourself again right before you leave."  
**(Side note: Be sure to hop over to Tousley's full article titled 15 Common Email Signature Mistakes You Might Be Making to check out the entertaining SlideShare of email signature mistakes).
And, if that mix of opinions isn't enough for you, for the addition of a closing statement, there are few elements to consider:
Your Company Brand Voice
"Think of something that is more closely tied to your brand. I use "here's to getting unstuck and moving…forward". Why Your Email Signature Matters | Nextiva
Your Personal Preference
"The problem with traditional sign-offs like 'Sincerely' is not so much that they're too cold as that they're like vestiges of another medium: letters. . . . I've always used 'Best' or 'All the best,' because that's always been standard for me, even for letters. And I never liked 'Sincerely' — I always found it very cold."
Saying 'Goodbye' Is The Hardest Part Of An Email | Washington Post
Someone Else's Opinion
Half slap happy, half mic drop, Chris Gayomali (@chrisgayomali) over at The Week gives us the reality check we need when using specific closing statements in our email in Digital etiquette: What your email sign off says about you. After reading this, I may never use "cheers" again.
"[Cheers is] friendly. Chummy, even. At the same time, signing emails this way makes it sound like you really need a drink. Esquire's Rule No. 351 states that "Americans who say 'cheers' are pretentious twits."
And, even more considerations:
On Printing Emails
"No one prints emails anymore so stop worrying like an old lady and reminding people that you're saving trees."
Happy Endings Make for Great Beginnings – Why Email Signatures Matter | Makeshift.io
On Legal Disclaimers
"E-mail disclaimers are one of the minor nuisances of modern office life, along with fire drills, annual appraisals and colleagues who keep sneezing loudly. E-mail disclaimers are one of the minor nuisances of modern office life, along with fire drills, annual appraisals and colleagues who keep sneezing loudly."
Legal Disclaimers: Spare Us the E-mail Yada-Yada | The Economist
On Inspirational Quotes
"Email signatures are not the best place for motivational and inspirational quotes. Not everyone's values will align with yours; the recipient may get the wrong impression, may get offended and probably won't even care about the message."  
The top 15 things to never include in an email signature | The Exclaimer
On Using Pictures
"Some email providers or devices have default settings that block images in emails. If your signature is an image that includes your name, title, and logo, you run the chance that the recipient won't see anything."
5 Common Mistakes You're Making With Your Email Signature | Fast Company
As you can see, your email signature speaks loudly about you. And, how you sign off can make or break a customer relationship.
Here's my stab at it – what do you think?