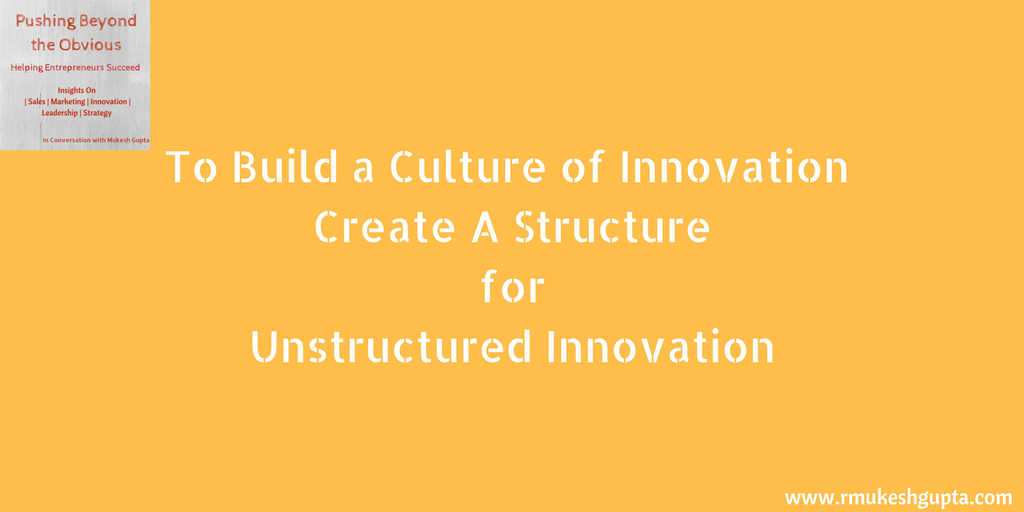 The need for innovation has never been more acute for businesses than it is today. Every CEO of any sizable business is worrying about which startup from which garage is going to change the rules of their game and disrupt them. They are looking for ways to find (internally, within their organisation or externally, through acquisition/partnership/investments) innovations that can give them enough breathing space to grow their businesses and give their shareholders a good return on investment (and in the process make a lot of money for themselves :-))
However, what most organisations don't get is that there is only one way to produce innovations at a sustainable pace – through creating a culture which not just encourages & rewards innovation but also nudges people to constantly think of innovation.
Innovations can be incremental, sustainable and disruptive in nature.
Disruptive Innovations:
These are innovations that are non-linear and usually are a result of an insight that someone in the organisation developed. Usually, these result when someone is surprised (positively or negatively) and gets curious about the reason why they were surprised. These innovations, in my experience happen at the fringes of the business. This is the reason, most large businesses have set up incubators, partner with startup accelerators, invite VC's to be part of their board meetings and even create platforms for their employees to meet with and learn from startups.
Sustainable Innovations:
These are innovations that are logical next steps for the business and usually are the result of the strategy of the business and is through the formal innovation process and structure that the business has in place. Some examples of these include launching brand extensions, product extensions, moving into new markets, etc.
Incremental innovations
Incremental innovations are those that allow you to constantly and consistently improve the way you work – the way you produce your product or sell your product or service your customer or manage your internal operations.  These are critical as the presence of these innovation, is probably the best indication of a culture of innovation in action. This is also the kind of culture which allows a business to follow-up on a creative insight, which could potentially lead them to come up with a disruptive innovation.
How to build a culture of Innovation
So, what can businesses do to not just encourage their employees to constantly be on the look out for potential areas for incremental innovations – Create a structure for Unstructured Innovations.
Soren Kaplan, author of the best selling book – Leapfrogging and the upcoming book – The Invisible Advantage, shares in the video below, how some creative organisations go about doing just this.
He shares the examples of how Intuit, Adobe and Atlassian have created structures (Intuit Catalyst Toolkit, Adobe Kickbox & Atlassian ShipIt days, ) for their employees within which each employee can actually tinker, experiment and therefore potentially come up with an innovation (in any area/function of the business) that works. The important aspect of each of these examples is that the business not only gives its employees time to work on these projects but also provides them with innovation frameworks and in Adobe's case also with some basic funding to do some research and prototyping.
There is a lot that businesses can learn from these organisation to empower their employees to tackle any challenges that they face head-on, without waiting for permission and with the support of the business itself. This is when you start seeing a culture of innovation starting to take hold in the organisation.
The probability of disruptive innovations coming from within the organisation can go up significantly, once this starts happening across the business.