A natural disaster is something that happens without any invitation. Several challenges arrive which involves high risk, often life-threatening situations. Natural disasters, most of the time can be of any size, but always involves high-risk rate. To face and go through such situation employees such as firefighters need to have rigorous live training.
Virtual reality is the breakthrough in handling such an odd situation. It is reported that 500 million VR headsets are expected to be sold by 2025.
This technology is the best way to address different challenges. It came to be a game changer, while playing a major role in offering the solution to face the natural disaster situation.
Thus, VR training helps to reduce the mistakes that result to save more lives. The trainer should also be aware of emergency response at the time of disaster and rescue the victims at any cost.
Virtual Reality Training helps in combat the Challenges in real life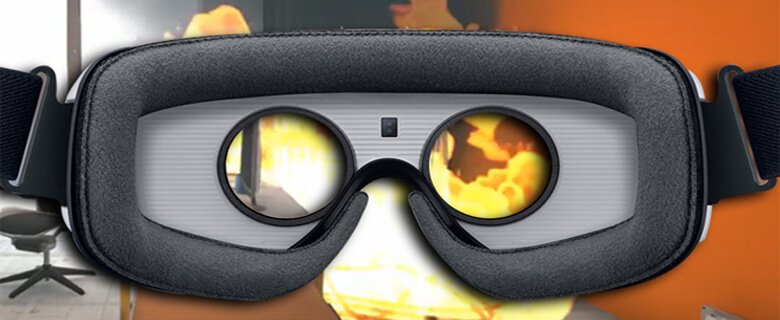 The goal of Virtual Reality is to forecast the real situation and safety concerns. The risk level of any situation can be examined while training in virtual environments. VR is utilized to create a virtual environment where trainees can practice a number of times. Thus, VR is helpful in improving the skills set for an exceptionally complex situation.
The purpose of Virtual reality training is totally unique and exclusive in itself. This technology is the best way to educate the new generation of trainee. New opportunities with more possibilities can be utilized to engage a more detailed training session. Virtual reality for training maintains the retention rate of the trainee, resulting in an unforgettable training session. The virtual environment with virtual element/content takes the users to another world with a realistic situation. This helps them to tackle live situations of any level. It provides the confidence and experience not only to tackle the fire, but also to make split-second decisions that will save many lives.
Here are some benefits of virtual reality training
Virtual Reality app offering training is way ahead from the traditional approaches. The trainees need to put on the headset, and instantly immerse into any number of dangerous situations. The trainee can freely learn and face situations in real time. Moreover, the trainee can analyze the whole session for further improvements. Trainees can view and hear everything around in the virtual environment.
The training session is more innovative and enjoyable than ever before.
The VR training is appealing, making learning engaging for the trainee.
Helps to develop a deep understanding of what they are experiencing in a realistic environment.
VR offers the potential to introduce new heights into traditional methodologies.
VR experiences access all the senses and the ability to gain more with immersive learning styles.
Virtual reality is the best way to eliminate risk Concerns such as life risk, liability, and injury.
Offers extreme environments with realistic virtual situations, allowing trainees to test and learn more about situations with in-depth details.
Use Cases of: VR in Rescue Training
Disasters can strike at any time and anywhere. We all need to be prepared on how to face and response at such a situation. Quick response teams can minimize casualties at the incident place. Virtual reality is an advanced technology that can be used for proper training. This is helpful for training the rescuers. Moreover, trainee can hone their skills in dealing with different calamities and situation. It provides a virtual world that helps to offer the perfect training.
Virtual reality in rescue training allows the trainee to the experience and try things in real-world situations. Virtual reality in training session increases engagement and knowledge retention levels. VR can save businesses a lot of time and money. This immersive technology is cost-effectiveness for practicing with real-world scenarios in a safer way.
Bottom line
Virtual Reality safety training provides firefighters or trainees, to go through an effective training system. Virtual reality offers a high level of practicality due to the motion-based sensor technology. The VR solutions for the training are blended with a highly reliable virtual solution. This is helping the fire safety department to overcome the challenges in hassle less process. Training cadets using Virtual Reality offer the ability of immersive visualization and rendered images of a live situation. The practice of a high-risk occupation in the virtual environment reduces the life risk and offer an unforgettable journey.