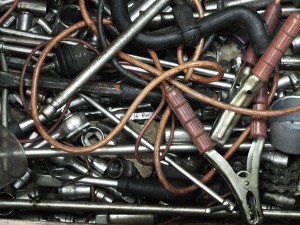 One of the reasons I chose to pursue a post-grad degree in anthropology was to better understand something that most businesses fail to fully comprehend: organizational culture. There are countless posts out there by otherwise well-intended people trying to describe "corporate" culture. Trying to clarify how this concept of culture works. Trying to explain how we can create culture that gets results.
These posts are all very nice. And most of them are dead wrong, at least in terms of trying to convince us that culture is this narrowly-defined concept bereft of nuance and appreciation for complexity.
In a blogpost last week, Rand Fishkin wrote about what company culture is and is not. On whole, it's one of the better and more eloquent attempts by a business leader…but it still simplifies culture down to what are very limiting ideas. Yes, culture can encompass shared beliefs and values. Yes, it can include how people act and behave together. But too many organizations use culture to control their people and institute a false sense of order. When this happens, they are perverting culture to be just another management tool.
Business leaders do this based on what I have found to be three interrelated myths of organizational culture:
Myth #1. Culture can be built, top-down.
Yes, it's important for leadership to clearly articulate goals, values, and mission. But these elements merely provide direction and structure, the expectations of management. They are not the culture themselves. The problem is that management has come to see culture as one more way to institute controls over employees. If you read, "This is the [insert company name] way" when discussing culture, then you're reading a top-down, executive mandate for what management wants the culture to be…but likely not what actually is. And just because the CEO says, "This is our culture" doesn't make it true. It's way bigger than that.
Myth #2. There is just one culture.
No matter how many people call an organization their professional home, there is not just one culture in play. Actually, there are multiple cultures and subcultures that often get overlooked. Even in a small start-up, think about the differences between accounting and sales teams. Yes, they may adhere to the same shared norms and values of the company, but how they work and interact are very different.
This isn't even including the cultures we bring with us from our own outside lives. Think of the large, multi-national companies with work teams spanning the globe. We don't shelve our personal lives when we enter the front door of the office, why then would we expect folks to shelve their respective cultures?
Again, by emphasizing one monolithic culture, management can feel like it's exerting control over the organization. This also ignores the next myth, which is…
Myth #3. Culture is tame and structured.
This is the most pernicious lie that business leaders tell each other. Instead, here's something closer to the truth: Culture is messy. It's constantly evolving. It can be fragile and bewildering. This is what happens when people come together. We're not programmable robots. We're extraordinarily complex creatures with emotions, dreams, fears, and ambitions.
Corporate culture isn't a highly conformed and stable melting pot. Instead, think of it more as a dynamic mixed bag of goodies of all shapes, sizes, and flavors.
It pains me to see culture get thrown around like so many other management buzzwords. This is when it gets stripped of its meaning, its vitality, and its power to convey something that is truly beautiful in its complexity.
Photo credit: otkuda via Flickr