Anscombe's quartet
Here are some interesting numbers for you. Interesting in a geeky sort of way…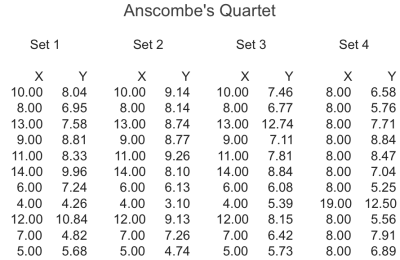 They are 4 sets of readings for two variables, X and Y.
That is a horribly algebraic. It brings back memories of a comprehensive school deep in the 1980's. All polyester blazers and fermenting gym kit. Let me bring the X's and the Y's a little more up to date:
X versus Y
Sales rate versus call handle time
Information collected versus first time fix
Quality versus cost
There are lots of X's and Y's in business. My time in Mr Gilpin's maths class wasn't wasted.
The question
Are these X's and Y's different or are they the same. How do they relate to each other?
In the world of big data and analytics (when did analysis become a noun?) the solution is easy to find, draw up some "descriptive statistics". Summarise the data so that you can look at it.
Nothing to see here
I have saved your spreadsheet blushes and calculated the statistics for you. Here they are…

What do they say?
So there you have it, the 4 groups of X's and Y's are all the same. Nothing has changed, there is nothing to worry about.
Or is there?
If I draw some scatter plots the data sets look very different.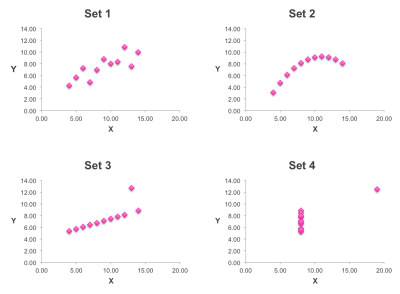 The point of the story
If you want to understand what is going on in your business, don't rely on the accountants and analysts with their beautiful tables of numbers. Draw some graphs and look at the data instead.
Better still, go and have a look at the shop floor. It will be far more interesting than your maths class ever was.
If you enjoyed this post click here to receive the next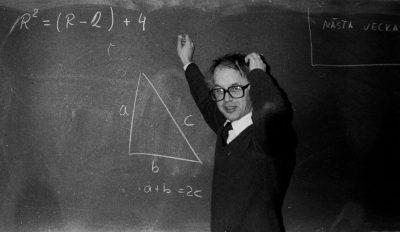 Read another opinion
Image by Blondinrikard Fröberg