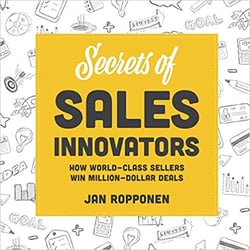 I recently had the pleasure of speaking at length with Jan Ropponen, author of "Secrets of Sales Innovators - how World-Class sellers win Million-Dollar deals".
Jan's book is the distillation of an extensive series of interviews with highly successful B2B salespeople - the sort of people whose disciplined approach to selling enables them to make President's Club every year, through both good years and bad.
The lessons encapsulated in Jan's book are highly relevant to every B2B salesperson who has the ambition to do even better and is open to learning from their peers - and should be required reading for every B2B sales organisation.
From the first interaction to the successful conclusion of a lengthy and complex buying journey, Jan sets out a set of clear principles that have been proven to be effective in today's challenging business environment...
The book is well written and extensively and attractively illustrated. You can read Jan's summary of our conversation here, watch the video recording on YouTube or listen to the podcast on SoundCloud. I've embedded the video and podcast here:
Inevitably, our discussion covered a wide range of topics. Jan and I share a similar perspective on many of the drivers of B2B sales success, and in particular on the need to focus on our customer's business outcomes. I'll highlight a few here:
Mutual success plans
Both Jan and I agree that salespeople developing a "win plan" for every significant opportunity is better than not having a plan at all. But we also agree that it is far better for the plan not to stop at the point when the order has been won or lost, but to instead work backwards from the actual achievement of the business outcomes that the customer is targeting.
This, by the way, is particularly important for any organisation that is offering its solutions as a service. It's widely accepted that as-a-service businesses are only likely to make a profit if the customer renews and expands their usage. A mutual success plan, agreed with the customer, can help to guarantee that sales and customer success are completely aligned around the goal of ensuring that every customer is a satisfied user.
Qualification as a continuous process
Jan and I also agree on the need to regard opportunity qualification as a continuous process, and not a one-off event, on the need to base qualification on evidence rather than assumption, on the importance of the breadth and quality of our contact with the stakeholders, and on the need to ensure that our champion is capable of selling the project - and not just our solution - internally to other members of the customer's decision and approval teams.
Identify, Develop, Position and Close
Jan's book is structured around four key steps in the evolution of an opportunity - identify, develop, position and close. Each of these sections contains practical, experience-based advice for how to understand, influence and advance our customer's buying decision journey.
It was great to be able to talk at length with a kindred spirit - someone who is as committed as I am to advancing the cause of professional B2B selling. I am sure you'll enjoy Jan's book, and I have no hesitation in recommending it to you. It's available here on Amazon UK - other outlets are, of course available.