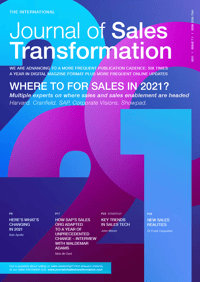 I was very pleased to be invited by the International Journal of Sales Transformation to contribute an article to their latest edition. The publication is a consistently valuable read for any sales professional, and I urge you to subscribe (I've included a link to their website at the bottom of this piece).
I chose to write about some of the key issues I see facing B2B sales leaders in 2021. I hope you find my observations both relevant and helpful...
2020 proved to be a challenging year for many B2B sales organisations. Certain sectors powered ahead - for example, anything associated with e-commerce or digital transformation - but many other industries suffered significant declines in demand.
2021 will inevitably bring further challenges. Whilst the emergence of effective vaccines offers some hope for recovery, it would be unwise to assume that these will amount to a magic bullet, or that many sectors will enjoy a rapid return to pre-Covid "normality".
One thing is certain - the future of B2B selling is not what it used to be. This poses both a threat and an opportunity: those that emerge as winners will need to demonstrate speed, agility and adaptability at both the individual and organisational level.
An always-be-learning culture
This need for adaptability has been most obvious in the dramatic shift to virtual selling - a trend that is unlikely to ever be fully reversed. Some salespeople, and some sales organisations, have clearly coped with the digitalisation of B2B selling better than others. The willingness and ability to learn has become a critical consideration when hiring new members of the sales team and assessing the potential of the existing salesforce.
Relying solely on classroom training was never particularly effective in the old days - the statistics around the retention, application and adoption of the ideas being conveyed made for depressing reading, even then. In additional to selecting salespeople for their ability and willingness to learn, sales skills development in the new world must be based on a continuous stream of micro-learning opportunities, reinforced on a daily basis by the CRM systems the salespeople are expected to use.
First line sales managers have a critical role to play in realising the potential of their salespeople. Effective coaching is probably the single most powerful contribution they can make to their team's success. And yet most studies suggest that sales managers have not been formally trained to coach, don't spend anything like enough time on it, and don't have the necessary supporting systems.
Given that most sales conversations are conducted digitally, there is simply no excuse not to use call recording and analysis software to support both the salesperson's self-awareness and the manager's ability to diagnose and coach their sales conversations.
CRM: from policeman to guide
Unfortunately, far too many CRM implementations are still configured as systems of record that seek to enforce data collection rather than as flexible frameworks that guide salespeople in what they need to know and do to maximise their chances of success.
This must change. If the much-promoted potential of CRM is ever to be realised in practice, salespeople must see the platform as a useful source of best practice, and not something they are obliged to use because management wants to inspect and analyse their data.
For many organisations, this is going to require a significant change in mindset. For some, it is going to require a change in their CRM platform. But I believe one thing is clear: in the future world of B2B selling, salespeople must come to see their CRM system as a useful guide they want to use, rather than as an officious and burdensome rule book they are obliged to comply with.
From "solutions" to outcomes
The history of B2B selling over the past few decades has reflected a progressive evolution from product-led to "solution" selling approaches, implemented with varying degrees of competence. Unfortunately, today's B2B customers are not just looking for solutions - they are seeking better business outcomes, and they are disinclined to act unless they are confident in the results they can expect.
This - in combination with the rapidly accelerating move to as-a-service consumption across a growing range of solution offerings - is creating the potential for a perfect storm. In the old world of outright purchase, a vendor's profit was locked in from the receipt of the initial order. In the new world of as-a-service consumption, suppliers are unlikely to ever be profitable until and unless the customer renews and expands their usage.
This requires that salespeople pay very close attention from the very start of the sale to the business outcomes the customer is seeking achieve, and not just on understanding their perceived functional needs. Today's customer is unlikely to act unless the contrast between their current situation and their desired better future outcome is stark and clear. This requires that salespeople demonstrate a level of business acumen that some may never be able to master and must be developed in those with potential.
Demonstrating rapid time-to-value
In these uncertain times, B2B customers have become even more cautious than before about signing off huge monolithic change projects that offer the potential of a large return at some distant point in the future. The projects that are getting approved in today's climate are having to satisfy three key criteria: they need to be strategically relevant, tactically urgent and offer the potential for rapid initial time-to-business-value.
B2B sales leaders need to think about dividing what might previously have been managed as a single large sale into a series of digestible chunks that allow the customer to see rapid business value. This initial foothold can then be progressively expanded - based on the actual results delivered - to progressively address the full scope of the potential project.
In other words, an agile, fast moving "land and expand" strategy - backed by the timely achievement of the projected initial business outcomes - is likely to be far more effective than seeking a larger upfront commitment that may be continually delayed or deferred and will ultimately struggle to be signed off.
Reassessing target accounts
The approach to target accounts will also need to be more flexible than in more predictable times. Most sales organisations have already had to reassess their target account list to reflect the impact of Covid on both whole industries and individual organisations, but I believe that the pandemic is forcing us to implement a significantly faster cadence of account planning than was necessary in the past.
It's going to be particularly important to monitor the shifting priorities and initiatives of our high priority accounts and to make the strongest possible connections between our customer's current focus and the way in which our offerings can enable them to achieve the better business outcomes they are looking for.
Rather than a primarily annual exercise, account planning and development must become a dynamic process supported by collaborative on-line platforms that give everyone concerned the visibility they need to contribute to achieving the full realistic potential of the account. The ability to respond to changing circumstances and to execute on agreed plans is going to be increasingly critical.
In conclusion
2021 is going to be a year in which B2B sales leaders can perhaps make more of a difference than in any other year to both the short- and long-term success of their sales organisations.
Establishing a digitally-native, always-be-learning culture will be one critical foundation, and making sure that their first-level sales managers are motivated and equipped to continuously improve the capabilities of their salespeople another.
Technology can help: in particular, the effective use of call recording and analysis software and ensuring that CRM is both effective in guiding behaviour and enthusiastically adopted by every member of the sales organisation.
In a world where - paradoxically - B2B customers are both more informed and more confused and uncertain than ever, sales leaders need to ensure that their sales teams are focused on understanding, shaping and achieving their customer's business outcomes and not just on simply promoting their solution offerings.
The focus needs to be on projects that are strategically relevant, tactically urgent and capable of delivering rapid business value. A small early win is both more valuable and more achievable than chasing a monster "hero" project that may never be approved.
Finally, adaptability and agility are going to be vital, and nowhere more so than in our management of our most important accounts. Our planning cycles need to be compressed to reflect the volatility of the times we are living through.
2020 was clearly challenging. 2021 remains unpredictable. But I believe these principles can help B2B sales leaders to not merely survive, but to thrive.
Here's the link to the International Journal of Sales Transformation.