Click Here to Subscribe via iTunes
Click Here to Subscribe via RSS Feed (non-iTunes feed)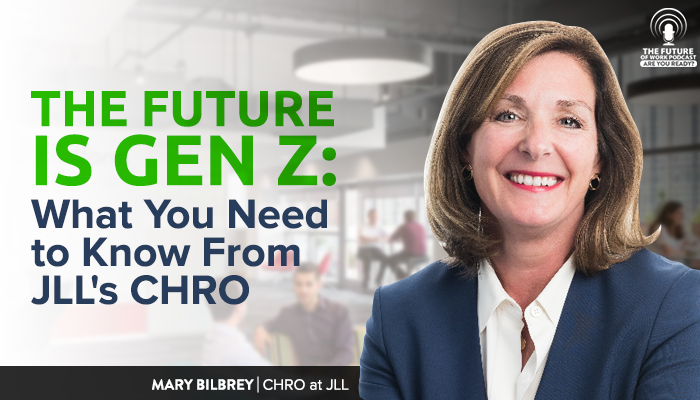 Mary Bilbrey is the Chief Human Resource Officer (CHRO) for JLL Americas, the leading integrated global real estate services and investment management firm. Mary joined JLL in February of 2016. She came to JLL from HSBC, the multinational banking and financial services company, where she was the Head of Human Resources for HSBC USA.
JLL is a leading professional services firm that specializes in real estate and investment management. Their vision is to reimagine the world of real estate, creating rewarding opportunities and amazing spaces where people can achieve their ambitions. JLL is a Fortune 500 company with nearly 300 corporate offices, operations in over 80 countries and a global workforce of 83,500
Is there truth to generational stereotypes?
Some of it seems to be that with every 'new' generation we talk about various traits that they seem to display – but in reality it is simply because they are young. It has been true of every generation – they are more idealistic, more 'me' focused. But much of that can be attributed to their youth. It is a 'life stage' versus a generational stereotype.
2 things that Mary expects will be driving employers with Gen Z employees:
1. Gen Z did not experience the digital revolution. They were born into an environment where it was part of their life from the beginning. That is going to have an impact.
2. They are beginning to enter the workforce in a very strong labor market. So they have more choices – employers, work environment, vision and purpose of the organization.
What will be Gen Z's impact on leadership?
One major factor has been switching of traditional performance reviews to ongoing 'quality conversations' that happen all the time instead of only at midyear performance reviews.
This impacts the leaders who have to change how they manage others; it is more intuitive and makes more sense. "One of the hardest things to JLL.comhange has been the need for an enclosed office – there seems to still be an emotional tie to the topic," Mary says.
Mary's advice for managers is to think about developing multi-generational groups, consider reverse mentoring, and learn from each other.
What You Will Learn In This Episode:
● Generational stereotypes – fact or fiction?
● How can hallways be places of 'casual collisions'
● The impact Gen Z will have on leadership
● What Gen Z is looking for in a workplace
● How JLL is evolving to make sure they are ready for Gen Z
● What does the future of work look like?
Links from the episode:
JLL.com
Mary Bilbrey on LinkedIn
The post The Future Is Gen Z: What You Need To Know From JLL's CHRO appeared first on Jacob Morgan.