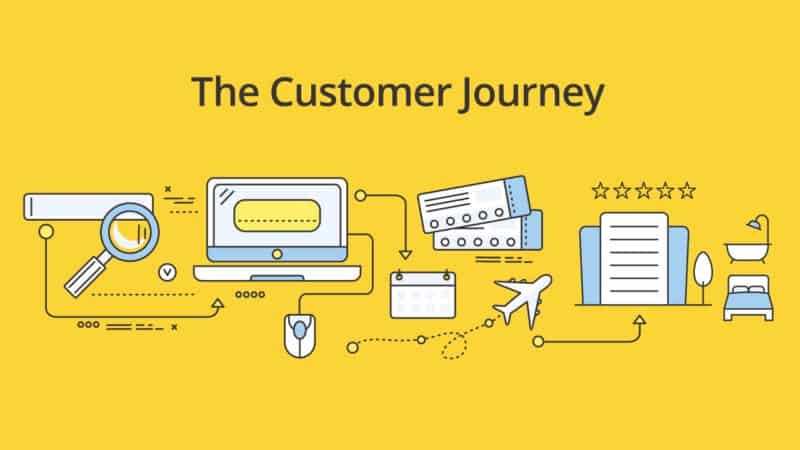 This article was originally posted on the ReviewTrackers blog.
Without context, customer data is useless.
We've seen this before when we collected online reviews from 51 Carmax locations.
A customer journey map is a tool that provides critical insights necessary for success – from customer acquisition to retention to customer advocacy.
Customer Journey Map, Defined
By mapping the customer journey, brands get a high-level overview of a company's customer experience at various touch points.
Once created, this adaptable tool can be applied to both products and services, in addition to in-person and online interactions.
It's typically a team effort among several departments, such as design, sales, marketing, and customer service – any part of the business that's involved in a touch point. It can take weeks to develop successfully.
The goal is to understand the customer's point of view – what they're feeling, wanting, or doing – and then use that insight to identify opportunities for improvement, minimizing friction and maximizing acquisition and retention.
Customer journey maps make it easier for teams to assess the experience perceived by the customer as opposed to only measuring the actual success of customer interactions.
For example, a business may think it's website is doing really well in terms of sales but after looking at a customer journey map, it may become clear that there are major issues in the customer experience at certain touch points.
Creating the Map
There are several essential steps to follow in order to create an effective customer journey map.
Step 1: Careful data collection.
Talk to employees who interact with customers directly for anecdotal reports: what kind of feedback do they hear about products, services, and processes?  
Use customer and web surveys, customer feedback in online reviews, product follow-up surveys, segmentation, metrics, analytics, and social media interactions to determine who your customers are and what they're doing. Answer: where does the journey break down?
It's impossible to build a map based on individual customers, but most businesses have an idea of who their primary buyers or clients are.
For example, an airline might focus on two personas: frequent business travelers and leisure travelers.

What do you know about these personas and how they behave?

How might their experiences and expectations be different?

The business traveler might expect to be offered a frequent flyer program membership when buying tickets online, but the occasional traveler might find the same offer irrelevant.

The business traveler could be happy the company even has such a program, while the occasional traveler could be irritated that it's another screen they have to click through.

Consider the leisure traveler who books by phone and tells the customer service representative that she's going to Florida for the first time to visit her sister – chances are, that rep isn't going to offer the customer a frequent flyer program membership that's not appropriate.
Step 3: "Dress" the personas with the qualitative and quantitative data.
For example, does each persona meet each touch point? Are there touch points that can be skipped? Do they vary by channel? To come back to our airline example, how do the touch points compare for customers who book travel online versus those who book travel by talking to a customer service representative? Consider the anecdotal data that corresponds to each channel.
Step 4: Develop thoughtful questions about customers:
What do customers want? Identify what their goal is when interacting with your business. What are the typical phases on the way to customers' goals? Every industry and business can identify the phases that best match their circumstances. Common phases include research, evaluation, deciding, and after-the-sale follow-up.
Step 5: Consider the entire experience and seek opportunities for improvement.
If you were the customer, how would you feel at each step? Is the process easy or difficult? How long does each part of the process take? What kind of obstacles are there? Where is the opportunity for improvement? It's important to be specific. Which teams or departments could have a role in making changes or improvements?
Step 6: Create a visual representation of the customer journey.
There are no firm rules as to what a customer journey map looks like. What's most important is that the visual is effective. Some are presented in linear form, while others are more like pie charts.
There's no wrong way to do it as long as it's easily understood. A good map should be able to be understood by anyone in the organization and should be useful above all else.
A Useful Tool… When Used
Customer journey mapping is a process for understanding who customers are and how they can better be served by a company or organization. The visual format of the finished project emphasizes simplicity and clarity, making it easier for a company to hone its objectives and goals.
This kind of tool is also useful for identifying gaps in service, or barriers faced by customers at any point in their interaction with a company. This process is an effort that best meets company needs when all relevant departments participate to see where opportunities for improved service or communication are present.
Photo credit Shutterstock.com