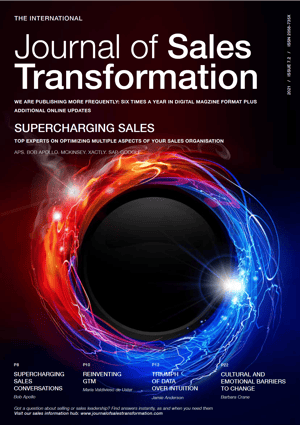 This article first appeared in the April 2021 "Supercharging Sales" issue of the International Journal of Sales Transformation.
Given the overall theme of the magazine, I thought it might be appropriate to focus on a topic that has long been a focus of mine - how can salespeople supercharge their sales conversations?
Given that - according to research by Forrester and others - customers report that the majority of conversations they have with potential vendors create little-to-no positive value (and often leave them with a negative impression), there is clear scope to have more impactful interactions.
By the way, the one thing we want to avoid when "supercharging" our sales conversations is to talk more quickly. All of the available evidence shows that top performing salespeople speak slowly, clearly and confidently and take their time to make their points without being verbose....
Teach them something useful
Setting aside our own objectives for a moment, I think our minimum goal for any conversation with a prospective customer must be that they emerge with a positive impression, and that they feel that they are smarter as a result of the discussion.
This implies that instead of entering the conversation (as many salespeople do) intending to ask qualifying questions and/or pitch the prospect with our "solution", we should instead be thinking about what we want to teach the customer so that we earn the right to keep talking with them.
It should be clear that we can't achieve this without knowing something about what they are likely to be interested in - and that means doing our research in advance. In fact, "do the research" is my first prescription for supercharging customer conversations.
1: Do the research
It is unprofessional and impertinent to reach out to a prospective customer without first attempting to find out about them and their organisation and developing an informed hypothesis about what they are likely to be interested in. And if they reached out to us, the most useful first question we can ask is what caused them to contact us.
Given the amount of information available on websites, LinkedIn and other inline places, there's no excuse for not investing a modest amount of time in this. A few moments research can reveal a great deal. And it's not just about them. What have we learned is likely to be important to people in similar roles in similar organisations?
2: Prepare the environment
Virtual selling is likely to be with us for some time to come, probably ending up with a hybrid model that blends face-to-face and virtual selling. We've been doing this for a year, so there's no excuse for dodgy internet, poor sound, distracting pop-ups or a background that makes us look like members of a victim protection scheme. By now, we need to be masters of the necessary technologies.
3: Develop a testable hypothesis
Possibly the worst ever sales question is "what keeps you up at night?" (or related variations). If we've done our research, and if we're familiar with their environment, we ought to be able to come up with a testable hypothesis about what - based on our experience - is likely to be interesting to them and prepare accordingly.
4: Start with the end in mind
Every call needs to have a clear objective. There's no excuse for not having thought about ours before we've reached out to our prospect, but as soon as we've established rapport, we need to get a clear sense of how we can make the call most useful to them. This also allows us to establish and agree a conditional next step at an early stage of the conversation.
5: Give before we get
Good conversations involve giving, getting and sharing relevant information. And it's down to us to start that process. As soon as we've verified what their interests are, we need to share insights or anecdotes that establish our position as a trusted source who is worth listening to. Asking an intriguing question that causes them to think can serve a similar purpose.
6: Resist the itch to pitch
It's often useful to briefly position our company, our customers and how we help them. But beyond that, we need to resist the itch to pitch any proposed "solution" until we've learned more about them, established rapport and built credibility.
7: A conversation, not a monologue
In support of the previous point, we need to avoid lengthy unbroken monologues. The statistics are clear: the most effective conversations are ones where each participant contributes something meaningful at regular intervals. If you are using a presentation deck, we must use every slide as an opportunity to get feedback from our audience.
8: Intelligent balance of questions
It's over 30 years since Neil Rackham wrote "SPIN Selling®", and yet the principles are still effective. The best sales conversations involve no more situational and problem questions than are necessary to establish the foundation for the much-more-powerful implication and need-payoff questions. And let's not forget the incremental commitment questions that are so important in creating the climate for an advance.
9: Agree the next step in advance
I've referred to establishing a conditional next step early in the conversation, rather than waiting until the end of the call or meeting to decide what happens next. Sandler selling calls the tactic an "up-front contract". Basically, it involves establishing a common understanding about what will happen next if the agreed objectives of the discussion are achieved - and gives the customer an "out" if they aren't.
Measuring the right things
There's an unfortunate tendency in some sales environments to regard the volume of activity as the key performance measure, without sufficient regard for the quality of the outcome. It's much more effective to measure the number of valuable advances, in which the customer makes a meaningful commitment as a consequence of the conversation.
Some of the recommendations I've made - in particular doing research and preparation before engaging the customer - can certainly reduce the volume of raw calls being made, but they have an undeniably positive impact on outcomes.
Using technology intelligently
If used intelligently, AI can certainly help to make selling more productive in areas like researching potential clients. But if not, and as I'm sure we have all been regularly exposed to, it doesn't take long for thoughtlessly applied artificial intelligence to supercharge stupidity.
One of the most useful practical applications in the current climate in which virtually all sales conversations are happening online - widely available from a number of vendors including Gong, Chorus and Refract - is sales call recording and analysis.
Conversational intelligence applications are incredibly valuable for both developing self-awareness and as a vehicle for sales coaching. They allow salespeople to identify and develop strategies that result in high-impact, successful conversations.
Supercharging our sales conversations
It's probably worth returning to the dictionary definition of "supercharging". The idea of forcing more fuel and air into our conversational engine - for some of the reasons above - is probably not a very effective strategy.
But the alternative definition - of making something more powerful and effective - is certainly a legitimate objective. In this case, the power comes not from how much conversation we manage to get through, but the quality of the conversation.
If we do our research, prepare carefully, have clear objectives, establish empathy early on and conduct a mutually respectful give-get conversation, we can be confident in having productive conversations that make both us and our customer smarter as a result.
---
By the way, I strongly recommend that you subscribe to the always-excellent International Journal of Sales Transformation - you can learn more here.