As I look back on 2012 it has been another growth year for the Customer Experience industry. Will we still see this in 2013? Here are my predictions of what is likely to happen…
1. Continued growth of Customer Experience
From a big picture perspective in 2013 I believe the Customer Experience industry will continue to grow for the following reasons.
Companies have realised this economic downturn is not a normal, short lived recession. Normal life will not resume tomorrow. When you don't know what the future holds, the one thing you have to do is hold onto your Customers. Thus the need to focus on your Customer Experience is all important.
In the same vein, companies are worried about being left behind. They are aware everyone is talking about Customer Experience and think maybe they should join in.
2. The emerging markets
Customer Experience is now global; however, different countries and companies are at different stages of maturity. When I wrote my first book and started Beyond Philosophy in 2002 we were the world's first dedicated consultancy focussed on operationalizing the Customer Experience concepts. We spent most of our time in the UK and the USA. Today our clients come from around the globe. All I have to do is look at this world map. This is from LinkedIN and shows where people are reading my LinkedIN profile from. This is representative of what we are seeing globally where the darker the colour, the more mature that country is on Customer Experience.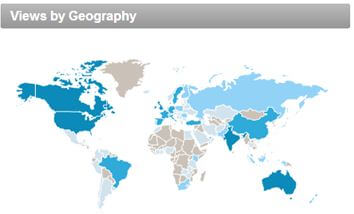 Research we conducted in 2011 showed there are 3 levels of maturity, as outlined in the table below. My simple prediction is that the Customer Experience movement will continue to spread globally and the less mature markets will start to catch up with the developed markets over the next few years.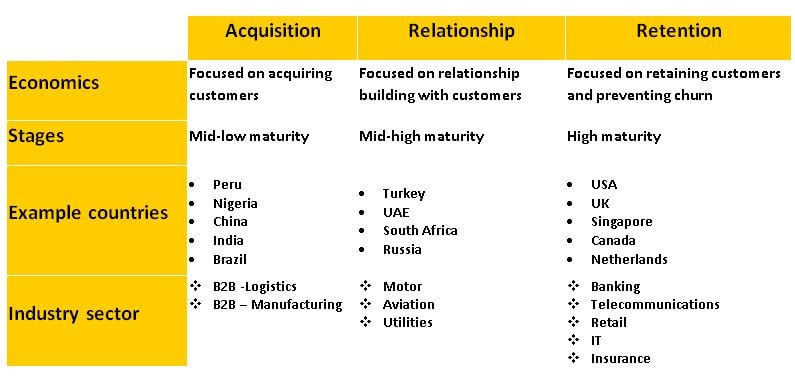 3. Top of the bell curve in mature markets?
We are reaching the stage where the Customer Experience movement has reached the top of the bell curve for mature markets (see table). Whether it embeds itself as an everyday management practice is still unfortunately questionable. Like CRM, TQM, Business process reengineering before it could disappear into oblivion. I hope not for the Customer's sake. I raised this issue in a controversial blog, 'The seven reasons Customer Experience is in danger of dying' , a few months ago. One of the seven reasons it is in danger of dying is because it is not fully understood, people are just jumping on the band wagon and therefore they are not truly addressing the issues that would improve their Customer Experience. They do not, then, see the returns they expect and the Customer Experience as a concept or a 'movement' is discredited.
4. Emotions in the Customer Experience.
For those organizations that have tried and succeeded with a Customer Experience implementation the question is – what next? Most Customer Experience initiatives are focussed on the basics and the rational experience; price, place, product, promotion and fixing what is wrong, etc. These have 'got' the Customer Experience movement so far but now many company scores are plateauing. To further progress there is a growing realisation that a Customer Experience is not just about rational aspects it is about emotions as well, even in business to business. Over 50% of a Customer Experience is about emotions. In 2013 more organizations will realise this and start to focus not just on a rational experience but on the emotional experience too.
5. A shortage of Customer Experience Professionals
As more and more companies focus on the Customer Experience the demand for good Customer Experience people will continue to grow. As the subject is comparatively new there are few people with track records. Therefore, training of individuals to 'home grow' Customer Experience professionals becomes key. We are seeing a big demand for our live web based certification which we see is a direct reflection of this problem.
6. Integration is the key…
When I am speaking at conferences I often ask the audience if they think business will become more or less complex in 5 years time. The reply is obvious. It will become more complex. We live in an ever increasingly complex world with technology providing many more channels for customers than ever before. Mobility is having a massive effect on the Customer Experience. It is making the world easier for Customers and more complex for companies. As Customer Experience maturity increases the realisation of how poor their multichannel experience is will drive companies into integration. As part of this, social media will continue with its inexorable rise as more and more people realise that it's not going away and is just another channel.
7. Predictive modelling – the return of CRM
As companies start to look into 'big data' and start to gain more and more information on their Customers the clever ones will start to use this data to understand Customer habits and buying patterns. I am amazed by how many companies that do not already do this.
I wish you well for 2013.