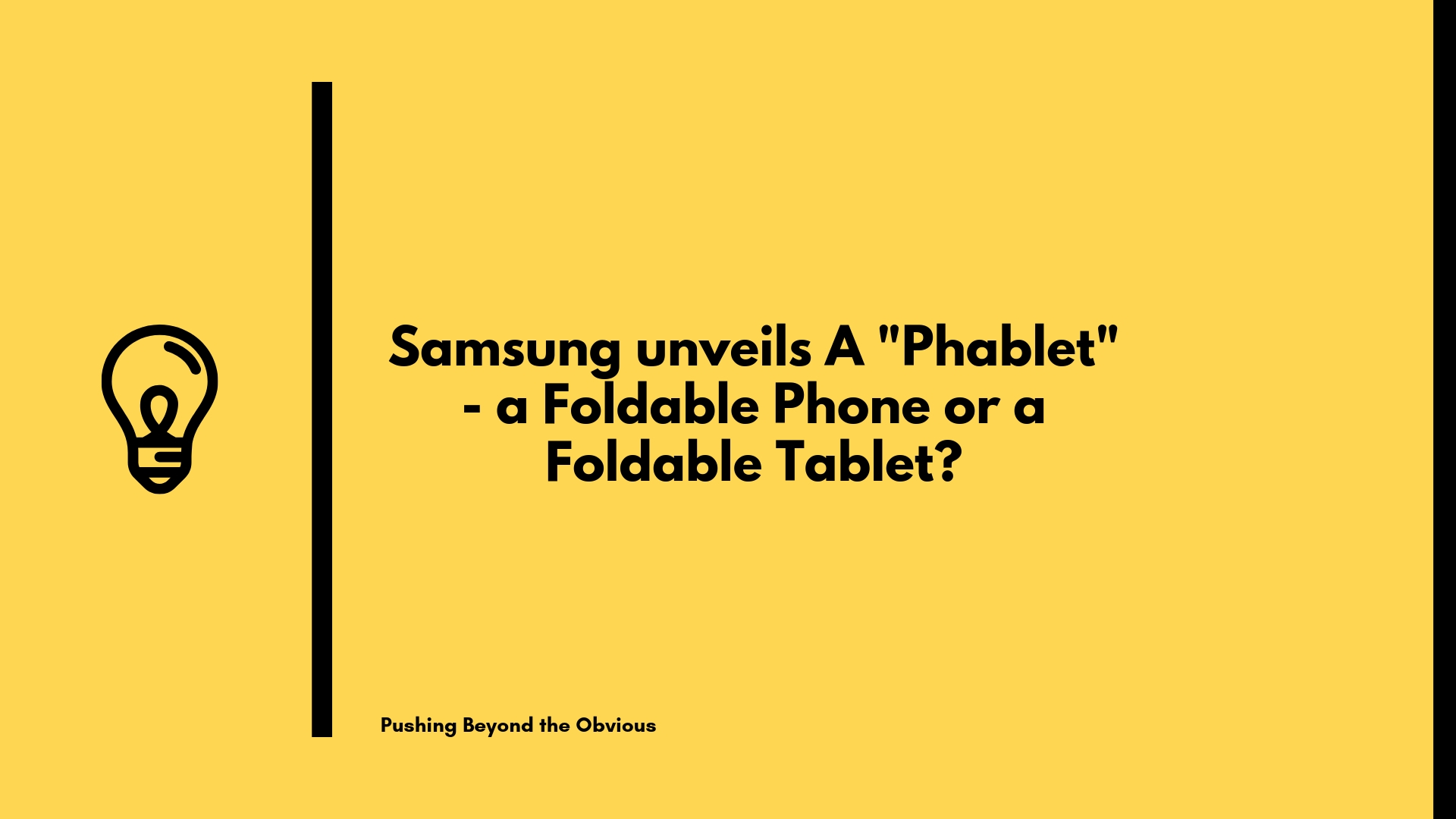 In their developer conference, Samsung revealed (partially) a working prototype of a tablet that can be folded into a phone.
Tablet or a phone – A matter of framing:
While everyone around the world is calling it a "foldable phone", I would like to think of it as a foldable tablet, that when folded becomes a phone. This framing is important in my opinion because, based on what I saw (in the unveiling videos) I believe that most of the use of the device will be in the tablet form rather than the phone form. Hence, I think of it as a foldable tablet, rather than a foldable phone.
This framing impacts on the way the device is perceived and thereby impact the market opportunity. Mobile phones is a much bigger market than the tablet market. No wonder Samsung wants to frame this as a foldable phone so that they can tap into a much bigger market than to limit themselves to a smaller market.
That is the power of framing. And we do this all the time. With things all around us. We use framing to make sense of the world. Unfortunately, most of the times we use frames that are created by others for their own benefits rather than define our own frames.
Phone or a tablet? The framing matters more than we care to admit.
Let's have a look at things in our lives and all the frames that we use to judge ourselves and others. If you are an artist or a wannabe entrepreneur stuck in a corporate job, the frame we are using here is "Stuck in". What happens if we change the frame to "Learning how to beat corporates in their own game"?
Everything that happens around us is still the same. But the lens or the frame through which we look at it very different. Now we are looking to at the same things but learning on how corporates work and what are their limitations, so that we can devise ways to use those limitations to beat them.
Framing Relationships:
Another key thing here that we can learn about framing is how we frame relationships? For example, in this case,
does Samsung see the App developer ecosystem as their customers (as they create the apps that make their phones interesting and drive end-user demand) to sell to?
Do they see them as partners to work with and invest together in an ecosystem that will drive adoption of their technology within the end-user market?
Do they see themselves as the principals and the app developer ecosystem as somewhat of a necessary evil to continue to work with?
Based on their frame, their overall engagement with the app developer ecosystem will change. Every decision (from when do the developers get access to the tools to develop for Samsung phones, to how easy these tools are to use and develop new apps to how much will Samsung teams invest in training and investing in the app developer ecosystem) that Samsung will make, every trade-off that they will be forced to make will depend on what frame are they looking at this relationship with the developer ecosystem.
This concept of framing is as applicable in our personal life as much as it is applicable in our business lives.
In conclusion:
I would like to share the story of a wise old man.
The old man was a farmer and was working in the fields all day long. He was tired and sweaty and his clothes and shoes were covered with mud and stains. He was hungry as he had not eaten all day. After finishing his work for the day, he started walking back to his home. On his way back, he saw that one of the wealthiest man in town had organised a feast and announced that everyone is welcome to the feast.

As he was hungry, and the house of this wealthy merchant was on his way back home, he decided to walk in straight and enjoy the feast before he went home, clean-up and come back.

When he walked in, the wealthy man looked the dirty and rugged look of the old man and scorned at it. But as the feast was open to all, he allowed the old man to walk in and without a word of welcome, he gestured the old man in and walked away. The old man then walked in to find a seat at a table but people looking at his looks, not allow him to sit beside them. When he tried to collect the food, he was blocked away as well.

All of this angered him. But given that he was a wise old man, he decided that all of them needed to be taught an important lesson. So, he went back to his home, cleaned up, wore his best clothes and looked in the mirror. He now looked like a wealthy old man.

He then went back to the feast of the wealthy man. This time, he was welcomed personally by the host and people on every table invited him to join them on their table. He picked a table and sat down. Waiters began to serve him all sorts of delicacies. He politely thanked the waiters and started to eat.

However, instead of eating the food himself, he started to feed the food to his dress. He would take some dates and cajole his coat to eat the dates and enjoy them.

Everyone around him were now surprised and confused. He continued to do the same with other delicacies as well. The host seeing the commotion walked in and saw what was happening and was confused and angry at the same time.

He asked the old man what was he doing and why was he trying to feed his dress.

The old wise man then answered – "I was here a bit earlier but came directly from working the fields. So my clothes were a bit dirty and I was a bit rugged. No one cared for me then. So, I went back home, cleaned up, wore expensive clothes and came back to the feast and now everyone is welcoming and I am being served all the different kinds of delicacies. This made me realise that the food and the hospitality that I have been getting now is not for me but for the dress that I am wearing.

Hence, I believe that it is fair that my dress gets to enjoy the delicacies rather than me enjoying them. That is why dear host, I am feeding my dress".
It was the same man both the times, however the frame that the wealthy host and other guests used to look at the old man was different when he was looking dirty to when he was looking clean and wearing expensive clothes. Just this change in frame of reference caused such a significant change in behaviour.
We have the ability to look at our frames and change them when an existing frame (usually defined by someone else around us) doesn't suit us anymore.
BTW, since this rant started with the announcement made by Samsung, it is fitting that you get to know about all the announcement that Samsung made at the conference. You can do that by watching this short Engadget video here.