Millennials, also known as Generation Y, are a big deal, and I'm not just saying that because I'm one of them. 
We're a generation unlike any other. Being born in the early 80's to late 90's (between 1981 and 1997, according to Pew Research Center), we're a generation that was shaped by the internet, and this has turned us into one of the most demanding, informed and technology-literate generations.
We're currently a generation on the precipice of really mattering, in economic terms. Millennials are already one of the largest generations in history, and we're about to move into our prime spending years.
Why does this matter? The most obvious reason is that we will have the deepest pockets. By 2020, according to Accenture, millennial spending in the United States will grow to $1.4 trillion annually, and represent 30 percent of total retail sales. So for companies to cash in, they will need to successfully understand and engage with millennial consumers.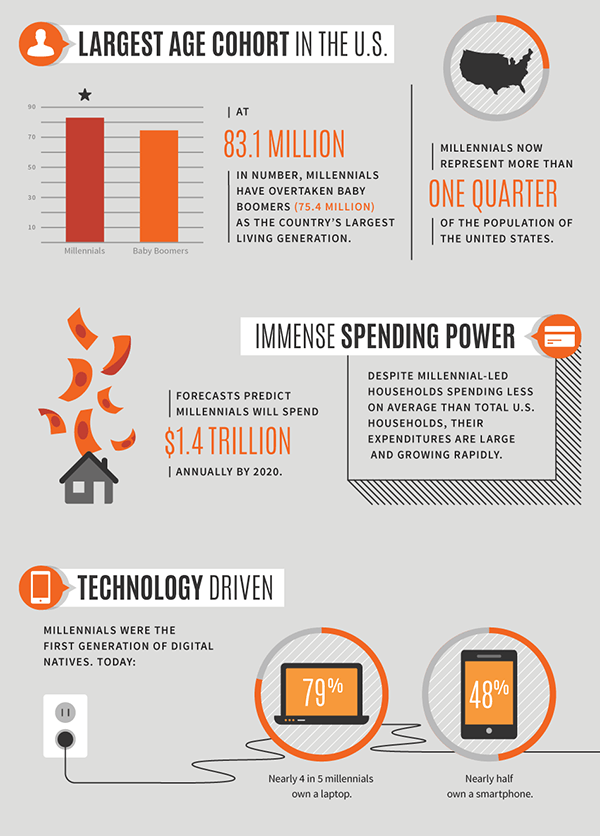 Download the full infographic here.
The snapshot above not only demonstrates just how powerful the millennial generation is, but it also shows how different millennials are from their parents and grandparents, thanks in part to technology being a staple fixture for most of us.
But what makes us so different from the baby boomers and the generation Xers? What do marketers need to know about millennials to be able to resonate and connect with them?
Millennials are loyal to their brands
Saying millennials are loyal might seem counter-intuitive as we live for finding a better deal and switching from site to site to get $20 off our flight to New York. 
Faced with more market choice than any previous generation, one would think that millennials like to hop around from one brand to the next, seeking new products, services, experiences and better deals.
However, per an article from Inc., this isn't necessarily the case. Inc looked at research from Elite Daily and CrowdTwist, which showed that 50.5 percent of Gen Y members are quite loyal or extremely loyal to the brands they love most.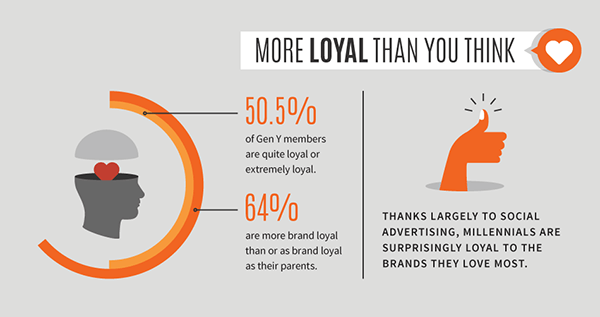 Download the full infographic here.
I think this is the key. Millennials stick with brands they love and have an affinity with. Although it also depends a lot on the industry. For example, research by Adroit Digital showed that millennials are very loyal to their mobile phone providers (59 percent), while we are less loyal to hotels and airlines (16 percent).  
So yes, millennials can be extremely loyal to brands, but we can also be fickle. This puts pressure on marketers to develop phenomenal experiences that keep millennials coming back. One of the most effective ways to ensure millennials keep coming back to your brand is through measuring the experience. By understanding the needs, wants and intentions of millennials, you can better understand what elements of the customer experience drives and increases their loyalty.
Millennials prefer experiences over stuff
Millennials crave experiences. Using my Facebook feed as anecdotal research, it seems everyone is travelling to some new faraway place, going to some concert or eating at the newest hipster restaurant. Millennials are constantly chasing the thrill of a new and unique experience.
This is also supported by quantitative research by EventBrite, which found that 82 percent of millennials attended or participated in a variety of live experiences in the past year. The report went on to say that: 
"For this group [Millennials], happiness isn't as focused on possessions or career status. Living a meaningful, happy life is about creating, sharing and capturing memories earned through experiences that span the spectrum of life's opportunities." 
With this in mind, many brands are shifting to providing consumers with experiences. One great example is MasterCard with their priceless possibilities campaign. This campaign gave MasterCard customers access to special opportunities not available to the general public, such as tours of the Catacombs in Paris. Also MasterCard is surprising cardholders with priceless surprises such as having a beer and nachos with Justin Timberlake. The success of this campaign was overwhelming for MasterCard. They reported the highest levels of engagement in the company's history with stratospheric NPS scores that outperformed the competition.
Another example, and probably the most well-known, is Red Bull. They have been promoting extreme sports and events for years such as the Red Bull Stratos event, a record-breaking free fall jump from the edge of space. The Red Bull Stratos event was one of those momentous events that captured the world's attention, and it also increased sales. According to an AdAge article and research from IRI, in the six months immediately following Stratos, sales rose 7% to $1.6 billion in the U.S. 
As brands like Red Bull and MasterCard move towards creating experience-driven campaigns, it is essential to evaluate the performance of these campaigns and their ability to drive future sales. By measuring how these types of campaigns attract a specific target audience (millennials, for example), develop purchase intent, and build the right brand perception, marketers can optimize their campaigns to maximize their investment.
Millennials are all about the sharing economy
Millennials are not only turning to experiences as opposed to material stuff, but they have also shunned purchasing items that have traditionally been seen as a rite of passage for previous generations, such as purchasing a car or a house. A recent article by Entrepreneur put this down to the uncertain economic times that millennials were born into, with many millennials coming out of college into a recession.
"An uneasy economy has made millennials cautious to spend money and accumulate more debt, but it has also brought forth new spending and consumption behaviors…Sharing and being frugal are now perceived as cool and clever as ownership is not a necessity anymore; for this generation ownership can instead be an obstacle in care and maintenance."
It's not just homes: millennials have been reluctant to buy items such as music and luxury goods. Instead, they're turning to a new set of services that provide access to products without the burdens of ownership. 
A clear example of this is the exponential rise in streaming services from Netflix to Spotify.  According to Mashable, 70 percent of millennial respondents use a streaming service, while only 64 percent have a cable subscription.
This means that marketers, especially in traditional industries like Automotive and Telecommunications will need to change the way they offer their services in order to engage the millennial generation. Not surprisingly many already have started to do this. One big example is the recent Netflix and Comcast collaboration where Comcast subscribers will be able to access Netflix on its X1 platform.
With a shift towards providing accessible content rather than accumulating content, service-based providers will also need to pivot to better understand how to build and engage audiences. This includes understanding what content best drives visit frequency and why. By collecting customer feedback, brands can better understand what millennials want out of the sharing economy.   
Millennials use multiple channels to buy
A key component of any millennial's life is their phone, especially when it comes to shopping. Just the other day, I was buying a new bike and the shop assistant showed me a couple of different models and there was one bike in particular he was pushing quite hard. My first reaction was to take out my phone and check the reviews and prices online.
Download the full infographic here.
According to Aimia, I'm not alone in checking my phone while in a store, with over half of all millennials (57 percent) using their mobile devices to compare prices while in-store. This is supported by iPerceptions research that found a majority of open-ended feedback left by millennials being centered around wanting more information, more choices and better prices. 
Therefore, brands need to facilitate seamless experiences that span the digital and physical realms, and provide personalized support each step of the way. Companies that fully adopt this customer-centric mindset will be the ones to deliver the best possible experiences.
As Geoff Smith wrote in his article for Inc.com, Millennials Are the Most Brand-Loyal Generation,
"Delivering authentic and quality experiences every time the customer has an interaction with your brand, no matter where the encounter happens. Whether it's in-store, online, or on the phone with customer service, proving that customers are at the heart of everything the company does will keep them coming back for more."
This echoes the importance of creating consistent and continuous experiences. Millennial consumers want experiences that are seamless across touchpoints, and follow them across these touchpoints. To create this experience for millennials, brands first need to start understanding how the online and offline worlds interact and influence each other. By collecting feedback on different channels, from in-app to in-store, companies can better understand the consumer cross-channel experience and start to remove major friction points that are hindering a consistent and seamless experience.
Millennials don't have usability issues but still have other issues with your website
Millennials grew up with the internet and we understand how it works. We spent countless hours on social media sites in-between researching for school and college assignments online.
That's why it is probably not a surprise that iPerceptions found that millennials typically don't have the same usability issues that plague older generations. According to iPerceptions data, on average, millennials tend to have a higher overall satisfaction with a website when they're unable to complete their task, in comparison to older generations.
Download the full infographic here.
This means that with usability being less of an issue for millennials, it becomes imperative to address the main reasons for why they are unable to complete their tasks. According to iPerceptions research, the main reasons millennials don't complete their tasks is focused on wanting more information, more choices and better prices. With millennials being experts at searching and leveraging the internet to get the best deal possible, it is up to marketers to create website experiences that include rich, detailed information and the best price.
Millennials are fast becoming the most important generation. To make sure you don't fall behind and tap into this emerging market, it is crucial to focus on the intentions, needs and wants of millennials. Only by understanding their key drivers and adapting to meet their needs will be you be able to grab a bigger share of their burgeoning wallets.
Looking to better understand millennials and the impact they have on your business, talk to an iPerceptions expert today. 
Image source: Kevin Moon