What does the content of your marketing communications say about how much your company values its current customers? Interactions with existing customers tend to fall into one of the following categories: a bill, an up-sell offer, a cross-sell attempt, or a renewal offer. There may be some customer value in these actions, but they tend to benefit the company more than the customer.
In fact, customers who answered a survey on their feelings about regular company communications expressed frustration with what they do receive. Nearly 54 percent of existing customers stated that if companies kept sending what they, the customers, perceived as spam and irrelevant messages, they would disconnect from those communications altogether (CMO Council, "The Leaders in Loyalty: Feeling the Love from the Loyalty Clubs," January 25, 2010, www.cmocouncil.org).
Tips for Valuing Customers
Making customers feel valued goes a long way toward strengthening your organization's customer base. The following are some tips for organizations that want to grow their business by capturing, then rewarding, their current customers:
Understand who your best customers are and what they need. Make sure every company contact, including marketing and advertising, expands the relationship with these "bread-and-butter" customers.
Explore what you can do to make it easier for your best customers to do business with you.
Take what you learn from your best customers and apply it to your other existing customers, and even to your prospects. You may find that some of them "grow up" to be your new best customers.
Consider how existing customers view introductory offers to new customers. Enlist their help by offering them something in return for bringing you new customers.
At the end of the day, it's all about people. Customers are no different from anyone else; they want to be noticed and treated with respect. If I am your customer, I want you to show me that you have learned something, anything, from my past interactions with you. And if you do know something about me, use it appropriately to make it more convenient for me to buy from you. Make me feel that I matter to you (if I do). If I don't matter to you, don't try and make it look as if I do; the insincerity will be obvious. Send me personal communications that I would want to receive; by doing so, you will most likely stand out from your competitors.
This kind of thinking helps feed a strong customer strategy, which will extend relationships to the point at which customers become advocates for your company and its products or services. If you are involved in your customer community and are using their lingo and way of thinking, finding and empowering customer advocates will be a natural outcome of the way you do business.
Marriott Rewards Its Customers
Marriott International is a leading hotel company with more than 3,500 lodging properties located in 70 countries; under its umbrella are such brands as Marriott Hotels & Resorts and The Ritz-Carlton Hotels. Started by J. W. Marriott, Sr., Marriott International has a long-standing tradition of "doing whatever it takes to take care of the customer." It executes this tradition through a keen focus on its employees (called "associates") by directing them to "Take care of your employees, and they'll take care of your customers." This deeply held belief, started by Mr. Marriott Sr., remains the keystone of the company's culture.
With a strong corporate culture that is committed to the care of its associates and customers, a loyalty program proved to be a good fit for Marriott. Its first frequent-guest program, started in 1983, has grown into Marriott Rewards, a program that is 35 million members strong. Customer communications occur in a variety of ways, including via direct mail, e-mail, the company Web site (these are the most popular pages on Marrriott.com), and an online community, in addition to direct customer contact at Marriott properties.
Marriott's Senior Director of Customer Relationship Marketing, Michelle Lapierre, explains that Marriott Rewards is more than just a loyalty program; it is really a way to take care of customers. Lapierre shared stories with me that showcased the variety of customer "life moments" that have come about because of the program. For example, one woman used her Rewards Points to stay near a hospital where her spouse was receiving medical treatment. A family that had lost power during a local emergency was able to use their points to stay, safe and sound, at a Marriott hotel. A frequent guest was given the surprise honor of cutting the ribbon to a new gym at the Marriott hotel where he often stayed (he had been looking forward to using the gym for months while it was under construction). According to Lapierre, these types of moments come naturally for Marriott and its guests because Marriott associates have a "heartfelt desire to make people happy."
They are also indicative of the affection between Marriott and its guests, apparent in the Marriott Rewards member online community, Marriott Insiders. The company sees its loyalty program as one giant brand advocacy group. Associates talk regularly to members about which benefits they prefer, and members readily share what would make their experience better. According to Lapierre, research shows that people have an expectation of being recognized at the places they go regularly. With so many opportunities for Marriott to interact with its customers around the world, the company uses its robust Customer Relationship Management (CRM) system to deliver relevant information on its members to those touch points, in order to help carry on a more personal conversation.
For example, Platinum members receive a gift when they check in to a Marriott property. And in order to generate better interaction and provide a more human touch, a card is presented to those members when they arrive at reception, asking them to check-off what they prefer as their gift. Platinum members have shared that Marriott, by recognizing them and their status, makes them feel special. Another meaningful, human interaction has taken place, adding an additional positive element to the Marriott Rewards customer experience and furthering the customer relationship between company and members.
(Information taken from a personal interview with Michelle Lapierre on December 10, 2010.)
---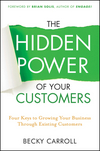 Excerpted with permission of the publisher John Wiley & Sons, Inc., www.wiley.com, from The Hidden Power of Your Customers: Four Keys to Growing Your Business Through Existing Customers by Becky Carroll (c) 2011 by Rebecca Carroll.