The best way for a call center to stand out as a leader is through the customer experience. It's no surprise that an exceptional experience leads to more satisfied consumers, who will continue to spend money. Most callers will start to rate their level of satisfaction at the beginning of the interaction, regardless of the channel – phone, web or mobile app.
Multi-channel customer service isn't just about having multiple support options; it's about delivering exceptional service on a channel that YOUR customers find most convenient.
Aberdeen cited that the biggest driver of multi-channel support is to provide a service where customers are most active (Figure 1). In addition, organizations must provide a consistent experience regardless of the channel most preferred.
Figure 1: Multi-Channel Drivers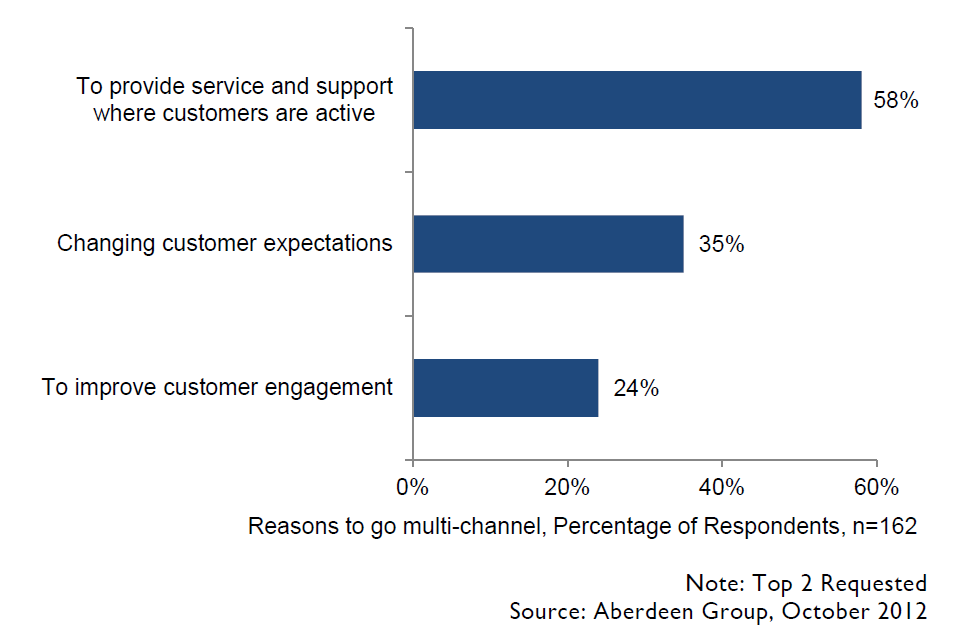 Although multi-channel support is more in demand today than ever before, the most popular channel for service interaction continues to be voice support. Similarly, approximately 35% of all non-voice channel inquiries eventually escalate to voice. The opposite occurs when phone service is not up to par, as customers resort to social channels to publicly complain.
Today, a poor customer experience doesn't stop on the phone; they will candidly share this information with the rest of the world using numerous social media outlets – impacting brand image and perception. Here's an example of hold time frustration being shared on Twitter.
How long are your customers waiting in queue before their questions are addressed? Fact is, the longer they wait, the lower their tolerance level gets – the more frustrated they become. I referenced onholdwith.com to further investigate hold times. This data shows the worst offenders in hold time during the month of January 2013. Rogers, Comcast and AT&T all had a significant amount of tweets from callers complaining about being on hold.
One AT&T customer actually waited for over an hour – a perfect example of appalling phone support. An article was recently published which stated; the average person spends 43 days of their life on hold! While that stat is outrageous, it's definitely not surprising. This is exactly why consumers hate having to phone a call center. Just visit onholdwith.com to see for yourself – real time tweets from all sorts of people killing time waiting on hold.

How to Eliminate Hold Time on Three Highly Preferred Channels
To remove hold time, most call centers consider offering better self-service options or attempt to reduce handle time. Let's think outside the box – why not take a "customer convenience" approach to the issues at hand.
Phone – The phone is still the most preferred channel. Consumers would like their issue resolved quickly and efficiently. Organizations should offer a call-back option instead of forcing callers to wait on hold. Fonolo offers In-Call Rescue, a feature that empowers your customers to press 1 and request a scheduled call-back from the next available agent – problem solved.
Website – What happens when customers want to contact you through your website? Most sites only list a phone number and an email address – not the most convenient method for your customer. Why not offer the same scheduled call-back experience through your website? It's an easy solution to implement and one that would leave a positive impression on your visitors.
Mobile – Total mobile app downloads increased by 171%, from 6.1 to 16.5 billion between 2010 and 2011. When customers tap on your 'Contact Us' page within your mobile app, what do they see? A phone number? Epic fail! As painful as it is to listen to a Brittney Spears song, your consumers are gritting their teeth when forced to make a phone call from your mobile app. Don't just send customers to your IVR, let them enter their number and request a call-back from the next available agent. Offering a click-to-call option puts you in super star status amongst your clients. They are already using the technology (hence why you created the app) and if you can't keep up with what your customers are doing they will go elsewhere.
The call-back approach allows you to better service your clients on their preferred channel, all while providing the same caller experience regardless of how they choose to contact you. What better way to differentiate your services and provide the ultimate call center experience.
About onholdwith.com
This site provides consumers with a platform to post and discuss their aggravations. It catalogs and publishes tweets from people waiting on hold and alerts the offending company – ultimately giving consumers a voice. We're hoping the pressure will motivate companies to take necessary steps that will improve the call center experience.
Top 10 Call Center Trends 2013: DOWNLOAD THE FREE 6 PAGE REPORT!