Last week I attended eCOMMTL, a jam-packed one-day event dedicated to helping educate and advance the digital economy. This was eCOMMTL's 6th year, with over 600 e-commerce and digital professionals sharing and discussing everything digital. 
With everything squeezed into one day, there was a lot to get through and a wide variety of topics covered, with speakers ranging from celebrity chef Ricardo Larrivée, to fireside chats with the likes of Grégoire Baret, Aldo's Director of the Omni-Channel. 
Here's a roundup of some of the highlights from this year's eCOMMTL.
Living in a multi-channel world
One of the standout themes this year was the multi-channel nature of today's world, and how consumers experience brands through different devices and channels. This theme was first explored by celebrity chef Ricardo Larrivée, who is the Chairman and Chief Executive of Ricardo Media.  He discussed how Ricardo Media has gone through significant of expansion from his well-known TV shows and magazine to opening their first brick-and-mortar store. But at the center of his success was understanding the real needs of consumers and always asking the question "Does it simplify people's lives?"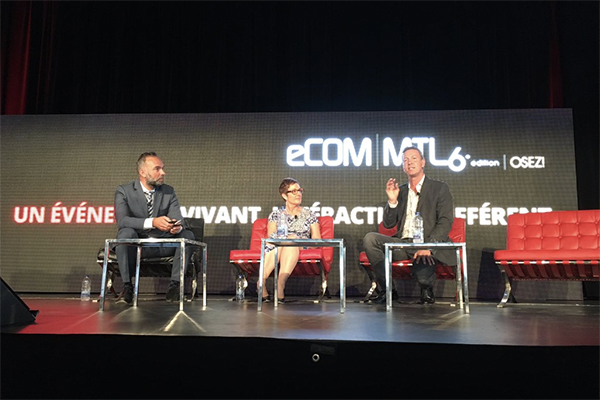 Image source: @ecom_montreal
Following Ricardo on the stage was Catherine Dagenais, VP of Customer Experience of SAQ, the government agency responsible for selling alcohol in Quebec. Catherine discussed how the in-store experience is still the most important channel for the SAQ, but with 77 percent of customers owning a mobile device it is essential for them to merge both the offline and online worlds. For the SAQ, the digital world offers huge opportunities to improve the customer experience, and the SAQ is already starting to bridge the gap with its mobile app.
Becoming more customer-centric and purposeful
After lunch, the conference turned to the role that companies play in doing social good, and how digital channels can be a powerful way to spread this message. Emma Eriksson, Marketing Director at General Mills explored how they used Honey Nut Cheerios to better educate people about the dramatic decrease in the worldwide bee population. Using social media to share awareness videos and taking the beloved brand mascot Buzz off the box, Cheerios was able to raise significant awareness about this issue.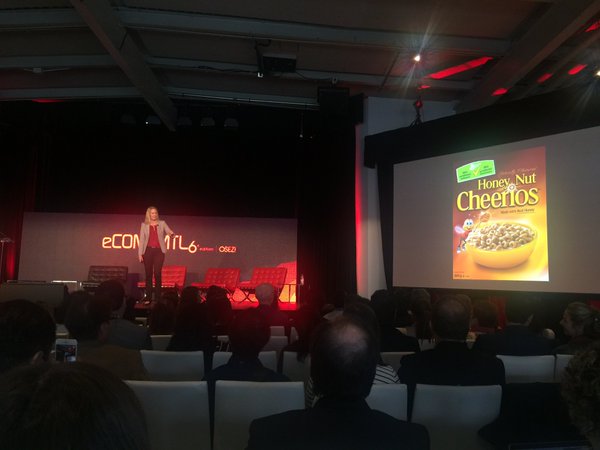 Image source: @jmdemers
Obviously, it is great when companies can do social good, but many executives will probably question what impact it has on the bottom line. This was the main discussion point for the preceding panel session with Isabelle Doucet, President of Mcouture, and Patrick Gagné, Vice President of Téo Taxi. During the panel session, it was discussed how success for a social awareness campaign like the one for Honey Nut Cheerios can be measured. Revenue was an obvious metric, but equally important was customer feedback. Isabelle said that to find out whether a purpose is resonating with your customers, you have to ask them. Patrick Gagné also agreed, saying that measuring the experience using metrics like NPS and customer satisfaction is imperative.
Reinventing the experience
McDonald's is one of the biggest brands in the world. Not surprisingly, someone tweets out to McDonald's every 7 seconds. With a huge amount of digital interactions with the brand, McDonald's is having to come up with different ways to engage with their customers and provide an experience that consumers want and expect. In the afternoon, Lara Skripitsky, Head of Digital at McDonald's Canada walked through some of the social media campaigns with which McDonald's has been engaged over the last few months.
One of the most impressive campaigns was the 'all day breakfast' campaign where McDonald's replied to thousands of tweets sent over the years about why McDonalds doesn't have all day breakfast. McDonald's replied to users with custom content telling them that all day breakfast is now available, creating immense buzz and traffic to their locations. Lara also discussed the ways McDonald's is completely reinventing their experience to become a restaurant of the future, such as customers now being able to create their own burger using touch screens in-store, while also shaking up the traditional McDonald's experience with servers bringing their meal to them to engage with a new generation of customers.
Improving the customer experience
A final touch to this year's eCOMMTL was the first ever shopping mall in an event, where different solutions demonstrated how they work with some of the biggest Canadian brands. iPerceptions had the opportunity to demonstrate how it is starting to work with Loto-Québec and Sail to improve the customer experience, from optimizing retargeting efforts to measuring the offline and online experience.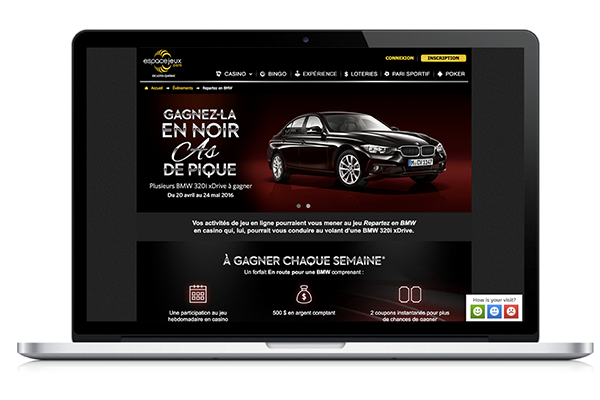 eCOMMTL was an exciting event of learning, networking and knowledge sharing. To find out more about the conversations that took place at eCOMMTL, check out #eCOMMTL on Twitter. 
Image source: @Arnaud_Molle