For sure, there's a lot of Goodness in social media—in our personal lives and business. But also a lot of issues to be worked out. That's why two years ago I established a Social Business category on CustomerThink, and last year launched SocialBusinessOne, a community dedicated to the topic.
One of the downsides of social media is that it can accelerate getting locked into a point of view. This is counter intuitive, because you might expect that social media would make it easier to get multiple points of view. It can, but it depends on the group dynamics and the willingness of each of us as individuals to consider alternate ideas.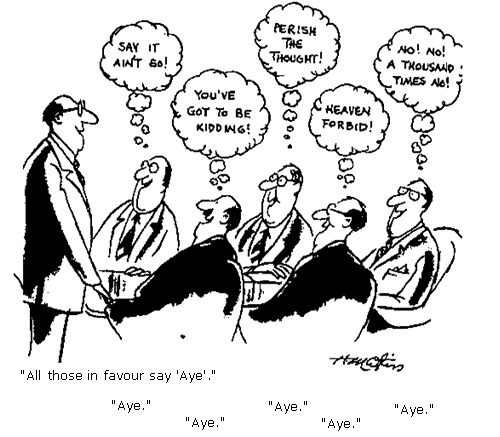 Image Credit: philipcarter
These days it's all too easy to find and join a group that supports a certain mindset. If critical thinking is not encouraged, then it's not surprising to find a social network of your colleagues can becomes a sort of echo chamber fostering "groupthink," a term coined by Yale psychologist Irving Janis nearly 40 years ago.
Groupthink means members of a group try to avoid conflict and reach consensus without critical analysis. It's like everyone becomes a cheerleader for a POV. If someone in the group has doubts, they keep it to themselves to avoid criticism or risk exclusion from the group.
This is fine if your group is cheering for a sports team or maybe a political party. But groupthink can have nasty consequences, like the Challenger disaster and Bay of Pigs fiasco. Some think the recent financial meltdown is an example of groupthink, because in retrospect, how could so many smart people believe that repackaging bad mortgages would make them good investments? (Then again, maybe it was just greed.)
Trends in social thinking
For the past 2-3 years there has been a groundswell of commentary about Enterprise 2.0, Social CRM and Social Business. In each case, proponents say that it will change business as we know it, and the discussion is much along the lines of a group of teenagers arguing about "just how hot do we look today?" Not exactly critical analysis, which is one of the warning signs of groupthink.
So I thought it would interesting to see how the volume and sentiment of these terms has changed over the past couple of years. Thanks to Infegy for providing these charts using its Social Radar service, which mines content from 40+ million sources, including blogs and social networks like Twitter.
First let's look at the overall trends of how often these terms are mentioned. I was surprised to find that Enterprise 2.0 has a longer history than the Social CRM. See, we're learning something already! I've been locked into my own customer-centered world for the past 10 years, but I largely ignored a major trend to use social computing within the enterprise.


Source: Social Radar (Note: data for March 2011 is for half of month.)
But it's also interesting to see the declining volume of Enterprise 2.0 conversations, while Social CRM is flat and Social Business is clearly on the rise. Skeptical? Then consider another source which shows the same thing: Google Trends.
I must confess I'm happy to see this, because I've always believed that the endgame for social media in business must include both employees and customers as part of an integrated strategy. Maybe it's starting to happen, or it could just be a sign that the Enterprise 2.0 fan club is abandoning ship to hype Social Business instead.
Dr. Phil on social media
In any case, these trends don't answer the question about how people feel about these terms. In the following charts you can see positive and negative sentiment on all three terms, for both the web at large and Twitter (on commonly used hashtags). Only posts that have some kind of sentiment (positive, negative, or mixed) are included in the analysis.


Source: Social Radar
In all three cases, the positive sentiment runs 80-85% and the negative around 15%. All three terms are fostering happy talk on the web and in social networks, with relatively rare negative commentary.
Reward thought diversity, not conformity
Of course, maybe it's the case that social media only has upside. There's no downside, only naysayers who don't "get it." Then again, if you're interested in becoming a true Social Business success story and would like to avoid repeating the sins of CRM, make sure you include critical thinkers in your project teams.
Irving Janis recommends these steps as an antidote to groupthink:
Leaders should assign each member the role of "critical evaluator". This allows each member to freely air objections and doubts.
Higher-ups should not express an opinion when assigning a task to a group.
The organization should set up several independent groups, working on the same problem.
All effective alternatives should be examined.
Each member should discuss the group's ideas with trusted people outside of the group.
The group should invite outside experts into meetings. Group members should be allowed to discuss with and question the outside experts.
At least one group member should be assigned the role of Devil's advocate. This should be a different person for each meeting.
Critical thinking is more likely to happen within organizations with the right group leadership. On the web, because of vested interests and social pressures to go along, you'll continue to read mostly positive commentary of the wonders of social media. But commentary is not the "truth," it's just what people are saying. Do you understand the difference?
Further reading:
* Social CRM: Strategy, Technology or Passing Fad?
* 2011: The year when 80% of Social CRM projects will #fail …
* The Emperor's new Social CRM clothes
* Social CRM at a Crossroads: Where to Next?
* Enterprise 2.0 is beyond a crock. It's dead