*This article was originally published on the ReviewTrackers blog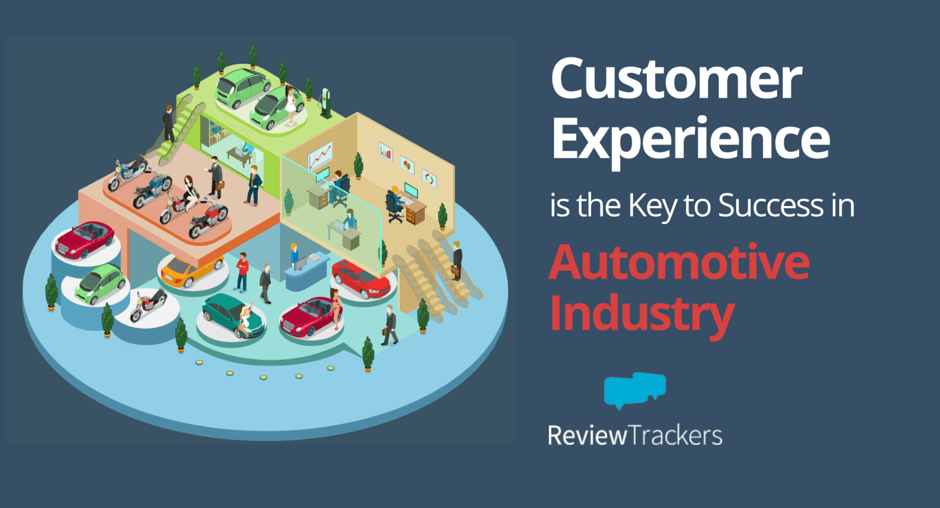 In terms of the customer experience, buying a car isn't quite the same as dining at a restaurant or checking into a hotel. You don't end up buying a car in the evening after having the thought occur to you in the morning.
This makes automotive shopping typically more daunting. To start with, a car is a big-ticket item — for most Americans, it's the second most expensive thing they will own after a house. Also, between research and negotiations, there are a hundred other things to consider: loan costs, maintenance and insurance, vehicle history reports, safety ratings, rebates and financing programs, what-have-you.
According to a

2014 study by J.D. Power

, automotive shoppers spent an average of 14 hours researching cars online — visiting dealership sites, reading reviews, making price comparisons, using online shopping tools — before making a purchase decision.

A 2013 poll commissioned by AutoTrader.com, meanwhile, found that 75 percent of the time that consumers devoted to buying a car was spent online.
They don't stop interacting on digital channels after buying a car, either; automotive shoppers are also increasingly active when it comes to leaving online reviews and feedback about their customer experience.
According

to automotive research site Cars.com, the breakdown, by type of car, for reviews and customer feedback is as follows: used-car sales at 38 percent, new-car sales at 37 percent, and service at 24 percent.

According to the

2016 J.D. Power report

, customers on average will positively recommend the dealership from whom they purchased their vehicle six times, with younger buyers being slightly more likely to recommend (6.2 times) than those older than 55 (5.2 times). These numbers can be improved when dealers offer an outstanding customer experience: getting 10 points on a 10 point scale in terms of experience can lead to a rise in the average of recommendations to eight positive comments.
Automotive sector becomes more customer-centered
In a competitive marketplace that sees shoppers using the Internet as a major research tool to guide their purchase decisions, as well as a platform for sharing customer experience and feedback, it makes sense for the automotive sector to tune in and stay engaged.
In today's information-intensive climate, automakers and dealerships must also continue to use data to better understand the needs, desires, and journeys of their customers.
Here's the good news: according to new research by Forbes Insights and SAS, automotive businesses are taking the lead in embracing data and predictive analytics to enhance the customer experience. Currently there's a strong push within organizations to:
Gather real-time insights based on customer data;

Systematically develop data and analytics capabilities to improve the customer experience;

Achieve a more complete or unified view of the customer in order to increase levels and quality of engagement;

And present enterprise information to key decision-makers in a format that's accessible and highly integrated.
Entitled "Blazing the Trail From Data to Insight to Action", the Forbes Insights report is based on a survey of over 100 executives of large global organizations. Here are some key findings:
Automotive (66 percent), along with manufacturing and industrial, is the leading industry group in terms of "providing a superior customer experience through a well-developed and designed enterprise data analytics effort." (It even ranks ahead of the tech industry and retail.)

63 percent of respondents said that data analytics allow them to more accurately predict customer needs and desires. 60 percent, meanwhile, turn to data in order to improve customer service, and 55 percent do so to gather greater feedback essential to product and service innovation.

Automotive execs agree that other top benefits of data analytics include seeing managers and employees become more confident about their decisions (50 percent) and enjoying greater collaboration between departments (47 percent).

The top five data sources being used by companies to better understand and manage the customer experience are: 1) customer databases, 2) digital channels (website, mobile, apps, review sites, etc.), 3) customer relationship management (CRM) systems, 4) point-of-sale systems, and 5) social media sites.
Customer experience is the key to creating value in automotive
While the process of enriching the customer experience through data analytics is still considered as being in the infancy stage for majority of global organizations, executives have found the results of their early initiatives to be extremely positive.
For the automotive sector, this new focus on understanding the customer signifies an important shift in perspective — from a "fascination with chrome" to a "fascination with people," as brand and growth expert Felix Stöckle described it.
It's no longer just about the product
"Until recently, if you had asked a senior manager at a car manufacturer the three most important things as far as cars were concerned, he probably would have answered: 'First, the product. Second, the product. And third, the product.' This mindset is increasingly becoming a thing of the past," Stöckle wrote in an analysis of how the automotive industry is reinventing itself.
"The automotive industry has recognized the sign of the times… trying to avoid mistakes that have been made in other sectors. (Previously), sales funnels were attempted at the outset to fuel desire through emotional advertising, and the actual sales process began in the minds of the managers when the potential buyer arrived at the dealership. Now, the auto industry has recognized that it needs to build relationships with their customers beyond the average four-year upgrade cycle to the latest model, and that they cannot leave this to the dealership. Customer experience and customer relationship management become a crucial factor in succeeding."
Key insights for automotive companies
The Forbes Insights report offers another demonstration of how data-driven customer experience management can drive success in the marketplace.
Indeed, automotive businesses — car dealerships, service companies, auto repair shops, etc. — that strategically allocate their resources to strengthen their customer experience focus stand to gain an edge over the competition.
To truly understand needs and desires, capture the voice of the customer
The worst way to learn more about the customer is to guess. In a world where so many channels have made available so much customer-generated data, your organization can't just sit around in the conference room and mull over what you think customers want. Predictive marketing isn't founded on guesswork.
So talk to your customers. More importantly, listen to them. The voice of the customer can be heard across a wide range of platforms: social media posts, online review sites, consumer surveys, phone calls and E-mails, feedback channels, etc. Staying competitive requires a genuine understanding of customer needs and desires, but you won't be able to gain that kind of understanding without first listening.
Be active in managing your online reputation
Car buyers are engaging with online content from research and planning all the way to the post-sales phase. This makes it critical for you to manage your online reputation, and to ensure that user-generated content about your company attracts — instead of drives away — potential customers.
It's not enough to track and monitor your reviews, though. Managing online reputation also requires a commitment to outstanding customer experiences and service. Making high-quality cars will always be important, but this alone won't cut it in a competitive market where customer experience is the key to creating and delivering superior value.
Expand data acquisition to gain and generate insights
Global leaders in customer experience know how to make sense of the data that's available to them. This isn't easy: according to the Forbes report, approximately 23 percent of companies still cite difficulties in understanding their data-to-insight processes.
As the data analytics landscape matures, you can't get left behind. Embrace all the ways data can enhance customer experience, and make this a part of your corporate DNA. Equipped with actionable, data-driven insights, you can more effectively create customer experiences that open the door to a powerful brand connection with automotive buyers.