Having recently downsized into a condo and given away our large backyard barbeque grill, my wife and I were in the market for a new grill. Here's how Weber and Home Depot won my business with the right product and experience.
Like most consumers these days, I started with a search on Google. Wow, "small barbeque grill" got over 4 million hits! Undaunted, I eventually checked out some of the major brands — like Char Broil and Weber — and retailers that I trusted — like Amazon.com, Home Depot, and Lowes.
In the process, I found several grills that could work, but it was hard to envision how they would fit on our small patio. So, I visited the local Home Depot to check out what they had in stock and see the dimensions.
Back online, I started narrowing down my options. Checking reviews was a key part of making a decision. It wasn't as simple as which grill got the higher rating. Besides, I know that some reviews can be bogus. What really helped was the discussion of pros and cons. One Char Broil model I liked, but the reviews about a new "infrared" heating approach got mixed reviews. Even after seeing that specific grill in the store, I couldn't quite figure out how this made grilling better, and decided to stick with a regular style.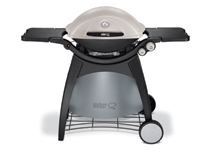 Weber kept popping up, and this is where things got interesting. I never actually saw the Weber grill I wanted in person. But the photos and info on the retailer and manufacturer web sites, along with customer comments, sold me on the Weber Q 300. Doesn't it look great!
Now, where to buy it?
The price was the same everywhere I checked. The main difference was shipping costs and/or pickup convenience. Lowes had a very expensive shipping option, Amazon and Home Depot were a bit lower. But I really didn't want to pay (or wait) for shipping when there were stores nearby.
I decided to buy it online at www.homedepot.com and pick it up at a local store. The purchasing process was easy, almost as nice as Amazon.com. I got the usual confirmation messages, along with a promise that I'd get an email and text alerts when the grill was available for pick up.
Unfortunately, I never got either alert. Checked online, found the grill was ready, and went to Home Depot to pick up. There the process was smooth — someone took my paperwork, got the grill from the back and helped me take it to my car.
Standing with this huge box at the back of my economy car, I realized it would never fit. So right there the HD guy and I unpacked the grill so I could fit the components into my car. Then, after saying he really wasn't supposed to, he took away the packing material with a smile, saving me a lot of hassle disposing of it when I got home.
After getting it home, the grill was easy to put together. Nice clear instructions, wonderful design and only a couple of expletives when I banged a finger.
The story is not quite done yet, because we haven't tried the grill yet. But I think there are some good lessons to be learned from this buying experience:
The product was most important. I picked the Weber grill because it had a unique combination of size and style that appeals to me. In other words, they totally nailed the "job to be done" for me.
Brand does matter. Whether it's entirely fair or not, I was drawn to major brands that I had used or was familiar with. It's possible I missed a better grill in the process.
Reviews influenced my decision. I didn't ask any personal friends, but the online reviews were instrumental in making my decision from a short list of possibilities.
The purchasing location was a more subtle consideration. I like Amazon.com and wouldn't give it a second thought for books and electronics. But for this purchase it just seemed to make more sense to buy from a home retailer.
Home Depot integrated clicks, bricks and people. While it wasn't flawless, the retailer did a great job overall supporting my buying process online, in the store and with their staff.
A little something extra made it memorable. The final "touchpoint" where I got some extra help with the box in the parking lot was the cherry on top.
These days there's a lot of talk about customer experience and a fair amount of hyperbole that it's the only thing that matters, because everything is a commodity. Well, if I'm buying paper towels that may be true. But in this case the product was far and away the most important factor. Weber earned my business with its innovative design.
That said, when a product is available through multiple channels, the retailer that provides the best experience will get the order. In this case, Home Depot's integration of online and offline shopping was most important to me.