strong>Click Here to Subscribe via iTunes
Click Here to Subscribe via RSS Feed (non-iTunes feed)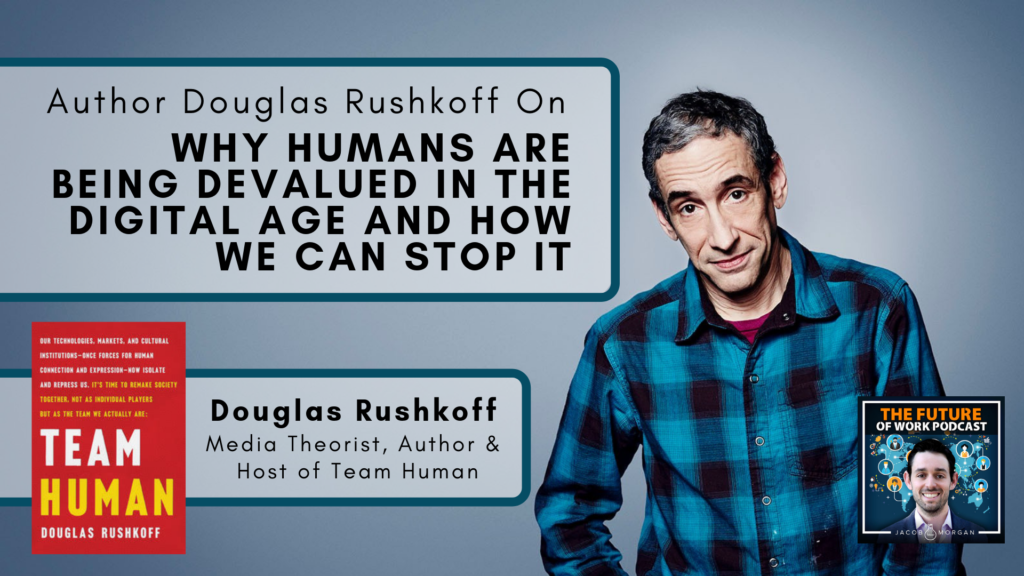 Douglas is a bestselling author of 20 books, including his most recent, Team Human. He is a research fellow of the Institute for the Future, and founder of the Laboratory for Digital Humanism at The City University of New York/Queens, where he is a Professor of Media Theory and Digital Economics.
Douglas' work explores how different technological environments change our relationship to money, power, business, and one another. He coined such concepts as "viral media," "screenagers," and "social currency," and has been a leading voice for applying digital media toward social and economic justice.
Douglas believes organizations are trying to make humans act more like algorithms when what we really need is to be more human. When asked why he wrote the book he said, "I wanted to write a book in the digital age that helped us really identify and retrieve what makes human beings special, so that we don't accept this incorrect Silicon Valley premise that human beings are the problem and technology is the solution. I don't see that at all."
Technology is not a bad thing in and of itself, the problem comes when we try to make humans operate in the same predictable, fast paced, automated way. Humans are creative, quirky, caring, imaginative, etc…and these characteristics set us apart from technology. When organizations start to see humans strictly for their utility and whether or not they are living up to certain pre-set metrics, we lose out on the benefits of what it means to be human.
So how can we start standing up for team human? Douglas says we need to start "recognizing the value of live human interaction". This starts in the classroom teaching kids how to engage with others and how to stand up and give presentations in front of everyone.
We need to take time away from our devices to connect with others in the "real world". Make eye contact, engage in face-to-face conversation, and "wherever you are find the other living people, find the other conscious humans".
Douglas says we have to understand that when we are online, "You are in a world concocted by companies that are looking to extract time, value and data from you, by any means necessary".
What You Will Learn In This Episode:
●Why Douglas wrote his book, Team Human
●Why humans are being devalued in the digital age and how to stop it
●The problem with Facebook, Twitter and Google
●How to balance what's good for business and bad for people
●Why being human is a team sport
●Douglas' thoughts on whether or not we are relying too much on technology
Contact:

Rushkoff.com/
The post Author Douglas Rushkoff On Why Humans Are Being Devalued In The Digital Age And How We Can Stop It appeared first on Jacob Morgan.