Today, consumers are more informed, more demanding and have higher expectations than ever before. As a result, many companies are feeling the heat as consumers won't put up with a poor experience and will shift their loyalty in an instant. This new reality has forced even the most entrenched businesses to start focusing on the customer and providing an exceptional experience. Brian Solis goes as far as saying that, "Experiences are more important than products now. In fact, experiences are products."
As you get ready to launch your customer experience program there are a few things you should clearly understand before you get started. Below, I outline three crucial things you should know before getting your customer experience program off the ground.
1.  Not all engagement methods are equal
A core aspect of any customer experience program is to collect the intentions, experiences and expectations of you visitors. Today there is a plethora of ways to engage visitors from tracking studies to persistent feedback buttons to social media.
But too often, similar expectations are placed on these engagement methods even though the nature of the information collected can vary enormously.  Many times the insights gathered are positioned as comparable, and businesses awkwardly apply the same analytic tools and reporting structures on information that is wholly divergent. 
Therefore, it is important, before creating your customer experience program, to understand the different types of engagement methods and which is the most appropriate for your situation and needs. 
Random Active Solicitation
Firstly, let's start with random active solicitation which collects feedback by inviting a random portion of your website visitors on arrival to the website to take a survey at the end of their visit. This provides a representative sample which creates internal alignment and helps drive strategic decisions.
Passive Persistent Approach
Alternatively, a passive persistent approach collects individual feedback where visitors can click a button to leave their feedback, and is commonly referred to as a Comment Card. iPerceptions research shows that visitors who leave feedback using a passive persistent approach are more likely to leave negative feedback.
The graphs below demonstrate this negative skew of results and relatively low participation rates using passive persistent engagement compared to active random solicitation.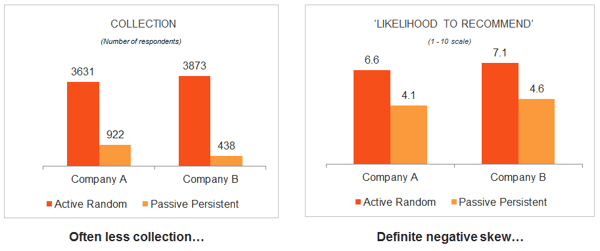 Therefore, passive persistent approaches are more of a remediation tool that can help fix broken links and give visitors an outlet to vent.
Targeted engagement
The final engagement method is targeted engagement which collects feedback by showing a survey invite to a specific audience based on behavioral criteria such as number of pages viewed or time on site. It is typically used to optimize sections of a website or a particular site feature. As an example, by triggering a survey to collect feedback from visitors who visited only the support section of your site, you can understand how effectively your online support tools are meeting visitors' needs and how you can optimize those resources.
It is important to understand that not all engagement methods are equal. The method or methods you choose to adopt as part of your customer experience program will ultimately impact the type of data you collect (Representative to individual) and how it can be used (Strategic to tactical).  
2. The most reliable feedback comes from the moment of truth
Recently, I visited my bank's website and a few days later I received an email asking for feedback about my experience. As you can imagine, my ability to remember the experience was not adequate to answer many of the questions within the survey. Questions such as how the website's navigation and content affected my ability to accomplish my tasks, were especially difficult to answer this long after the fact.
This is an example of why it is essential to engage and collect feedback about the customer experience in the moment of truth i.e. At the most critical time in their browsing/shopping experience.
If the bank had engaged me, the visitor, immediately following my experience, they would have captured insights that more accurately defined my true experience and intentions.
Therefore, it is essential that your CX program does not simply include customer feedback, but feedback captured in the moment of truth.
3. The respondent experience matters
Asking your visitors for feedback is an extension of your brand. This means it is essential to customize your research to match your brand; from survey invitation to thank you page, ensure your company is front and center.
Typically, customers are more willing to open up to people that they know and trust.  Also, this can help ensure your potential respondents know that this study is being conducted by you, and that their responses are being sent directly to your company for your review. 
Another aspect to the respondent experience is to be honest and transparent and never interrupt. That's why you should provide customers with a clear and easy way to opt out, and when they don't want to provide feedback you don't immediately ask them again. Therefore, whether customers participate or not, this approach builds integrity for the brand and tells all your customers that their opinion matters, whether or not they have the time to provide it.
As you start to lay the ground work for building your customer experience program, ensure it is not detached from your website but an extension of your brand that engages your customers in an honest and transparent way.
The customer experience is mission critical today and can't be ignored. As you start to make the first steps towards creating a customer experience program remember that not all engagement methods are created equal, capturing feedback in the moment of truth will be critical and don't ignore the respondent experience.