The customer has been king for a while, but he certainly hasn't had a castle.  To date, there hasn't been a single, unified place where a company or organization can interact with the customer, listen to his desires, and orchestrate the fulfillment of his needs.  Now, new research conducted by Leader Networks and CMX Media suggests that a customer experience revolution is underway and that the customer has been ensconced in his rightful place:  the online community.
We surveyed more than 400 marketing and community practitioners and sought to identify the business drivers for the most successful communities, what compels organizations to build them, and the key factors that help the most successful ones pull away from the pack. While we uncovered many interesting trends and indicators for community success, the most powerful outcome of this study is what communities can mean for the customer experience.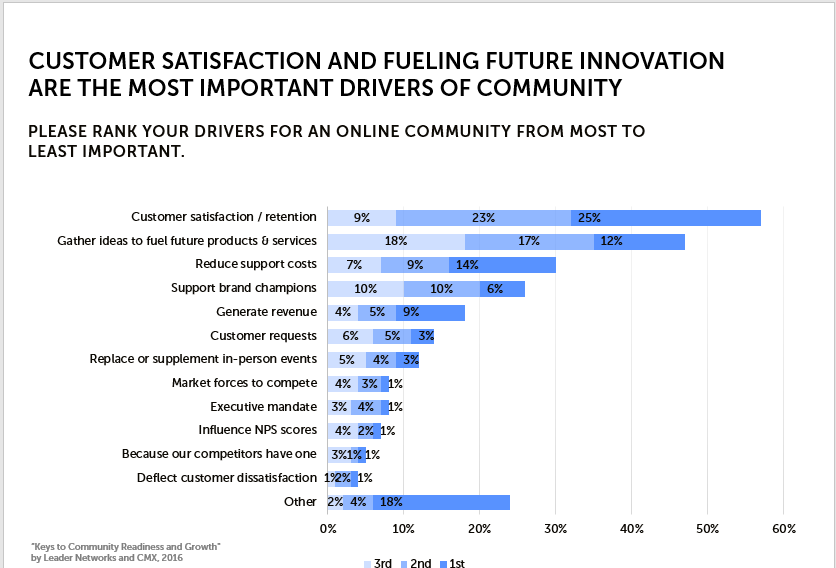 Many survey respondents who selected customer satisfaction and retention as a reason for launching an online community also identified it as the most important driver. And while reducing support costs was identified as the primary driver by a larger percentage of people, many more respondents selected gathering ideas to fuel innovation (commonly referred to as co-creation) as a leading driver.  In fact, organizations have learned that they get further, faster when they tap into the wisdom of the very people who use their products and services and enable their customers to fuel new products and services.
That's great news for customers and businesses alike.
Although it's surprising that innovation and retention were cited as the primary drivers for community launches – it's incredibly exciting news for buyers as well as sellers!
Traditionally, current and prospective customers have suffered through a fragmented journey in which they learn about and interact with an organization on multiple, disconnected levels. In the study, we learned that organizations are looking to communities to provide that single point of learning for customers.  Rather than leave customers to carve their own path to learn about an organization, tap into support and education, and access thought leadership and customer stories, organizations are beginning house them in a single destination – the community.
From the business perspective, online communities have been viewed as a cost-saving measure – a means to transition service and support into self-serve.  Survey participants, particularly those in B2B, still make the business case on cost reduction – but they are also seeing the connection among retained customers, customer satisfaction, and product and service enhancement requests.  What's more, they're realizing that while you can only reduce costs to a certain degree, you can use communities to fuel innovation that drives new revenue.
But keep this is mind:  organizations that are getting the biggest bang from their online communities have ensured that they are coupled with a line of business.  They've evolved their communities from a cool social tool that's bolted on to the business to a vital innovation tool that is in lock step with marketing or product development or customer service.  Aligning the community with the goals of the business is the key to success.
So what's the bottom line?
Customer relationships are the foundation of every organization's success. Organizations are relying less on community as a support engine and cost-reduction strategy, and are viewing top-line business growth as a primary reason to build a branded community. Communities create a consistent and evergreen place for the customer experience to play out.
They can become the castle where the customer king reigns supreme.