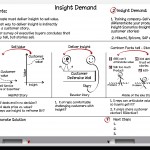 In this whiteboard on Insight Selling, we'll explain why we believe the following three hypotheses are true.
Salespeople must deliver insight to sell value.
The best way to deliver insight is through customer story.
The executive buyers in Gartner's survey said that the best for a salesperson to provide differentiation that they trust is to share a customer story.
Our answers are based on the book Insight Selling- Sell value & differentiate your product with Insight Scenarios.
Click on the video below to view the whiteboard presentation.