Steve Portigal. author of Interviewing Users: How to Uncover Compelling Insights, is the founder of Portigal Consulting. He has interviewed hundreds of people, including families eating breakfast, hotel maintenance staff, architects, rock musicians, home-automation enthusiasts, credit-default swap traders, and radiologists. His work has informed the development of mobile devices, medical information systems, music gear, wine packaging, financial services, corporate intranets, videoconferencing systems, and iPod accessories.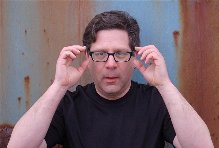 Steve speaks regularly at corporate events and conferences such as CHI, IxDA, Lift, SXSW, UIE, UPA, UX Australia, UX Hong Kong, UX Lisbon, and WebVisions. His articles about culture, design, innovation, and interviewing users have been published in interactions, Core77, Ambidextrous, and Johnny Holland. He blogs at www.portigal.com/blog and tweets at @steveportigal.
Steve was gracious enough to secure a discount code for the book, IUBUSINESS901 for 20% off, if purchased through Rosenfeld Media, Interviewing Users: How to Uncover Compelling Insights
Free Trial: NPS® Software
Collect and act on NPS-powered customer feedback in real time to deliver amazing customer experiences at every brand touchpoint. By closing the customer feedback loop with NPS, you will grow revenue, retain more customers, and evolve your business in the process. Try it free.
Download Podcast: Click and choose options: Download this episode
or go to the Business901 iTunes Store.