If you, like me, have spent the majority of your working life in the technology sector, you've probably sat through more than your fair share of awful, formulaic, and downright boring sales presentations.
You're likely to have been exposed to more slides packed with the same customer logos, more maps jammed with pins showing office locations and more self-serving corporate positioning statements than any human being should have to endure in a lifetime.
And you've almost certainly seen and heard the same trite phrases trotted out in pitch after pitch, to the point where they all blur together and you can't tell them apart: "best in class", "state of the art", "industry-leading"… and the list goes on.
But it doesn't have to be this way…
Andy Raskin recently wrote about "The Greatest Sales Deck I've Ever Seen" on LinkedIn – referring to a brilliantly simple structure from Zuora, the leader in SaaS subscription billing.
And yes, Zuora do have the obvious attention-grabbing advantage of being a leader in a hot market. But the basic principles (which I've adapted slightly below) can be applied to any organisation wishing to stand out in any market.
This narrative structure isn't unique. The "Challenger Sale" promoted something very similar a few years back. One of the core concepts is that your presentation must always lead towards and never lead with your solution.
Here's the basic flow: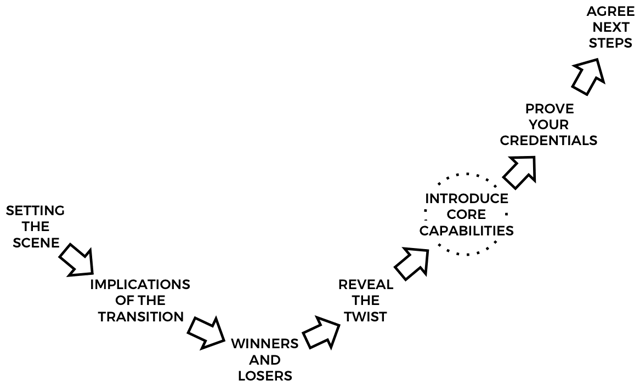 You'll notice that:
Unless you're presenting from a stage to a large audience, your presentation should be designed to facilitate a conversation. Every slide should be accompanied by talking points that stimulate feedback and get the audience engaged. If effective, the audience will be talking as much as you (or even better, more than you).
When you follow these guidelines, every participant – presenter and audience – is likely to emerge from the presentation having learned something valuable. There's a far better chance that everyone will emerge from the session agreeing that it was time well spent – which, let's face it, is rarely the case with classic corporate sales pitches.
The key with designing these presentations is NOT to start the drafting exercise at the beginning of your presentation. Once you have clearly defined your target audience, you should start instead by defining the handful of essential capabilities that most powerfully distinguish your solution from all the other options that your audience is likely to be considering.
Resist the temptation to make this an apparently impressive long list. Your audience will stop relating to your differentiators (and certainly won't be able to recall them) after the first handful. 1-3 core capabilities seem to be the optimal number. Short, compelling themes are far more powerful than long detailed lists.
And don't restrict your thinking just to your high-level product capabilities, either. The approach you take to guaranteeing your customers success – if obviously different from other vendors – can also be a powerful differentiator.
Now you know where you want your presentation to lead to, you can reverse-engineer the initial part of the presentation to set the scene appropriately:
The best place for your credentials is not at the start, but towards the end – because they will seem much more relevant to the journey you've just taken your audience through. And you can then segue seamlessly (after reconfirming the audience's interest) into clearly defined next steps.
Have a go at applying this structure to your sales presentation. And let me know how you get along. Drop me a line if you need any help.