Each time the P&Q Challenge completes, I summarise what's been learnt before the next round kicks off. This time I want to focus on one of the key topics we get involved in during the six month challenge. The interplay between customer and employee engagement.
This is a hot topic. Much research and thinking is bubbling up as everyone tries to get a handle on what works. I've just read an excellent piece summarising all the main research on the topic from Neil Davey over at mycustomer.com. Once you've consumed this post please have a look at what he has produced. Meanwhile I'll cherry pick some of what Neil mentions. You can grab the sources from his article.
The Bad
The average proportion of employees engaged at their work could be as low as just 13%
The UK was placed 18th out of 20 countries, with UK employee engagement decreasing over the past 12 months
Staff attitude and staff incompetence are rated the "most annoying or frustrating" service problem, while "people-related issues" account for a whopping 62% of all complaints
Engagement levels are lowest in sales and service functions, where most interactions with customers occur
50% of service workers are not engaged and an additional 22% are actively disengaged
The average consumer rating for engaged staff was 6.8, on a 10-point scale. 12 months later this had fallen to 6.5
The Good
69% of customers who had a memorably positive customer service experience with an employee go on to recommend that organisation to their friends
If organisations increased investment in a range of good workplace practices which relate to engagement by just 10%, they would increase profits by up to £1,500 per employee per year
Companies with engagement levels in the top quartile averaged 12% higher customer advocacy than those in the bottom quartile
For every 10% increase in employee engagement levels, a company's customer service levels go up by 5%, and profits by 2%
Employee engagement has a direct, positive effect on customer satisfaction for two dozen of the top global retail brands in the US
The state of engagement is pretty clear from these snippets of research as are its consequences.
The P&Q challenge focuses on this issue as part of a broader redesign of an organisation's performance and quality ecosystem. As you can see there are a number of points in this transformational journey where the state of employee engagement particularly matters.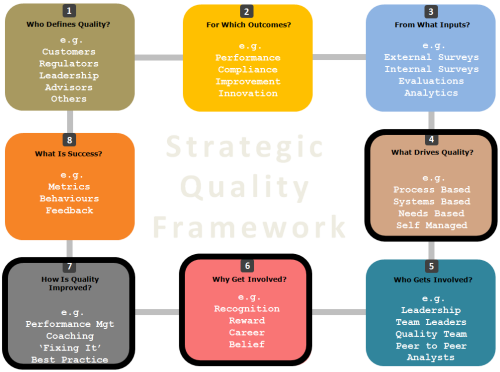 Most participants decide that for all the obvious reasons they want to drop micro managed, checklist driven ways of working for self managing collaborative teamwork. This is reflected in the comments provided during the awards day we hold at the end of each Challenge that celebrates their accreditation. When asked "What are your 3 magic beans for growing your new culture?", the key themes that emerge are: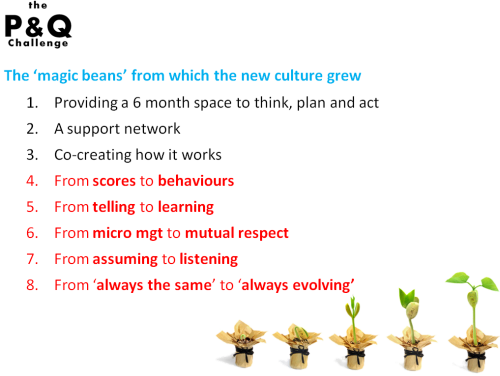 I think these manage to summarise pretty well the key behavioural changes they have gone through that have released and nurtured greater engagement.
I used the list recently with a group of team leaders to help them source their own engagement strategy. They listed out the benefits of these behaviours and the challenges. Some of them then translated the benefits into a team leader manifesto to act as an inspiring statement of their destination and signal to the advisor community the behaviours they are now holding themselves accountable for. Meanwhile the core P&Q planning group are grouping the challenges to identify what needs to go into the roadmap.
Change however never happens at the organisation or even team level. The real chemistry of it brews within the individual. To that extent it's important to provide maps for each person to understand the journey at a personal level. This is how we summarise the challenge. I reckon it explains the stats I shared earlier pretty well.

It's a simple model that everyone seems to immediately grasp and relate to. It makes sense of why people act the way they do, their impact on others and their productivity. It's also an easy to use diagnostic tool for both identifying current behaviour and attitudes while providing a framework to develop effective interventions.
We are in the process of recruiting more delegates for the 2015-2016 P&Q Challenge. We already have a cohort just for the insurance industry signed up and ready to go. The open course still has places available. Bar the commitment, its free to join through the generous sponsorship of Nexidia. All the details are here.
Engagement is being improved right now within the UK in spite of the macro picture. The P&Q Challenge is making its contribution to a much broader issue within the UK organisations. You are most welcome to join the community as it continues to gain velocity and evidence that there is a way forward.