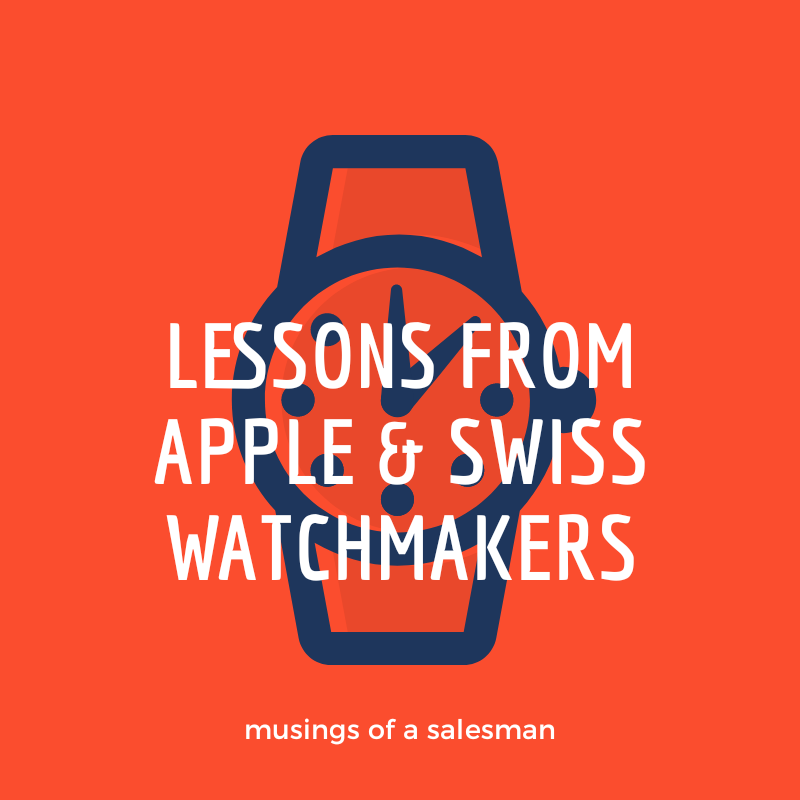 I read this post that shared the fact that in the previous quarter, Apple sold more watches than all Swiss watch makers put together. I personally think that this is a pivot point in the watch industry and there is a lot that other entrenched players can learn from how the Swiss watch makers missed the plot.
Why is this important:

Typically, the Swiss watch makers are considered to be the best watch makers with brands like TagHeuer, Rolex, Breitling, etc coming out from there. It took decades of innovations and millions of dollars in advertising for the Swiss watch industry to become the cynosure of watch lovers. It's taken less than 3 years for Apple to level up with the whole lot. The question to ask is why did this happen?
Responsiveness:
Traditional Swiss watch manufacturers were too slow to adapt & make smart watches available as part of their portfolio. In my opinion, true adoption if smart watches started to take off as early as 2013 when Pebble launched as a result of a wildly successful kickstarter campaign. The success of the campaign was an indication of what was to follow. If they paid attention to this and started their work on launching their own smart watches, they had the potential to enter and own this market.
Customer segments:
The early adopters of the smart watches were not the typical customers who were buying the expensive Swiss watches. This meant that this was a blue ocean opportunity for them. New customer segment meant that they could try out new strategies and products, which they failed to do.
Design:
However, even when they launched their smart watches, these watches had the same look and feel of their regular watches. By restricting their designs to their typical designs, they appealed only to their traditional customer segments, which was not a great idea, as this meant that the smart watches they were making were eating into the sales of their existing watch collection. This created a negative feedback loop which led to less and less investments in the smart watch product designs.
Lessons learnt:
1. As market leaders, we need to be able to sense market shifts and new opportunities as early as possible and respond to them quickly. We can do that by creating Skunkworks or spinning a small team out into a startup and asking them to explore the new trends with no baggage of past success.
2. Shift in trends could also signal new customer segments opening up. When you are targeting new customer segments, you need to come with a clean slate and design for this customer segment rather than leverage existing designs.
3. This kind of a shift could also mean an opportunity to create a fresh brand. Brand extensions mean that they carry the brand's baggage as well. So, it might not be attractive to the new customer segment that you are trying to address. Extending the existing brand could also dilute the brand for the existing customer segments, thereby creating a bigger problem.
There are multiple such shifts in motion right now in various industries. The question is how will the market leaders respond to these shifts. Will they learn from the watch industry?
PS: X-One (a Mechanical Swiss made Smart watch) will debut today. I wish the team all the very best. You can find out more about this watch here
Some Interesting resources:
1. Smartwatch timeline: The devices that paved the way for the Apple Watch
2. Apple Watch and beyond: The strange history of smartwatches, in pictures
3. Top 5 Swiss Smartwatches 2017