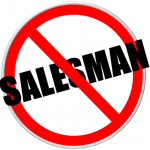 Imagine running a sales team where the last person that your customers want to speak with is one of your salespeople? That's the conclusion of a recent Gartner survey where Salespeople came in last place after technical and industrial experts, services and support, and senior executives as "the most influential personal interactions across the entire buying cycle." (click) 
So what's the problem?
The problem is that 74% of the executive buyers surveyed by Gartner said that salespeople focus too much on their product, and only 34% felt salespeople did a good job communicating the business value (click). But as a VP of Sales, chances are you knew this already, because SiriusDecisions ran a survey of your peers which concluded that the number one inhibitor to your reps achieving quota was their inability to articulate value. That's ahead of a broken sales process, more leads, or poor sales skills (click). 
How are you helping your reps better articulate value?
According to the Gartner survey, the best way for your reps to articulate value is to help them share customer stories. 70% of these executive buyers, for example, felt that "customer stories and case studies are the best way that providers can communicate differentiation that I trust (click)."
Stories work because they allow your customer to take your product out for a virtual test drive. They also work, because they make your product memorable. In a study at Stamford University, for example, 63% of the audience remember stories, and only 5% remember statistics (Made to Stick, Chip & Dan Heath, p 243).
How hard is it to encourage your reps in client meetings to do everything the same except to share one relevant story? If they can, then customers will remember the story told by your salesperson long after the facts and figures of all of the other vendors are forgotten. 
Are your reps awesome storytellers?
You may think your sales team is already effective at sharing customer stories. It's my experience, however, that they aren't, and here's proof. Ask a few random salespeople to share a customer story. One that will bridge the gap between what customers believe, and what they need to believe to buy your product. Don't give them time to prepare, because customers won't. The bad news is that the majority of your salespeople won't be able to articulate what hell looks like if the customer doesn't have your product. Instead they will describe what your product is, and thereby leave it up to your customer to figure out why they should buy your product, or even worse, why they should care.
The good news is that this information is already in your sales force, because a few members of your sales team are exceeding quota. So zero in on what are the insightful stories that your top performers tell, and put them into a consistent format(click for story guide). Once completed, the rest of your team will now have the magic they need to inspire your customers to buy.
Even if members of your team don't deliver these customer insights as stories, but instead through customer conversations, the story format is a simple way to package this information, since stories are easy to recall in the heat of a sales call. In fact, according to Jerome Bruner, a cognitive psychologist, a fact wrapped in a story is 22-times more memorable.
And because these insight based customer stories are made by salespeople for salespeople, your team won't feel like you're imposing another sales methodology/process on them. In fact, unlike other sales training programs that quickly become shelf-ware, you can use the stories that you created the next day with customers.
-Michael