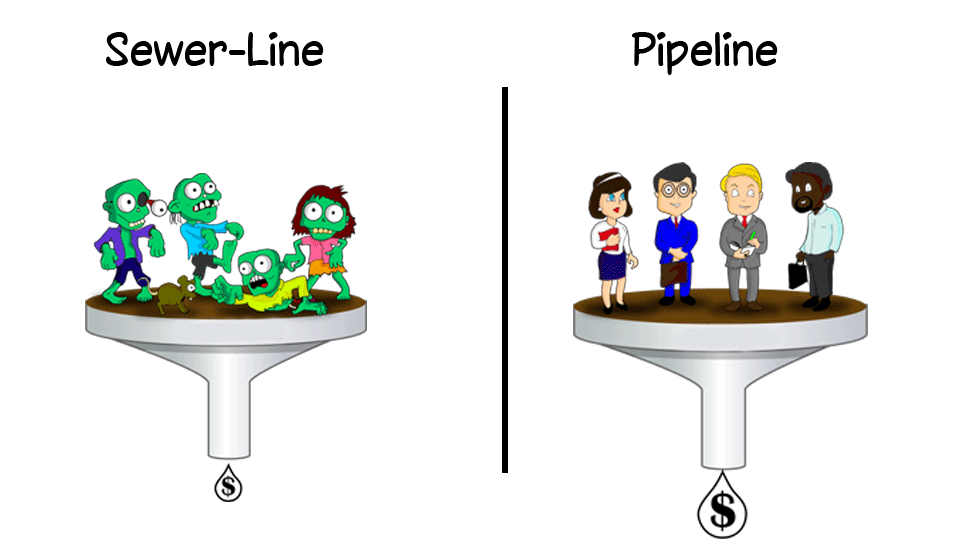 Here's a story about how a VP of Sales resurrects her pipeline by showing her team how to lead customers to value with insight not eyesight. As they achieve true sales wisdom, it's like they're using GPS while the competition is selling blind.  
Instead of asking WHEN or HOW, Sarah intuitively kept asking WHY deals were expected to close. As the new VP of Sales for ERP Corp, the superficial answers she received from her salespeople confirmed that she had not inherited a healthy pipeline. In fact, it was a sewer-line full of zombie companies with no clear rationale for change.
The problem was that her salespeople were relying too heavily on the sales engineers to do their selling, and as a result, the initial meetings were too product-centric. Instead, Sarah wanted her salespeople to first help the customer to discover WHY they should buy, before involving the sales engineers to provide proof on HOW the product works. As Sarah's mentor said: "Sales must open the gap before they can close it."
Why you need to achieve true sales wisdom
To achieve this goal, the salespeople would have to improve not only their product, but also their customer knowledge. With this combined knowledge, Sarah felt her salespeople would gain sales wisdom. Sales wisdom, to Sarah, is like GPS for salespeople. It enables salespeople to step away from their product, enter the customer's world, and meet the customer where they are, so that they can lead them where they need to go. Sarah felt that, without sales wisdom, her salespeople would allow the sales engineers to take the customers on a deep dive into the product, and then leave it up to them to plan their own route. No wonder the majority of their deals ended in no-decision. If customers could do this on their own, wouldn't they have already bought? It was like asking customers to fly to a foreign country and get in a taxi with a driver who has no clue where they're going. Sure the driver may have a great car, but the passenger just wants to be transported from point A to B.
Product marketing tried to help sales, but what they produced was too far removed from real customer interactions. The 2-hour product training webinars or the 47-page product PDF flooded the sales team with too much information. Somehow salespeople were expected to convert a product manual into an executive conversation, and the customer case studies were too product-centric. The case studies were great as proof once the customer decided to change, but they did little to inspire WHY customers should change.
Putting in the work
Sarah didn't want to create sales assets that gathered dust in a file. She knew her team would only use what's working in the field. So she collected the top insight-based customer stories from her star performers to share with her team (customer knowledge example) as best practices on how to articulate value. She then had the sales engineers develop a mini 2-minute demo to support the main customer insight-based stories (product knowledge example).
But Sarah didn't want her team practicing on live prospects, so she had her salespeople call their top three reference accounts to discover why they bought. Since this exercise uses the same skill set to uncover value as selling to new customers, Sarah saw this as a way for her team to deliberately practice before engaging with new customers.
After the salespeople shared their 2-minute customer reference stories in weekly sales meetings, the sales team started to develop an awareness for what works and doesn't. With this awareness, sales had the wisdom to see new patterns in customer meetings and this enabled them to deliver insight on the fly. They did this by sharing customer stories, posing provocative questions, or simply having an insight-based conversation.
Customer success is sales success
As sales internalized why customers bought, they started to get the passion back in their voice because they knew they were leading their customers down the right path. Sarah wasn't surprised. She'd recently done an executive MBA at Wharton and heard about research conducted by Adam Grant, the youngest tenured and highest-rated professor at her university. Adam had done a low-cost experiment with call centers where they had customers come in once a week, and for 10-minutes, customers would share their story about how they benefited from the seller's product. Within a month, the call center agents were spending 142 percent more time on the phone and bringing in 171 percent more revenue.
Sarah always wanted to apply this research to her team, and now was the perfect time. Because sales were cut off from account management, they no longer heard firsthand how customer benefited from their product; all they heard were reasons why prospective customers shouldn't buy, and then each quarter, they were whipped by management to sell more. As the sales team's cup of enthusiasm ran dry, Sarah knew she needed to replenish it with customer success. They'd lost their passion and customers could hear it in their voice.
After hearing why customers bought, the salespeople were revitalized, and they were once again able to go out and inspire customers to become more. As a result, customers now know why they were buying, so the zombie accounts were flushed out of the pipeline. The sewer-line became a healthy pipeline, and Sarah's team was able to surf their pipeline of qualified accounts all the way to President's Club later that year in Hawaii.