In discussing Goods Dominant Logic (Gd-Logic) versus Service Dominant Logic (SD-Logic), I probably over simplify the message when I use the comparison that GD-Logic focuses on the thought of value derived at the point of transaction and SD-Logic focuses on the thought of value derived at the point of use. I went into this thinking in a blog post, Is there Higher Value in Outcome-Based Pay? The extension of this thought is the stories we learn to tell are extensions of GD-Logic thinking. Another blog post on that subject, Sales Stories: Are You Creating the Wrong Heroes?
Most of our sales stories are constructed around trying to express our ideas and lead people to action. It is that expert role and is very effective when people respect you or your brand and our uncertain about what to do. We are creating stories around expressive influence. In the book Exercising Influence: A Guide For Making Things Happen at Work, at Home, and in Your Community, Kim Barnes talks about Expressive Influence that draws upon these tactics and behaviors: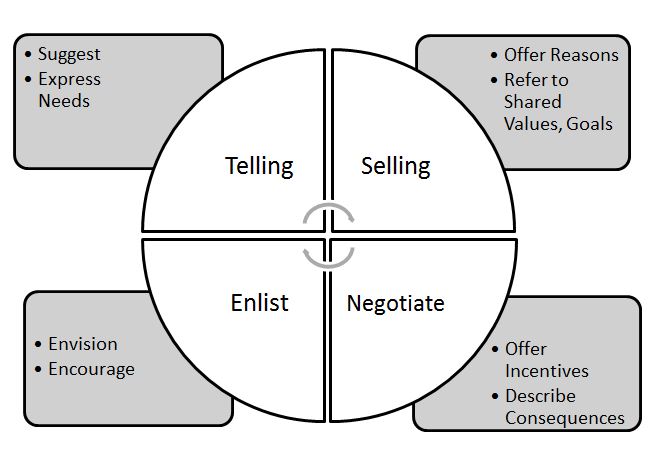 This chart is an excellent way to structure stories, but it represents transaction selling, GD-Logic. When you think about most customers today, are you really in that position of expertise that you were ten years ago. As research has found, most salespeople are not even invited to the table till the decision is well over halfway completed. If you try to sell from the position above, you will have difficulty not only establishing the "expert" role, but will have difficulty distinguishing yourself from others. You may become a "me to" product or service.
What if you take the spirit of SD-Logic or a more cooperative, co-creative type of spirit. What if you try to use receptive type influence? In her book Barnes talks about Receptive Influence that draws upon these tactics and behaviors: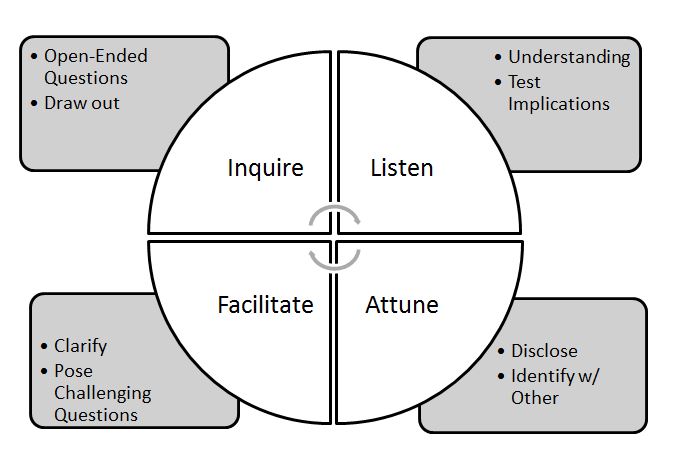 Using this type of influence invites others to participate, showing respect for their position and their ideas. If you think about, and you are invited to the table when over 60% of the decision is already made, how could you not take the role of receptive influence?
In her book, Barnes states seven guidelines on when to use receptive influence which I paraphrase below:
Important Information is not self-evident.
You need commitment from the other person.
You want to get to the bottom of the problem.
You need the other person to take action that you cannot take.
You want to respect the other person's ideas and opinions.
The other person has indicated that they do not feel listened to.
You intend to use the information that you receive in a way that the other person will agree is a benefit.
This certainly sounds more like my last sales call versus the first one. I am not trying to say transactional selling or the role of an expert is completely dead. However, the roles of selling and the way we must influence buyers are certainly headed in a new direction. The way we influence through stories must also change. Can you build sales stories that reflect this change? Can you build stories that disclose your shortcomings? As an exercise have your sales team build a set of stories around the receptive influence model. Are they more likely to be more customer orientated? Are they more likely to be about products in use where value is actually derived?